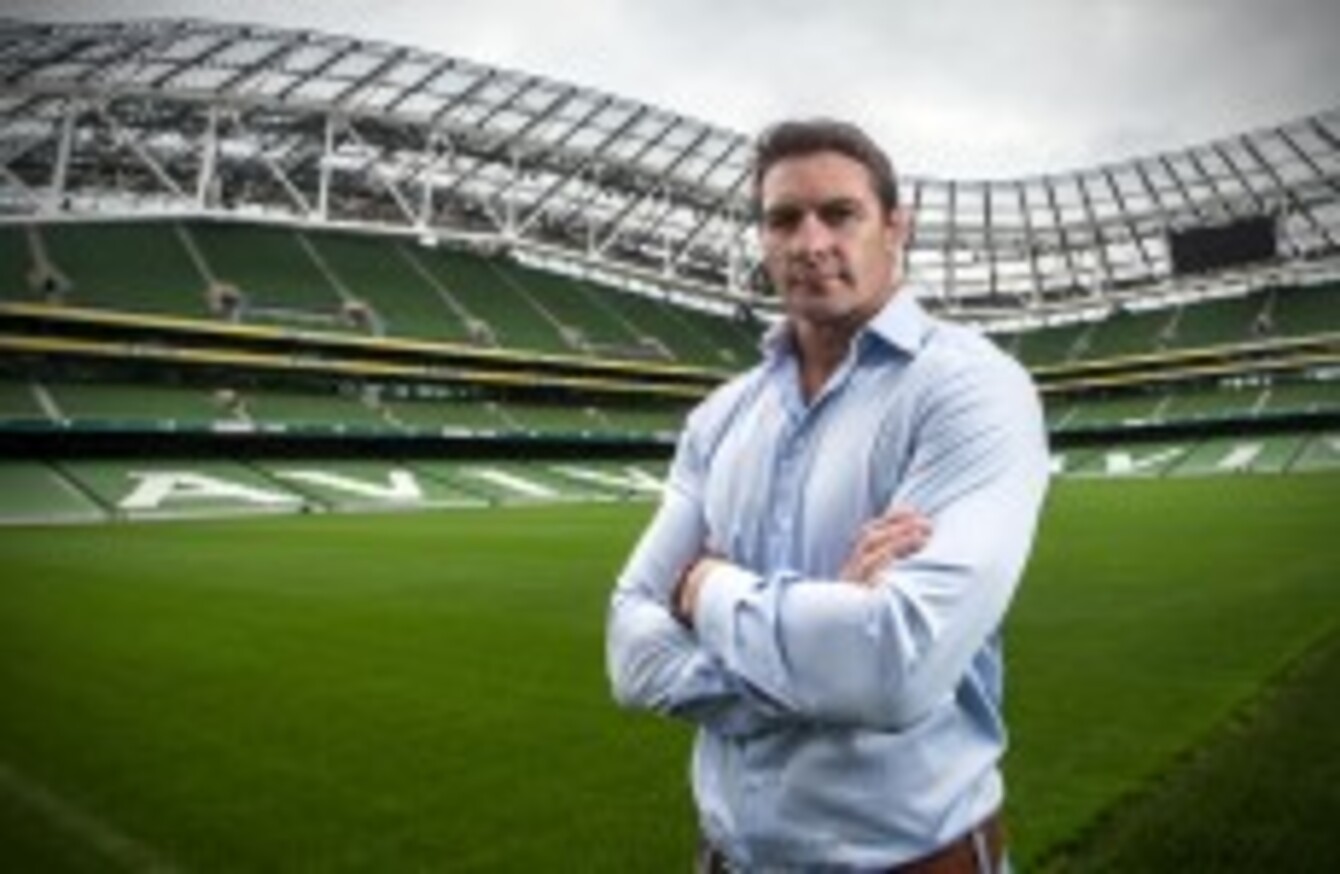 David Wallace has played in Leinster vs Munster matches in front of crowds ranging from 200-80,000+.
Image: James Crombie/INPHO
David Wallace has played in Leinster vs Munster matches in front of crowds ranging from 200-80,000+.
Image: James Crombie/INPHO
THE ARC OF David Wallace's career was such that while most of his playing days were spent in an ultra-professional environment, the former Munster and Ireland flanker is old enough to have played in the early days of professionalism alongside stalwarts like Peter Clohessy and Mick Galwey.
When Leinster play Munster this weekend, both sides will be firmly focused on ironing out the kinks in their games before European action, but Wallace remembers a time when players in the fixture didn't have such wholesome priorities.
"I do remember going to one game in Thomond Park and seeing Claw (Peter Clohessy) and Gaillimh (Mick Galwey) running back after putting their fifth or sixth try on Leinster," Wallace said.
"I was luckily close enough to the sideline to hear them talking about how they were going to have such a big night that night. I just had to laugh at it."
It is a testament to the interest Leinster vs Munster generates among the rugby public, and to the quality of both teams in recent years, that north of 40,000 tickets have been sold for this Saturday's encounter at the Aviva.
When Wallace first started playing in the fixture, you could have shuttled most of the spectators to the ground in a few mini-buses. The games themselves were intense, but the attendances paled in comparison with the club game, which was still hugely prominent in Ireland at the time.
If you removed the players friends and families from the crowd, you wouldn't have been left with much more than stewards and programme sellers.
"I think it [his first Leinster vs Munster game] was back in 1999 or the year before and Thomond Park was being done up for the World Cup," Wallace said.
"So we ended up playing in Dooradoyle where my club Garryowen play and there was probably only about 200 people at the match.
"Provincially, rugby hadn't really kicked off yet and the club game was very big. You could have 20,000 people at Cork Con vs Garryowen and 200 people at Leinster vs Munster."
In recent years, Leinster vs Munster has basically signalled the start of big-time club rugby as traditionally it has been played right before the first round of European fixtures (though this year it has been moved forward a week due to an Ireland international football match).
Wallace thinks the emergence of both teams as European forces was a much-needed 'shot in the arm' for Irish rugby. He also likes the fact that the contest is scheduled just before the dawn of the European season, as it sharply focuses the players minds.
"It is no harm to have that build-up to Leinster vs Munster," Wallace said.
"Not every game is going to be that big game and it is more onerous to get yourself psychologically prepared for those games but there is no problem getting up for Leinster vs Munster."
It is no secret that Munster don't have as many star players as they did when Wallace was bulldozing opposition sevens in the back row, and the early-season leaking of a detailed dossier on the players strengths and weaknesses put a lot of focus on the current crop.
Wallace thinks leakgate could actually be a good thing for the players as it might spur them on to improve their games. Or at least, that's how he would have reacted if it had happened when he was a player.
"I would have taken it on the chin," Wallace said.
"As a professional athlete you are critiqued and the game is put on a projector screen and the team goes through it. You can be singled out and you have to be mature enough to think that it is for the benefit of the team.
"You don't want to be singled out up there on the big screen so you don't make those mistakes in games. If you talk to coaches they will openly tell you what you have to work on.
"I think when things like that come out it can clear the air and in no uncertain terms guys will know where they stand. It will be out in the open and they can fix those things."
Wallace comes from a very capable rugby family and both of his brothers, Paul and Richard, also represented Ireland and the Lions. Wallace has fond memories of competing against Paul when he was at Saracens and even had to police a fight between Peter Clohessy and his brother.
He also still hasn't forgiven Paul for joining Leinster back in 2001.
"I still slag him for going to the dark side and joining Leinster," Wallace laughs.
"I may have played against him when he was in Leinster but my abiding memory of playing him was when he was in Saracens.
"When he came on there was a fight between himself and Claw and I think I was first on the scene. I didn't know what to do so I just broke it up. I didn't know who to throw a dig at."