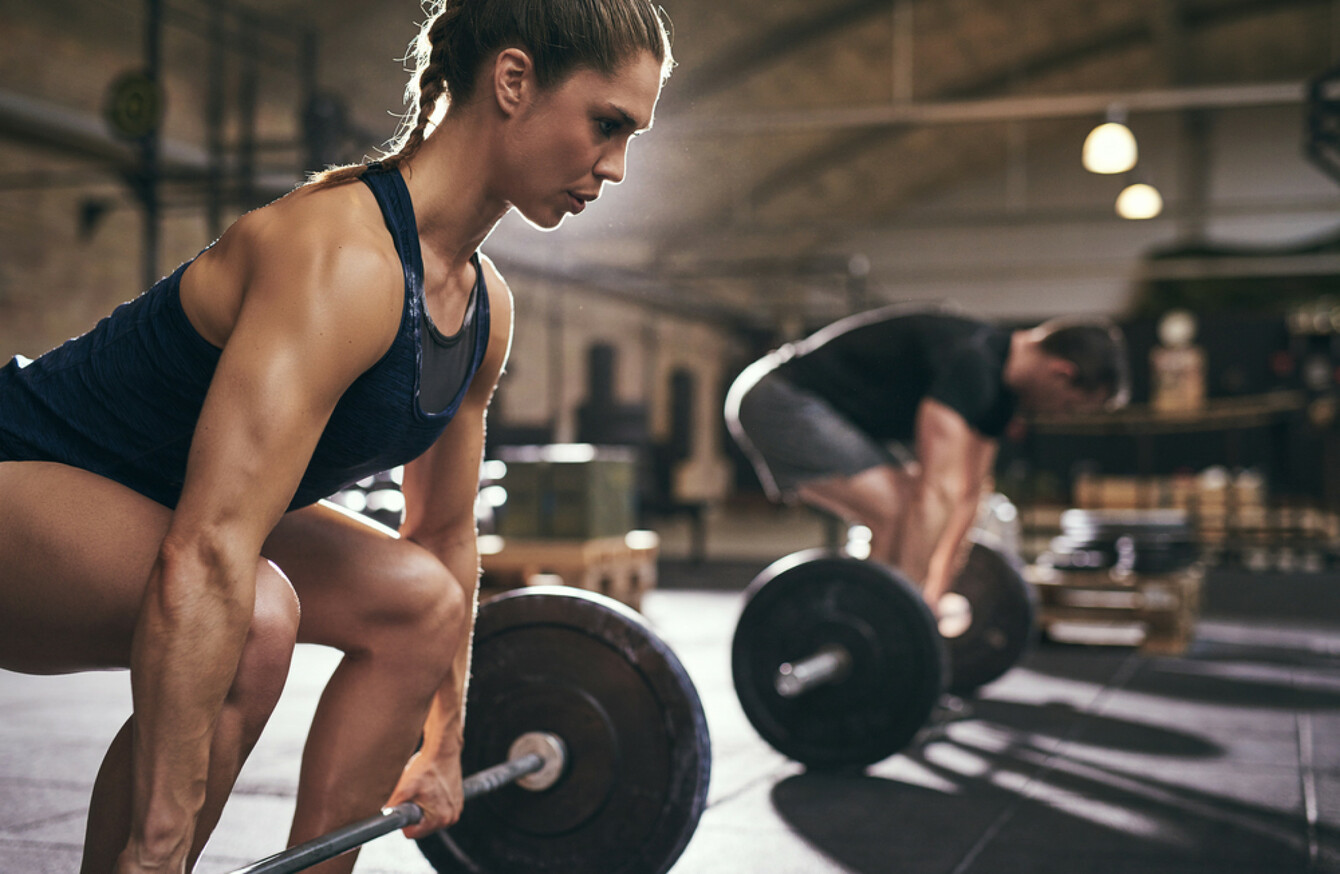 Image: Shutterstock/Uber Images
Image: Shutterstock/Uber Images
IN MY FIVE years as a full time personal trainer I would hazard a guess that I have trained approximately 90% females and 10% males.
The reasons for this are numerous, but mainly I believe that males have a slight aversion to taking direction from another male for fear of giving up 'alpha status' (you know it's true, don't @ me). This 9:1 ratio though has been a blessing as it has allowed me to get a great understanding of how females should train and how it differs from that of males in certain ways (but not at all in others).
So, notepads at the ready, here's a few of my go-to do's and do not's when it comes to training female clients, in this edition we're going to look primarily at exercise selection.
Exercises Have No Gender, kinda…
One of the most preposterous notions I've heard over the years is that there are exercises which are gender specific. Barbell squats are not "for guys" and goblet squats "for girls", similarly the notion that girls should stick to tricep kickbacks and bicycle crunches should really be on the same level as Y2K in terms of "hoaxes that died in the year 2000."
Girls and guys, you all have the same bodies for the most part. Where we tend to differ is our perceived goals, our energy systems, and our distribution of muscle mass.
A female will have a greater amount of her body mass (in terms of muscle and fat) stored in her lower limbs, a male will have a greater propensity to carrying mass around his torso. Society has come to glorify both of these traits as signs of attractiveness, when we think of a shapely female figure we tend to imagine someone with a strong lower half upon which sits a narrower torso, conversely when we imagine the classic dream guy we imagine bulging pecs and stacked traps. These are what modern society would call 'goals'.
In terms of energy systems, the female body tends to be a little more enduring than the male body. There's two ways of looking at this; either females have learned to endure after centuries of having to deal with males, or the less top-heavy, less powerful physique of the fairer sex is more adept to lower overall outputs over a longer period. I know both make an equal amount of sense to me.
How does all of this influence your exercise selection?
Simple. While it will take a long time for a female to tire out her lower body with a given exercise, which can be circumvented by increasing the loading on the body, the female may not have the upper body strength requisite to apply such a load to her system. If you have a bit of trouble imagining what I mean here, think about the last time you went uber-heavy with a set of RDLs or walking lunges. What tired first, your glutes, your quads, or your grip? Similarly if you go heavy on a barbell back squat do you begin to feel like you're failing to stand the weight up due to leg strength or due to the integrity of your core failing you?
I'll bet in both cases the latter is more true.
How does one get around this? The aforementioned alternative loading strategies work a treat, going goblet grip, or loading with kettlebells on your lunges and/or step ups can help to avoid the inevitable dropped dumbells and cramping forearms.
Source: Tony Bonvechio/YouTube
Source: Onnit Academy/YouTube
Switching the load on your main squat from a conventional barbell to a safety squat bar can also potentially add a few kilos to your working weight by allowing the squat to become much more of a lower body exclusive movement. The extra benefit of this is that the SSB actually helps to build the upper back and posterior chain by giving you an additional shearing load to push against during the squatting motion.
Source: Jen Sinkler/YouTube
And while we're going down the equipment route here remember that not all barbells are created equal, that there is such a thing as a female barbell, which are generally 5kg shorter and 3-5mm thinner in diameter than their 'male'counterpart, a difference that may seem slight but goes a long way when it comes to closing one's hand over the barbell to maintain grip.
Of course the goal here should be equality at all costs, so while working with alternatives to the classic barbell lifts or using special equipment, be sure to keep working to improve your upper body strength and in particular your grip as the more upper body strength you have the more options you have available when planning a training session.
Speaking of the upper body; what about exercise selection for above the waist?
As a general rule, I tend to point training towards a level of proficiency with basic upper body movements before progressing to external loads. This is a gender neutral approach I take with all clients; whether male or female if you come train with me and cannot do 10 push ups with both hands and toes on floor and a tight core/neutral spine that will then be our first upper body goal. As you can imagine this may be a goal more easily accomplished by males than females, so a level of regression and variation will have to be employed to get there.
Often, the biological differences and the preferred training approaches between males and females can lead to some pathological variation in the mobility and range of motion which each gender may present, generally speaking males will present with less ROM about the upper limbs, especially when going overhead is concerned (due to a love of bench pressing and lat training). Conversely females may present with more joint laxity which will make it easy to achieve full range of motion but may require some limiting when presented in the form of hyper-mobility, or possibly a slight lack of kinaesthetic awareness leading to excessive and potentially damaging ranges of motion.
With this in mind we of course program males and females differently, and exercise progressions would differ between genders; for example when the time is right I may progress a female from pushups to a band resisted pushup if significant joint mobility is detected, as the band would give proprioceptive feedback to the trainee as end range of motion nears. However with a male client I am much more likely to provide external load in the form of a plate on the back, again provided there are no issues with joint laxity.
In terms of pulling exercises we generally want to limit the amount of lat work in males who may present with already tight or overactive lats, this is also an approach we take with females but for different reasons; often the lats are synergistically linked to the erector spinae and play a role in creating an extended posture which can lead to lower back pain due to a schewed load distribution strategy in the lumbar spine and trunk. This becomes increasingly important pre and post pregnancy.
Generally the vast majority of pulling work in a trainees program both male and female will be of the horizontal variety. It presents less risk of maladaptation, it's something which a trainee is likely to neglect if left to their own devices, and when have you ever seen someone with an upper back that was 'too big' or 'too strong'.
Favourite variations here include
Ring Rows:
Source: CrossFit®/YouTube
Chest Supported Rows:
Source: Eric Cressey/YouTube
Seal Rows:
Source: Tony Gentilcore/YouTube
Bent Over Barbell Rows:
Source: Tony Gentilcore/YouTube
Making a case for chin ups
In females however the chin up can be the pinnacle of medium to long-term strength training goals and represents one of the ultimate forms of control over body weight, therefore we will place a premium on learning the art of the body weight chin up albeit with the caveat that it must be done with a neutral spine.
Our progression may look as follows:
Starting with basic inverted rows:
Source: Eric Cressey/YouTube
We would then progress on to hinge rows:
Source: Tony Gentilcore/YouTube
Before making the inclination more aggressive with some feet assisted pull ups:
Source: Ben Hébert/YouTube
Notice how in all these variations the spine is kept in neutral to pattern the lats to fire without acting on the lumbar region.
Once you've mastered that you can start to move on to chin up variations where the feet leave the floor such as:
Source: Eric Cressey/YouTube
or
Source: Tony Gentilcore/YouTube
Notice how in all variations here the hips are slightly flexed to keep the lumbar spine out of excessive extension.
Wrapping up
So that's the basics of your big compound exercise selections when training a female client or training as a female yourself. As with any article I write, my inbox is always open for discussion, questions or criticism on the subject matter. In the interest of brevity in this article there are thousands of exercise variations that we barely or didn't even touch on, and a lot of discussion left on the table in terms of the best way to train many other muscle groups or body parts.
In time, I hope to expand this article to a series encompassing all of the major training variables and how they may differ among the genders.
Dean Merton is a Dublin-based strength coach and personal trainer. For more information you can follow him on Facebook and Instagram, or you can send him a direct message here.
You can also see some of his previous articles here. 
The42 is on Instagram! Tap the button below on your phone to follow us!