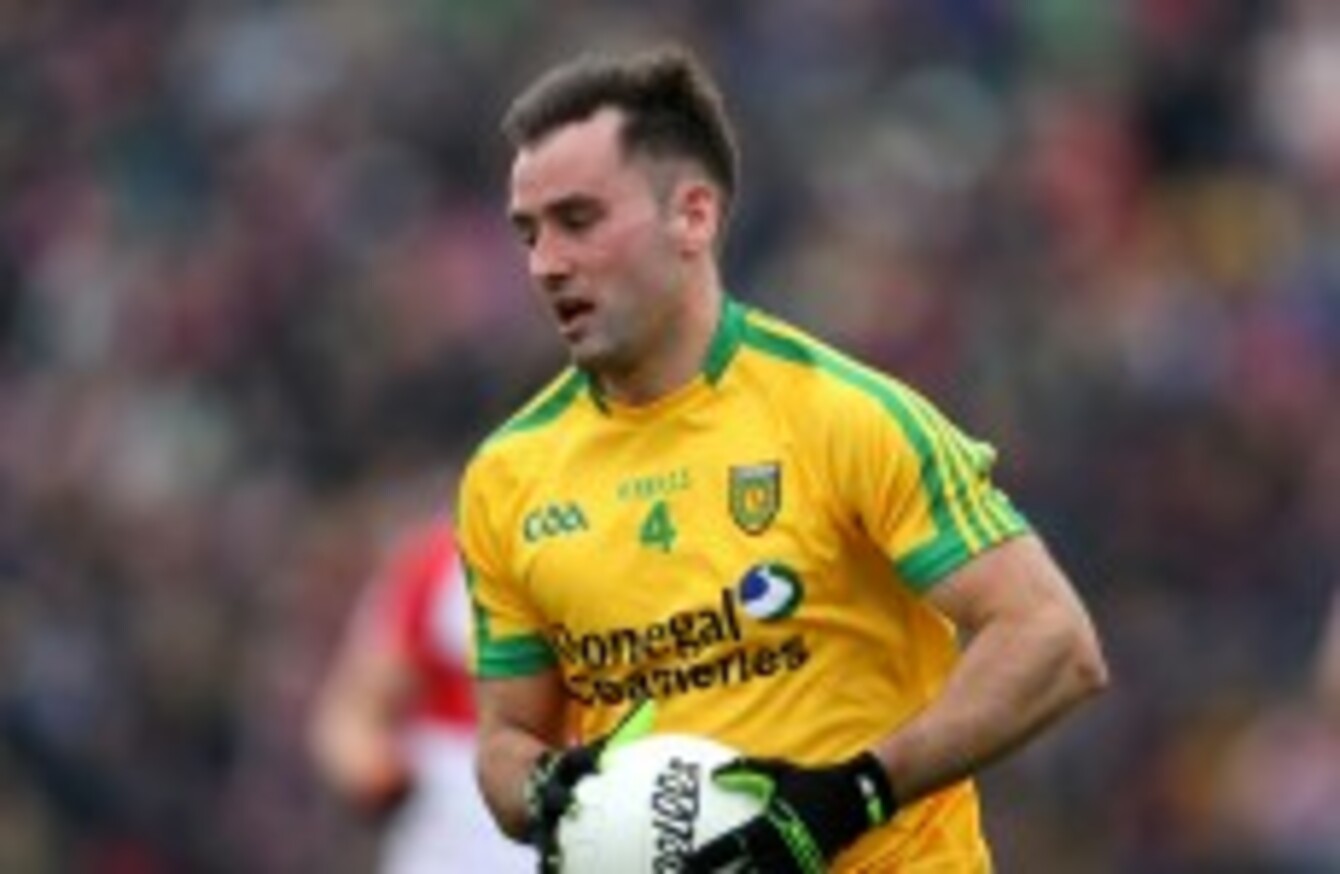 Karl Lacey is back in action following a frustrating period out through injury.
Karl Lacey is back in action following a frustrating period out through injury.
KARL LACEY SAYS Donegal are now in a much stronger state physically to compete for the All-Ireland compared with last year.
Having won the competition in 2012, they suffered disappointment last year, crashing out at the quarter-finals stage after being comprehensively beaten by Mayo.
And the 29-year-old star believes that his side's problems in the 2013 campaign were more physical than mental.
"Every player believes that," he says. "With all of the distractions that went on last year, we missed our whole pre-season. We had two months of hard training we've got under our belts this year. We've had a training camp as well. We were in Portugal for a week. We've got serious work done compared to last year.
"The medical team has the stats on what we've done in training this year compared to last year. Exactly what it is I couldn't tell you off the top of my head but I know there's quite a margin there.
"The hunger was there last year. Everybody meant good last year, but it just wasn't in the legs and we just weren't up to the physical battle. We've got that fitness back now."
Lacey had a frustrating time with injuries at various points , but has recovered well, featuring in Donegal's Ulster final win over Monaghan.
"It's just the wee niggles that are more frustrating than anything. Mentally, you're just wondering if you're ever going to get there… I'm doing something every day to try and get myself into the best shape I can for the quarter-final.
"We've been very lucky with injuries this year. We'd a fully fit squad, which is great. There's serious strength in depth in the squad now. You've Rory Kavanagh, Paddy McBrearty to come off the bench to give us a lift. The strength (in the panel) is there at the minute. No position's safe. I honestly believe there's two or three lads breathing down my neck for my jersey. That's the attitude I have towards it."
(Jim McGuinness won't be letting his team get distracted thinking about a possible semi-final match with Dublin)
"As I said, it's severe on the body. You're putting the body through some hard pain and it's demanding. You do feel the effects of it. It's not getting any easier. There's more and more being asked of you. As the years go on, the age of retirement is going to decrease.
"If you're still playing over 30 now, you're doing well. I'm 29 now, coming on 30 in September. You might ask why do you do that? Well, I don't want to have any regrets. I don't want to look back when my career is over and wish I should have given it more. I'm going to give it everything I have for as long as I can and when I'm finished, then I can be happy with that and have no regrets."
The aforementioned defeat of Monaghan was a reverse of the 2013 final, and Lacey says it was a relief more than anything else to get the win.
"I think [Jim McGuinness] said that himself somewhere. There was a lot of pressure on us and a lot of pressure on Jim, and everything that went on between the Rory Gallagher incident at the start of the year, and Mark McHugh said he couldn't give the time any more, all that was hanging over Jim's head. There was a lot of pressure, so it was more relief than anything that we got over the line.
"We owed Monaghan one for quite a while now and that was just the most satisfying thing at the end of the day."
Next up for Donegal is a quarter-final clash with Armagh for which they are favourites, with a potentially exciting semi-final with Dublin on the horizon, yet Lacey says Jim McGuinness won't be letting his side get too distracted by this prospect.
"We have to shield ourselves from that. It's maybe something that has been thrown out there. Jim's always kept our heads in good places. We trained last night, and one thing he spoke about is we'll not to be thinking any further on. We're in a quarter-final. Since 2011 since Jim took over, it's always been game by game and we're not going to let that slip."