WHEN HE WAS 13, the young Barry Owens was showing promise as a footballer with Teemore Shamrocks, but he had a small issue annoying him. He went with his parents to get his sinuses looked at.
They left the doctors in a different frame of mind. A heart murmur had been discovered.
They ran tests and found a blocked artery and a leaking aortic valve.
Two years later, they inserted a balloon into his groin, an angioplasty, and blew out an artery. The medics vowed to keep an eye on it and monitor the situation. In a decade, it might all be different.
By then, he had already collected two GAA All-Stars in 2004 and 2006. He was the best full-back in modern Gaelic football and yet a complete throwback to the times when defenders would measure themselves in terms of high balls caught around the square, and what their direct opponent scored.
In Teemore, that misunderstood blue-collar borderland where hard work and a physical manliness was prized, he was their pride and joy. There were still enough teams willing to throw in balls towards the square. Even though they dropped like meteors, Owens had the safest hands in the county. In Ulster. In Ireland.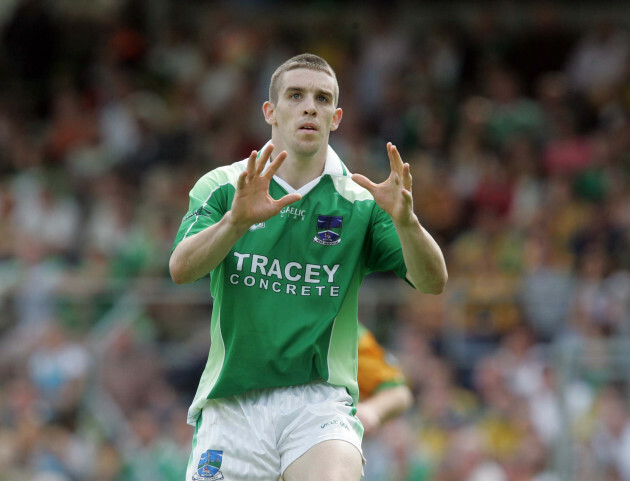 Andrew Paton / INPHO The safest hands in Ireland Andrew Paton / INPHO / INPHO
But those years of exertion had a cost. The artery that they blew clear had been stretching and getting wider. Weaker, in other words. A weak artery.
What was the risk?
If his aortic valve dilated, it could cause an aneurysm dissection; a life-threatening condition. At any point, the arterial wall could burst.
All it might take is a hit on the playing fields. A harmless fall on the training field. Even one more rep in the gym. At any time. Without warning.
In January 2008, Professor Mark Redmond operated on Owens. Nine hours in theatre. Nine hours. And not a simple day's work. Twice, they had to stop a valve leaking. Owens had entered the operation on a Tuesday morning. On Thursday night he eventually regained consciousness.
When the morphine wore off, his mood darkened. His wife Caroline was there for him.
"I was telling her that I was finished with football. It was a load of bollocks. I couldn't care less about it and wasn't going through any more just to get back."
There were other indignities. The following day the doctors had to remove two drains. Stubborn buggers. The pain when he might cough or sneeze provoked streams of sweat all over his body.
His stay in The Beacon Clinic lasted another week. Before he left, they set him a task: a flight of stairs. Before the top step, he had to stop. He couldn't catch a breath.
The Fermanagh football public knew little of this. 2008 had started with the appointment of Malachy O'Rourke, a former Derrylin O'Connells and county footballer who had achieved a minor miracle a couple of seasons earlier in bringing the unheralded Derry club, Loup, to the Ulster club title.
He backed it up with further club championship wins with his adopted Errigal Ciaran in Tyrone and Cavan Gaels.
And besides, the other Fermanagh All-Star of modern times, Marty McGrath, had gone through a heart operation himself by this stage. What was it about their iron men that they had to overcome?
Marty was back flying it in midfield, the new captain as they went unbeaten through the league and made it to the Division 3 final against Wexford.
Behind the scenes though, McGrath was fighting a battle in his own head as to the best time to inform O'Rourke that he would soon have to stop. He had been diagnosed with testicular cancer.
Tommy Dickson / INPHO Fermanagh's 2008 captain, Marty McGrath Tommy Dickson / INPHO / INPHO
***
On the day of the 2008 Division 1 league final, Derry met Kerry in Parnell Park on an unseasonably warm day.
The curtain-raiser was the Division 3 decider. Fermanagh and Wexford. A thrilling game full of mistakes and outright touches of class illuminated by Mattie Forde, it went to extra-time and the Slaneysiders edged out the Ernesiders.
Around the fringes of the team, Barry Owens circulated. A bit thin looking, almost gaunt. But he was never a round-cheeked type anyway. Good to see him, the crowd thought. He'll be some addition next year.
In the main attraction, Kerry opened with the sort of opening salvo that made you feel they would win by 20 points. But gradually, Derry felt their way into it, with massive performances from Niall McCusker, the Bradley brothers Eoin and Paddy, and their reigning All-Star full back and captain, Kevin McCloy.
Derry ran out 2-13 to 2-9 winners, and then they made that most GAA of mistakes and gave the impression that they were enjoying winning the league.  
Morgan Treacy / INPHO Kevin McCloy and Liam Óg Hinphey with the 2008 Division 1 league trophy. Morgan Treacy / INPHO / INPHO
***
Onto 21 June, 2008.
But before that, Monaghan had arrived into a revamped Brewster Park feeling good about themselves for their Ulster quarter final. Under Seamus 'Banty' McEnaney, they had plugged back into the energy of the 'Gut yer man' philosophy Patrick Kavanagh had heartily endorsed the year before.
But Fermanagh cut them down.
Derry went to Ballybofey to face Donegal. The Bradley brothers did the business once again for them. It set up an Ulster semi-final in a teeming Omagh.
At midweek training, the Fermanagh players were handed a printout of the choice cuts of the midweek newspaper columnists, all proclaiming a comfortable Derry win. In the Derry Post, Fergal P McCusker's column was blown up and highlighted.
The predictions were going to plan until Derry's early gallop was halted and Fermanagh had the gap back to two points by the break. In the second half, they dragged Eamon Maguire and Mark Little back to create a double-sweeper system in a sign that O'Rourke was one of the sharpest tactical minds about.
Any Fermanagh scores would come about through a lightning transition, led by Maguire and Little.
A strange thing. Barry Owens' name had been added to the matchday programme. And here he was, warming up along the line. Never. Surely never.
Barry Owens:  "Compared to where I was a couple of years before, I would say I was at 60% by the time the championship came round.
"In myself at that stage, I might have thought I was somewhere around 80% or 90%. I hadn't tested myself in club matches. I think I had one game for Teemore. Maybe two at the most.
"And I was only coming on as a sub as well. I hadn't really done that much either. I tried a bit of running to build up some fitness but I knew myself I was nowhere close to it."
At the time, Fermanagh had Noreen McCullagh from Dromore tending to their injured players. Owens had Paul Ward for company as they did endless 80-metre runs by the pitchside.
Occasionally, Owens would join in with the training games. Wearing a luminous vest, everyone instructed not to exert anything more than a token tackle.
And there was nothing more structured to it.
Owens: "I suppose I might have played a bit of it for Teemore at full-forward. The year before, we got to the championship final and the Division 1 final."Newtownbutler beat us in the championship final and Belcoo beat us in the league final. But in the league final, they threw me up front for the last ten minutes of the first half and twenty minutes in the second half.
"In the first half anyway, it caused a bit of havoc and we got maybe two or three goals from it.
"Unless Malachy had seen that, I don't know. Before that, I wouldn't have really played anything up there."
Marty McGrath, Fermanagh captain: "It might have happened in the odd challenge game, but nothing really planned. His influence was important. We needed him on the pitch, it didn't matter where, it was just his influence.
"And with him only coming back from the heart operation, they would have thought throwing him in full-forward was likely to cause them a bit of trouble if nothing else and he would create space for others.
"As it worked out, the shot fell short from Eamon Maguire!"
Kevin McCloy, Derry's All-Star full-back and captain: "No, it didn't come as any big surprise to me to see him coming in. I thought they might bring Barry in, maybe not the full-back line but out around the field and play him in a free role.
"Funny enough, I think it was the year before, but we played them in a challenge game, I think it was the opening of Slaughtneil's pitch and Barry came on at full-forward.
"I think we dealt with Fermanagh comfortably enough that day and I don't think Barry made a huge impact at full-forward.
"So maybe, maybe I took it a bit lightly when he did come in at full-forward. Thought it might be an easy enough touch. But I did that to my peril!"
In the midst of another Derry attacking wave, the ball was turned over. McGrath was onto it and picked a dainty path along the sideline while taking thumps from big bodies.
He got it to Eamon Maguire who shot for a point, but it didn't have the juice to carry over the crossbar.
McCloy: "The way the shot came, I had my hands on Barry Owens and I thought Barry Gillis (goalkeeper) was coming for it. It was sort of in between me and him and Barry Owens went around to get a run on us.
"He got in between us and got a good fist on it, he wouldn't have been a man shying away from a high ball.
"From mine and Barry Gillis' point of view, we didn't deal with what should have been a handy enough ball. But Barry saw it and didn't pass it up."
Owens had done it. A couple of minutes after coming on, he had punched his county into the lead for the first time in the game.
Owens: "I was probably very surprised and I took off. I got called 'The Windmill' then for a time for my celebrations."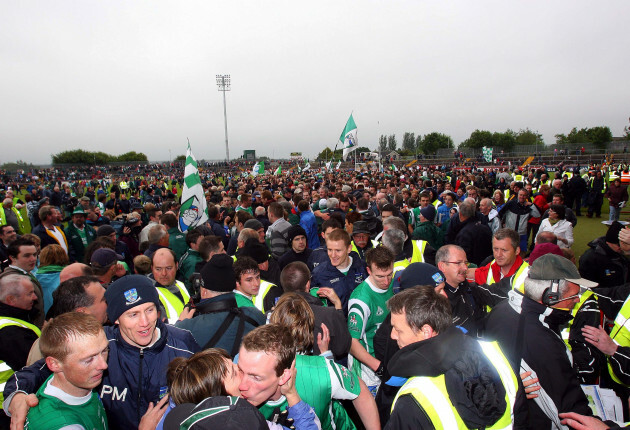 Dan Sheridan / INPHO Jubilant Fermanagh fans. Dan Sheridan / INPHO / INPHO
Derry's frustrations mounted with every repelled attack, and Fermanagh held firm to book their place in the Ulster final. They should have won it and were chasing Armagh in time added on before referee Jimmy White blew the whistle for a replay.
A replay in which Fermanagh sent a barrage of efforts wide in the first half and reached for Owens again to go to the edge of the square. He made a run out to a wing for a ball with the hot breath of Francie Bellew on his collar, planted a foot, and ruptured a cruciate ligament.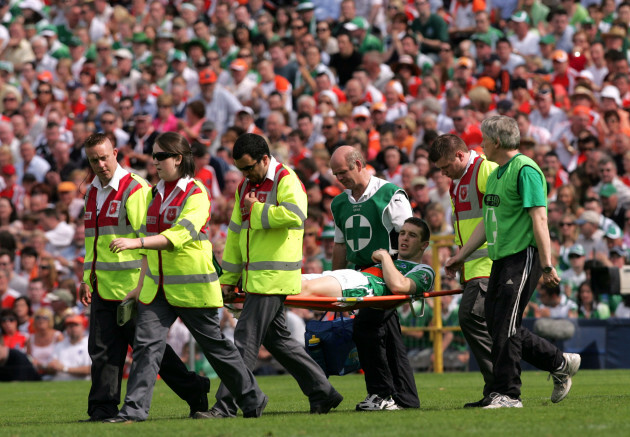 James Crombie / INPHO Owens leaves the Clones pitch after tearing his cruciate in the Ulster final. James Crombie / INPHO / INPHO
Armagh stuck to their process and won a seventh Ulster title in 10 years.
 ***
And that's the story of only the second time Fermanagh ever beat Derry in the Ulster championship. The other came in 1982, 1-9 to 1-8.
Derry have won the other nine meetings, but really they've been dealing out hidings such as the 4-6 to 0-4 encounter in Magherafelt in 1946.
They met in 1989 and 1990, with the aggregate score being 8-29 to 2-14 in Derry's favour.
As much as Barry Owens won the game for them that 2008 night, Ronan Gallagher ensured there was a game there for Barry to reach out and win. In the 15th minute, Derry were five points up when Kevin McCloy was bundled over in the box.
Conleith Gilligan blasted the penalty and got full weight behind the shot but Gallagher leapt up high and made a superb one-handed save. They would not go under.
Ben Fraser / INPHO Former Fermanagh goalkeeper Ronan Gallagher, now Derry goalkeeping coach. Ben Fraser / INPHO / INPHO
On Saturday evening, Ronan Gallagher will be in a Derry coat, as goalkeeping coach to Derry, managed by his brother Rory. Two Fermanagh men who coached Fermanagh teams, now facing their own.
Rory has a relationship with his native county that can be best described as the old Facebook update, 'It's complicated.'
Living in Enniskillen now, he helped out Enniskillen Gaels last year as they won the county championship with a few sessions. His children play for the Gaels.
As optimism has grown through another promotion campaign out of Division 3, his son has attended the Fermanagh games, running onto the pitch at the end of games to hug the likes of Ultan Kelm and Sean Quigley and ask for their gloves. All while wearing a Derry jersey.
"That's a very strange situation, you know!" said Gallagher this week.
He made his first appearance for the county at just 17 but was gone by 25. He returned for the 2005 season and was gone again until he played the second half of the 2010 season under Malachy O'Rourke.
He managed the county for two seasons, bringing them to within one win of Division 1 football and to an Ulster final. He even inspired his fellow countywoman Arlene Foster to attend the 2018 Ulster final loss to Donegal.
So, strange to be on the line against them?
"It doesn't cost me a second thought and it won't cost the Fermanagh players a second thought," he said.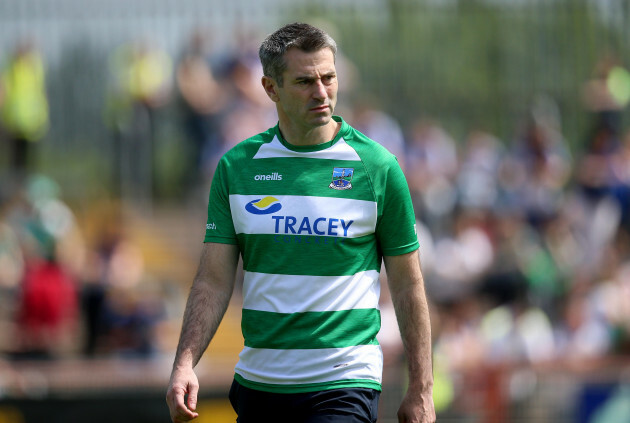 Tommy Dickson / INPHO Tommy Dickson / INPHO / INPHO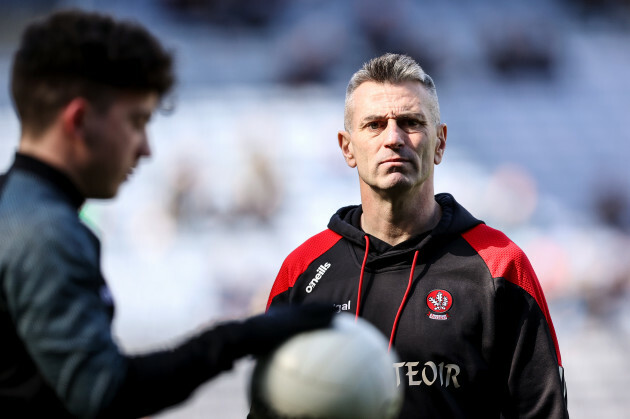 Ben Brady / INPHO Ben Brady / INPHO / INPHO
The sentimental stuff is all in our heads. Championship football – Ulster championship football especially — sucks up all the oxygen and squeezes everything else out.
For Fermanagh, talk of the Ulster title losing its lustre is farcical. They still dream the dream, 15 years on.
And some of their own stand in their way.
So be it.
Get instant updates on the Allianz Football and Hurling Leagues on The42 app. Brought to you by Allianz Insurance, proud sponsors of the Allianz Leagues for over 30 years.