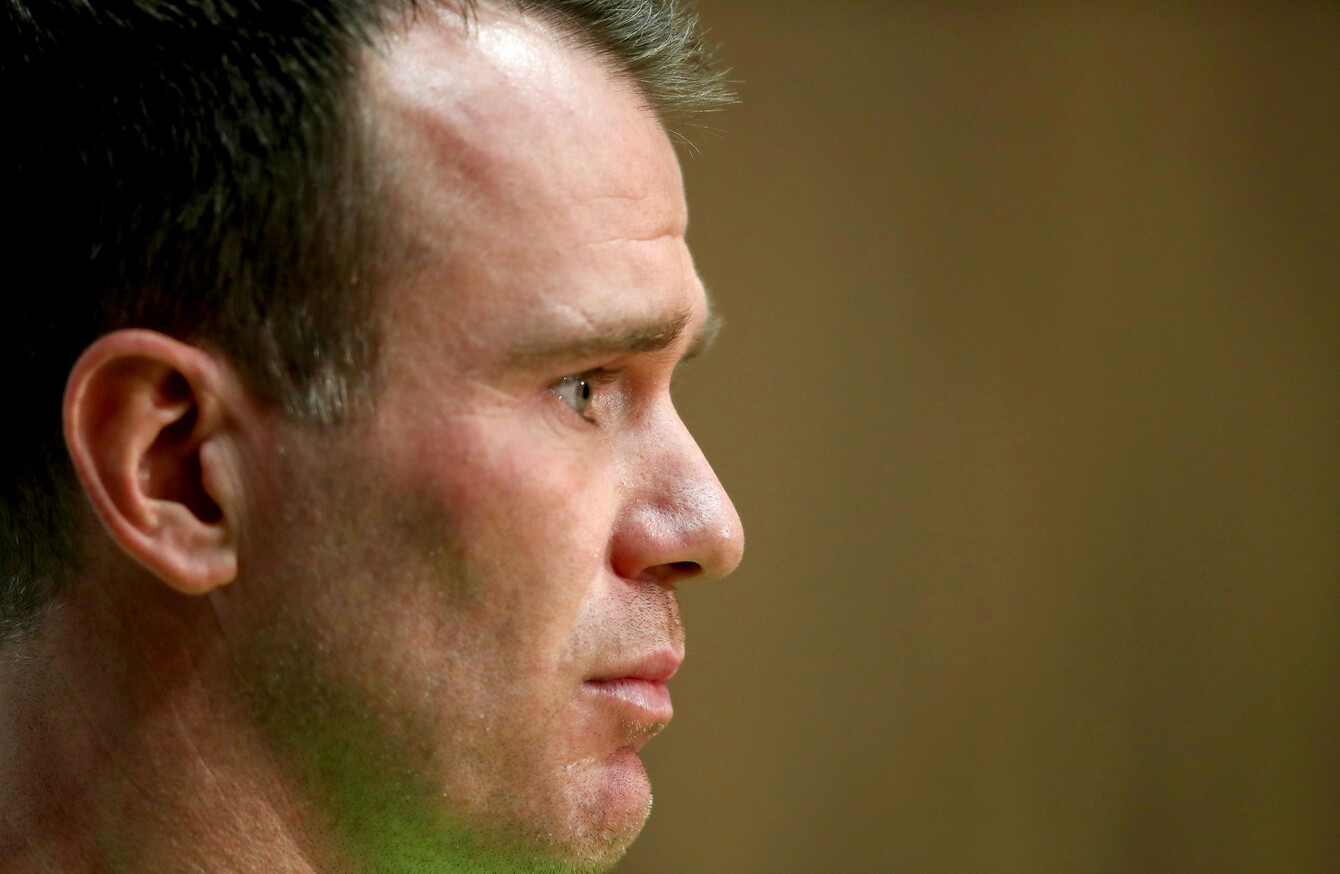 Glenn Whelan speaks at a press conference on Thursday.
Image: Bryan Keane/INPHO
Glenn Whelan speaks at a press conference on Thursday.
Image: Bryan Keane/INPHO
- Paul Fennessy reports from Abbotstown 
GLENN WHELAN DOES not normally do this.
The Ireland midfielder has, for years, consciously shunned the media when possible.
June 2012 was the last time the 34-year-old spoke to Irish journalists in a group setting, and that silence would likely have continued had it not been for the momentousness of this evening's occasion.
As Irish manager Martin O'Neill put it on Thursday: "I told him the one downside to being captain tomorrow was speaking to the press today."
But as Whelan prepares for what is likely to be his last international cap against Northern Ireland, he can reflect with a great deal of satisfaction on what he has achieved as a footballer.
With the exception of the last year, Whelan has been a relative mainstay in the Irish team under both O'Neill and Giovanni Trapattoni, making his debut under the latter during a May 2008 friendly against Serbia.
The experienced midfielder achieved considerable success, both at Stoke for whom he earned over 250 Premier League appearances — a record matched by only a handful of Irish players — in addition to his 85 caps (including tonight) at international level.
There have been plenty more naturally talented Irish players over the years, but not many have hit Whelan's heights, so it is no surprise he insists he cares little for what the naysayers think.
"That is something youse might want to answer, as youse are the ones who write the headlines," Whelan says, when asked if he has been underappreciated. "When I come in, all I want to do is impress my family first and foremost.
"As I said, I've got two kids and a wife. Then I wanted to impress the manager. I wanted to play, so no, headlines and stuff like that, it definitely wasn't about coming in and making them better.
I would like to think the players that I've played with, if ever you want to speak to anyone and ask what I was like, they would tell you the truth. These comments are for other people to say."
Whelan, a strong-minded character not afraid to express an opinion, unsurprisingly had one or two disagreements with O'Neill over the years, but says he never pulled a strop over a team selection, even when left out for the high-profile Euro 2016 clash with Italy.
"I don't think I've ever moaned about being dropped or not playing. As soon as that happens for me, it's about getting back on the training pitch and working harder to try and get my place back in the team."
At club level, the Irish midfielder's career has similarly not been without its low points. There were times where the midfielder was dropped by Stoke, or a new signing came in to try to take his place in the team, but invariably, the Dubliner overcame these challenging situations.
Even as a youngster, there were significant obstacles. He spent time on loan in the old Third Division with Bury and was ultimately deemed surplus to requirements by Kevin Keegan at Manchester City, having failed to break into the first team, and though Whelan says he could easily have stuck around at the Premier League club for another year at least, he instead chose to join Sheffield Wednesday — then a League One outfit — and began the arduous process of working his way back up English football's ladder.
"In England now, they have the U23s, and if you're playing in that, week in, week out, I don't think you're really going to progress. If you need to step out for a couple of months on loan and get some game time, I'd definitely recommend it, as there is nothing better than actually going out to play football on a Saturday that means something."
Criticism from some supporters and sections of the media, he adds, was never something he found hurtful, but the frustration at elements of the abuse he received is palpable.
"It's part and parcel of the job, I understand that. I moved away to play football when I was 15. Everyone loves the limelight when they're raving about you. There's definitely another side to it.
"For me, there was a certain stage where it got a little bit personal. That's when I stepped away from it. I've got two kids. I've got an older girl. [I was] stepping away from it and letting everyone else speak. When I come in, I only want to impress the manager, Roy [Keane] and my team-mates. 
"I'm a normal person away from the pitch. Certain stuff did get a little bit personal. I think my background was brought up and there was a thing written about a car I was driving, which was mentioned. And I definitely didn't drive that car.
People that weren't close to me, they read certain things and then they start believing it. For me, it wasn't hurtful, it was just a matter of I didn't want to do [media work]. There have been times when I've had to [do interviews], I've been made to do some stuff.
"There were certain times where it got a little bit too much — it didn't hurt me, maybe [it affected] my family and stuff.
"[Speaking to the media is] not something that I need or particularly like doing. If needs be, I'll go and do it. I don't think I had a choice today."
And finally, given his media-shy approach over the years, is he ruling out joining former international team-mates, such as Keith Andrews, Damien Duff and Richard Dunne, in embarking on a career in TV punditry whenever he does retire?
"Never say 'no' to anything," he says. "There are a few people out there that are doing okay and I think I might be a little bit better than them, but that's my opinion.
"I've done my [coaching] badges. I still see myself as a player. Anything can happen in future, but it's definitely something that I wouldn't [rule out]. Not speaking to the press the last few years, I didn't need it. I just wanted to step away from it more than anything."
Subscribe to our new podcast, Heineken Rugby Weekly on The42, here: