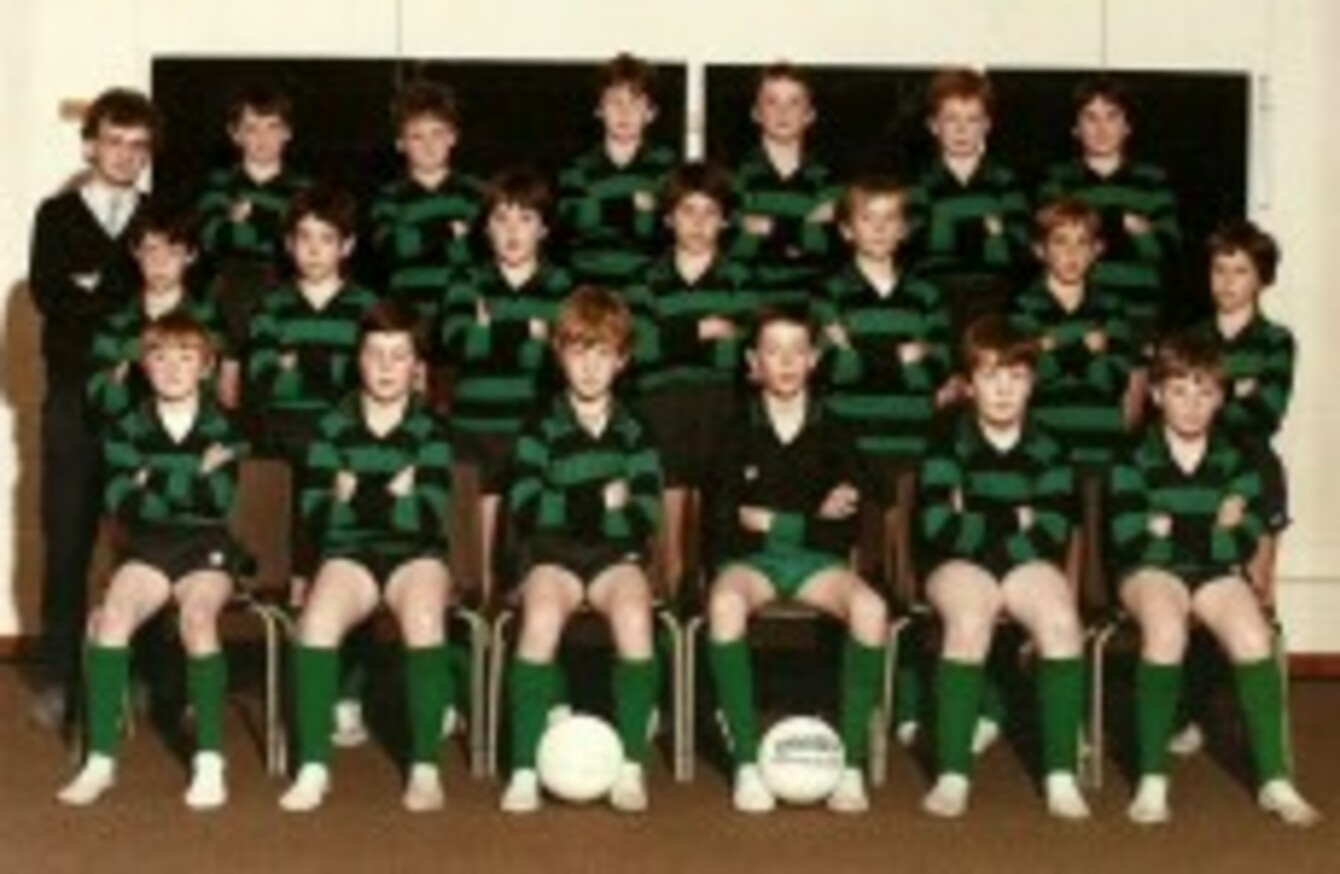 Phil Quinlan (front row, far left) after winning a county medal with St. Paul's, Navan in 1986
Image: Phil Quinlan
Phil Quinlan (front row, far left) after winning a county medal with St. Paul's, Navan in 1986
Image: Phil Quinlan
"Every day I think about what life would be like if we didn't clash heads that day. In my dreams I was always able bodied. I was always running to or from somewhere. It's only this year I'm disabled again when I fall asleep."
Phil Quinlan was an active kid. Hyperactive his parents would say. He was into everything. Football, Gaelic games, rugby, cross-country. You think of a sport, he'd give it a try.
Despite winning a number of Gaelic football county titles in school where he played for St. Paul's in Navan, rugby and running were his two great loves. He liked soccer but give him a choice between lining up at Dalymount or lining up in Thomond and there was only one winner.
Despite this, on November 26, 1989 – 11 days after John Aldridge secured Ireland's qualification for Italia 90, a competition that would clash with his Inter-Cert – Quinlan was playing for Parkvilla in a soccer game against Torro United in Kilberry just outside Navan.
"I don't remember much about the incident itself," Quinlan told TheScore.ie.
"But I've been told I went up for a header and there was a clash of heads with the centre-half. His forehead went into the back of my head and I was knocked out for four to five minutes.
"I eventually came around and played on for a bit but I was stumbling about and substituted just before half-time.
"One of the managers eventually realised something was wrong so he called the bus driver over to get me to Our Lady's hospital in Navan.
"Unfortunately the bus was parked two fields away so the driver had to carry me all the way there and when he got on the road he ran into lots of traffic. The Navan races were on and it was a foggy day so what should have been a ten minute journey turned into a 40 minute one."
With Navan unable to treat the then 15-year old, they put him in an ambulance to Dublin, another crucial hour ticked away. There he had a CT scan. It wasn't good. A bleed on the brain had to be treated.
For 10 days he was in a coma and it was six weeks before he was fully conscious again.
"I have certain memories of being in a coma. I don't know how much of it is real or how much of it was dreams. I remember my mam and dad (Jim and Angela) at my bedside showing me pictures of the dog at home.
"I remember my sister rubbing my feet in an effort to stave off the spasticity. When I eventually woke I believed everything I was told. I had to, I'd no other choice."
Quinlan admits he was a terrible patient, convinced he was going to be walking by his 16th birthday on February 7 1990 but that was never going to happen. He had hemiplegia – the entire right side of his body was paralysed – and any recovery would take months.
"I was three months in Beaumont before I was moved to the National Rehabilitation Centre in Dun Laoghaire. I actually loved it there because so much of the rehab was based around sport so I took to it like a fish to water.
"There was a great camaraderie there between everyone. We were all in the same boat. There was one fella who had been in bed for 13 years after a car crash in Limerick and we'd chat every day."
The same could not be said for his peers in school.
After returning and learning he was being held back a year to complete his Inter-Cert – his dad used to tease him that he only suffered the injury so he could watch the World Cup instead of doing exams – suddenly some his schoolmates didn't want to know him any more.
"I don't know why really, maybe they were embarrassed? I was different now. I wasn't cool 'cause I couldn't even walk properly so how could I go to a disco?"
Be part
of the team
Access exclusive podcasts, interviews and analysis with a monthly or annual membership.
Become a Member
Determined to make the most of his life, Quinlan finished school, went to college and studied computers. Strangely, it was his time spent in hospital surrounded by computers that gave him his love of them.
He travelled, finding his way to Australia for the Sydney Olympics in 2000. He got a job working at the Games – managing central operations – but couldn't source a ticket for Sonia O'Sullivan's 5000m final.
"Cathy Freeman was running that night so there wasn't a spare seat in the stadium. I used my knowledge of the arena to sneak in and see Sonia win the silver though. It was one of the greatest moments of my life."
He admits he'd "given up on women" because of his disability but fate would bring Helena into his life. He bought a house with his brother. Some lodgers moved in. One was Helena. He kicked his brother and the other lodgers out and she stayed.
They now have two kids, Eileen (three) and Joe (five months).
"Being a disabled dad is different than being a regular dad. If your kid runs off you can't just chase after them. Eileen hasn't asked any questions yet about my disability but I hope she does.
"I like when kids ask me questions about what's wrong with me. If they're young, I tell them I hurt my toe. At least kids see me whereas their parents might just stare at me."
Because his injury left him with an awkward gait, those stares are frequent. People can confuse his movement with that of a drunk.
"I can only walk for maybe 200m at a time using walls, door frames, anything solid for support. I can walk a bit further when I'm pushing the kids' buggy. My hips, knees and back all suffer from the way I walk."
The pain can be quite severe and when the treatments - botox, nerve root blocks, epidurals – don't work, it can bring on bouts of depression, especially when thoughts turn to how his life could have turned out had he been treated quicker on that foggy November day in Navan.
"Every day I think about what life would be like if we didn't clash heads that day. In my dreams I was always able bodied. I was always running to or from somewhere. It's only this year I'm disabled again when I fall asleep."
Despite this – and the fact he knows he's likely to end up in a wheelchair – the 40-year old wants his children to play sport. In fact, he'd love if they did. And not just his two, but all kids.
"The facilities, education, surgery, they are all much better. You have groups like Acquired Brain Injury Ireland now who are proving that education works and I think all coaches should be trained to deal with head injuries.
"Even if there's a hint of a head injury, the person, adult or child, should be brought straight to hospital."
"Education and time, that's what makes the difference."
For more information on concussion and head injury, visit the Acquired Brain Injury Ireland website.