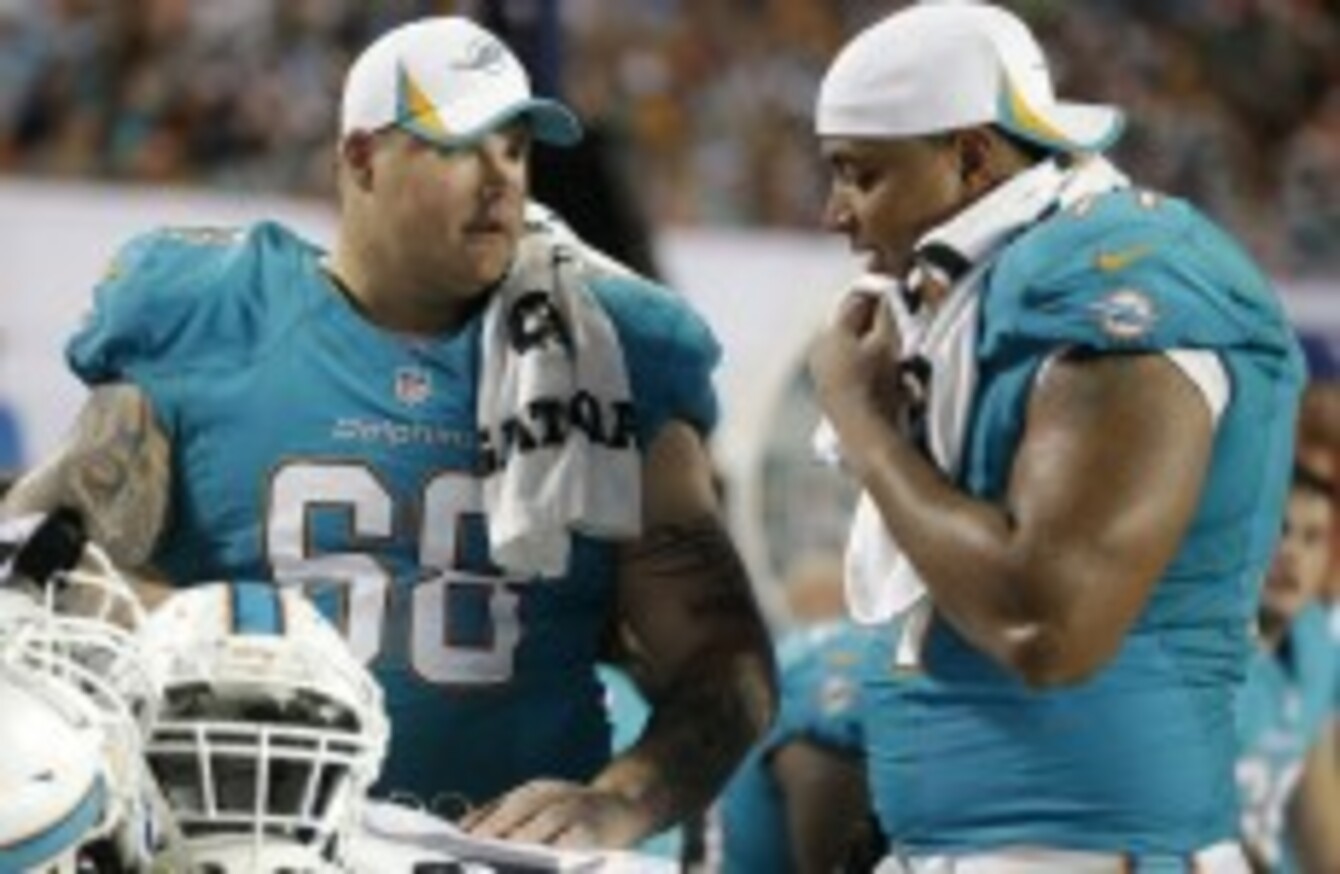 Miami Dolphins guard Richie Incognito (68) and tackle Jonathan Martin are at the centre of the NFL's high profile bullying case.
Miami Dolphins guard Richie Incognito (68) and tackle Jonathan Martin are at the centre of the NFL's high profile bullying case.
IMAGINE GETTING A phone call from someone you work with where they described you as a 'half-n****r' and threatened to 's**t in your mouth'?
Imagine being asked to hand over 10% of your annual salary for a dinner with your co-workers, most of whom earn more money than you do?
Imagine feeling so harassed by someone you shared an office with that you had to leave the organisation to escape it?
Now, imagine that instead of coming out in support of you, your co-workers dismissed the actions of your colleague as little more than 'banter' and that you, the victim of all this bullying, this abuse, should have carried on as normal and accept it as something that happens.
"Oh but you always laughed at his wise-cracks, especially when he threatened to punch your mother," even in the face of mounting evidence that he wasn't joking.
Then, after leaving the company because of the bullying, imagine a large percentage of the industry you work in closes ranks and says that you'll struggle to find work again because you broke some sort of misguided code that everything said in the locker room — whether it's racist, abusive or just horrific — should remain in the locker room.
It's pretty hard to imagine any of that happening in a normal job and yet, right now, the Miami Dolphins find themselves defending the indefensible as the NFL faces up to a bullying scandal that just refuses to die down.
For those of you that don't know the ins and outs of the story, the Miami Dolphins have suspended Richie Incognito for his role in bullying former team-mate Jonathan Martin. Incognito sent threatening messages, used racial slurs and generally made Martin's life so unbearable he had to quit the team.
That Dolphins' coaches and players have wanted to class the incidents as 'banter', the sort of slagging that goes on in workplaces all over the world isn't a huge surprise. Much like neighbours will always describe the serial killer who lived next door as 'quiet', nobody in Miami wants to be seen to have allowed a player bully a team-mate so much he had to quit the game.
Even sadder than the defense of the indefensible has been the ongoing probing into Martin's character, looking for something, anything, that NFL talking heads could point to and say "look at this, he obviously deserved to be bullied." We're led to believe he was quiet, aloof even, and must be mentally weak if he can't just smile through racial slurs and five-figure bills for dinner.
As much as Incognito deserves blame for his actions, as much as he appears to be a racist, foul-mouth bully, the Dolphins organisation deserves a huge amount of blame here too. The latest indications are that at least some of Incognito's behaviour was authorised in an attempt to toughen up Martin. Safe to say it didn't work.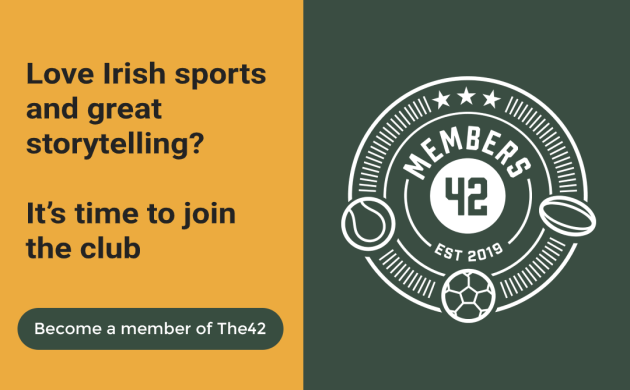 Martin should 'man up'
Last night, Incognito took to primetime television to explain his side of the story, to once again claim that threatening to kill someone is just a normal conversation between co-workers. But it's not. It's not normal to racially abuse someone you work with. It's not normal to casually suggest you'll punch someone's mother in the face or threaten to kill them. If I was to do or say half what Incognito is accused of, I'd expect to be released by TheScore.ie before I could finish this sentance.
And yet, a quick check of comments on this story elsewhere, of Twitter, of Facebook, tells me that I might just be in the minority on this. If I see the phrase "man up" used in connection with Martin one more time I'll scream. With what twisted logic can you determine that accepting racist, personal abuse and threats are a masculine trait?
Former Dolphins receiver Brandon Marshall tried to explain why this is the case this week, telling the Chicago Tribune:
"Take a little boy and a little girl. A little boy falls down and the first thing we say as parents is 'Get up, shake it off. You'll be OK. Don't cry.' A little girl falls down, what do we say? 'It's going to be OK.' We validate their feelings. So right there from that moment, we're teaching our men to mask their feelings, to not show their emotions. And it's that times 100 with football players. You can't show that you're hurt, can't show any pain."
I can see Marshall's point, but it doesn't have to be that way.
A month ago my wife gave birth to our first child, Teddy. Right now, between the tiredness and dirty nappies, I can't quite figure out if I'll be a good dad or not but I'll certainly try to be. Therefore, one thing I'll teach Teddy is that he can show his feelings, he can show pain.
If he was being bullied in school I'd want him to tell me, tell his teachers, tell whoever he needed to. If he was in the NFL and being abused for being Irish or had someone threatening to kill him I'd want him to tell people about that too.
A bully can exist only when people ignore what they do. Out them, and they lose their most potent weapon. It's much easier to walk the path that Incognito and the Dolphins have taken, to put it down to slagging that got out of hand.
In doing so, by trying to mask Incognito's actions as 'banter', they're doing victims of bullying, of racist abuse, a massive disservice.