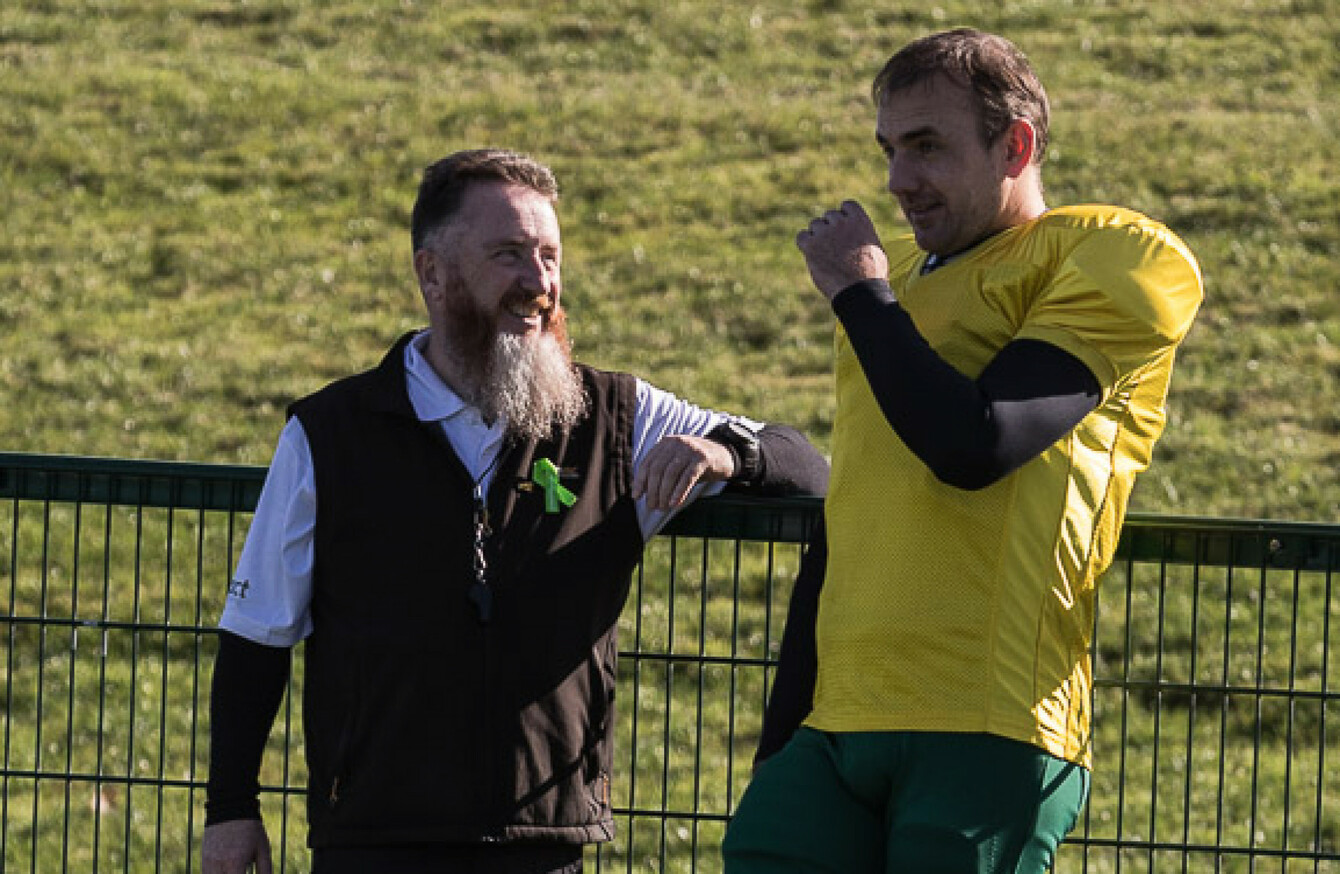 Ireland coach Ciaran O'Sullivan, left, with quarterback Andy Dennehy.
Image: Terence McCann
Ireland coach Ciaran O'Sullivan, left, with quarterback Andy Dennehy.
Image: Terence McCann
TOMORROW, THOUSANDS OF American football fans will make the trip Wembley Stadium to watch the LA Chargers take on the Tennessee Titans in the second International Series game of the 2018 season.
It will be the 25th International Series game — 23 in London, two in Mexico City — since 2007, the year the National Football League realised that American football was a game with global reach.
But while London will have the glitz and the glamour that comes with an NFL fixture, an arguably greater sign that football is now a sport that has transcended the country of its birth will come in the unlikely environs of Navan Rugby Club at 6.30pm on Saturday.
After a two-year hiatus, the Irish international team — the Wolfhounds — will return to take on the Belgian Barbarians in a friendly.
The resurrection of the national team is little surprise considering the growth of the sport here. With 20 kitted teams from all four provinces playing across two tiers — and a further seven dedicated flag teams — football has never been more popular as a participation sport in this country.
Though football was first played on this island in an organised manner in the mid-eighties, once the NFL appeared on terrestrial TV less and less, so too did participation numbers dwindle. In 2000, the Shamrock Bowl — the Irish equivalent of the Super Bowl — was not contested for the first time in 15 years.
However, the league underwent a revamp in 2001 and hasn't looked back since.
One of the teams involved that season were the Cork Admirals who, by happy coincidence, won their first Shamrock Bowl this year. And instrumental in their founding was Ciaran O'Sullivan, now head coach of the Irish Wolfhounds.
But how did a man with Gaelic games in his veins end up taking America's game Leeside?
"The real beginning point for me was back in the '80s when RTE and Channel 4 started showing highlights packages," O'Sullivan told The42 this week.
"Then, like a lot of people of my generation, I emigrated to the States. In the time I spent there, I got to see a different side of football which was the high school and college game which related to the club GAA game here.
"I lived in Northern Maine and there's no professional or semi-professional leagues there, you'd high school and college teams but, even then, the college game was third-tier, academic league-type football.
"But it was full of very dedicated fans and players and was just so parochial, I loved it. And the fact that most of the games were played in snow and ice, I loved that too.
"I suppose it was a baptism of fire as to what the sport was really about away from the NFL.
"Coming back to Ireland, funnily enough, I was more involved in softball and baseball than in football. But myself and another guy who'd come back from the States were looking to watch a game.
"Around then, it was the beginning of Google searching and I found that there was a league here so I said I'd give them a call and see where we could watch a game locally. The gentleman on the other end of the line said if we wanted to watch a game in Cork, we'd have to start a team… so I did."
Long before Gamepass and all-22 camera angles and every person with a laptop and Microsoft Paint diagnosing RPOs and the benefits of blitzing on first down, O'Sullivan recalls how some friendly wagering honed his knowledge of the game.
"I remember spending many Thanksgivings over there with a family member who was involved with the Boston College team when he was younger.
"And because of the nature of the sport at the time, a flag would be thrown on the field and they didn't have any of the technology they have now.
"There was a little bit of waiting to find out what the penalty was so everyone would just throw five bucks on the table and make a call. If you wanted to come out of Thanksgiving with any money at all, you would have to have a pretty good idea of what was going on in the game.
"That was a serious education as to the rules but also why penalties happen and how to avoid making those mistakes. I got a real schooling and that's stuck with me ever since."
O'Sullivan would go on to become one of the most respected coaches in the country, the kind of coach other coaches look to for the depth and breadth of his knowledge.
Little wonder then, he was the coach the Irish American Football Association turned to when the national team needed a head coach.
Putting together a roster of players and coaches who spend most of their club season trying to get the better of each other is no easy task. Nor is having just five weeks to prepare when most teams take five months to implement a playbook.
"I'm not going to say I wouldn't like more time," says O'Sullivan, "but nothing focuses the mind like having limited time to prepare. It means that every minute of practice counts and not a single snap can be wasted.
"I remember when we played the Dutch a couple of years ago. Between myself and Orla McAleese (now President of IAFA) we planned every single minute of that trip.
"And, to be fair to the players and coaches, they've all bought into that and we've had some really productive sessions and you can see it coming together."
As for the opposition, O'Sullivan says Belgium have undergone some coaching changes so are a somewhat unknown quantity but he expects the game to be an open affair with both teams having similar offensive philosophies.
"I think both teams play a more open style of football. The style of football in Ireland has certainly changed over the years with a lot more dynamic offensive play. The days of just sticking the ball up your jumper and running forward for a few yards are long gone.
"In Navan, I think it's going to be a spectacle and the weather is supposed to be good so that should lend itself to the occasion too.
"But there's something I'd really like to get across for anyone thinking of coming along. The difference between watching a game on the TV and watching it at ground level in a smaller venue, is amazing.
"You literally feel the game. You don't just hear the tackles, you can feel them in your chest. And the excitement and adrenaline of players comes through too, it's a such an immersive experience.
"And I think you'll find, even for people who are not fans of football, but general sports fans, they'll see we have an awful lot in common with their own favourite sport when they watch us play at this level."
The Irish Wolfhounds take on the Belgian Barbarians at 6.30pm in Navan Rugby Club on Saturday 20 October. Tickets are available at the gate.