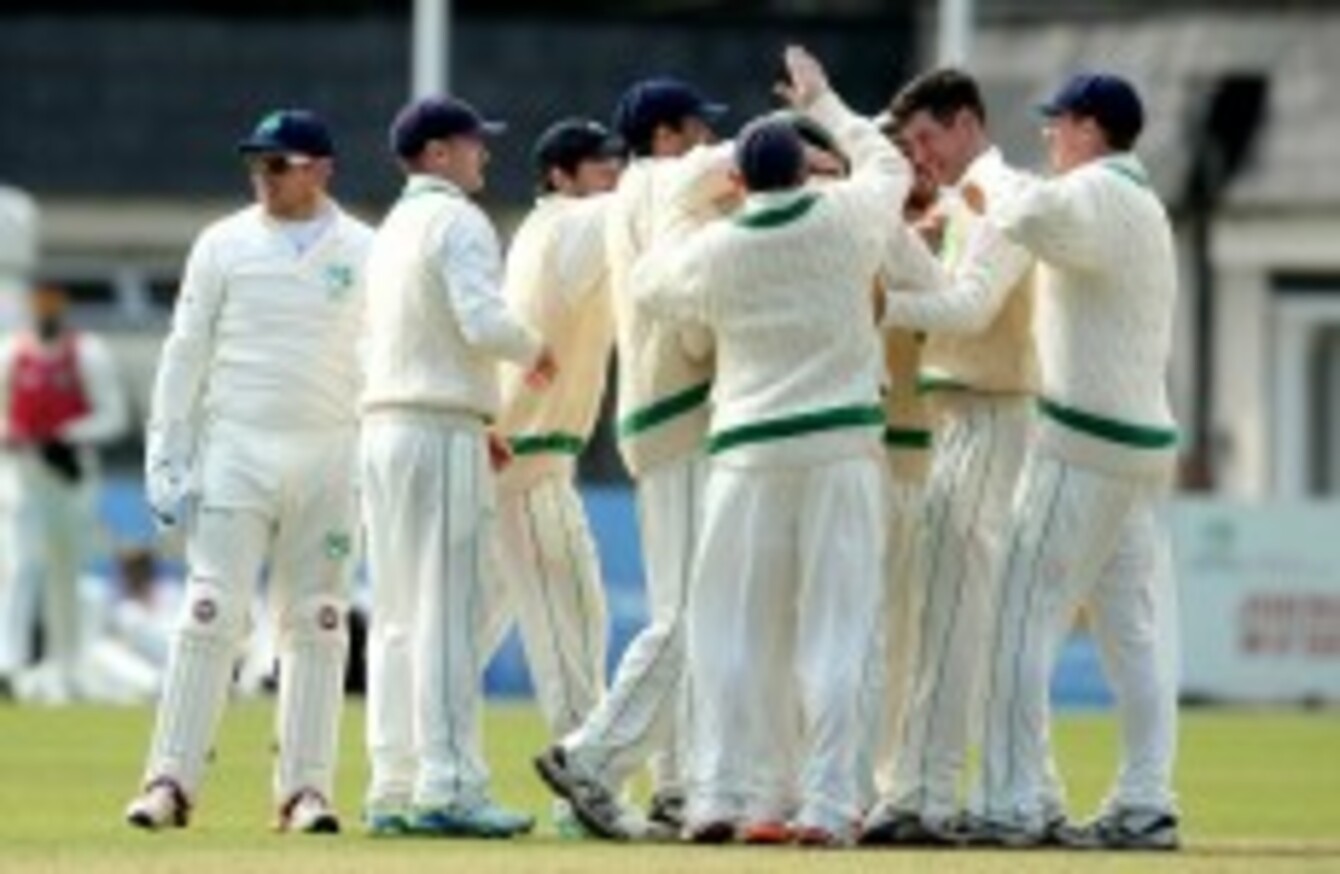 Ireland's next game in this competition is in October against Namibia.
Image: Ryan Byrne/INPHO
Ireland's next game in this competition is in October against Namibia.
Image: Ryan Byrne/INPHO
Ryan Bailey reports from Malahide
AS FAR AS opening games in a campaign of this significance go, this was a near faultless week for Ireland as the road to Test cricket began with an emphatic win.
From the outset of this four-day game at Malahide, the hosts dominated proceedings and were in complete control before eventually sealing a first victory, by an innings and 26 runs, in the Intercontinental Cup.
United Arab Emirates provided stubborn resistance, particularly on Thursday, but Ireland always had too much fire-power as John Bracewell's tenure as head coach started with an efficient and satisfactory performance.
Despite a delayed start on the fourth and final morning, Ireland required just four balls on Friday to take the final UAE wicket and claim all 20 points to move to the summit of the standings.
Ireland have won this competition four of the last five editions but the stakes have been considerably raised this time around with the winner given the opportunity to play for a seat at the top table of the sport.
Ireland have waited for this chance for some time now and they certainly wasted little time in making a quick start once the tape was raised on Tuesday.
Paul Stirling and Ed Joyce combined to put on 231 runs for the second wicket as Ireland's top-order dispatched the limited UAE attack to all corners of this picturesque village ground.
Joyce, who has recently retired from T20 cricket, has previously stated his desire to represent Ireland at Test level and, at 36, he's shown steadfast commitment to the cause in order to make that happen.
And this was further evidence, if any was needed, of his value as the elegant left-hander caressed his way past the best score by an Irishman before eventually falling for a mammoth 231.
Joyce's innings has rightly grabbed the attention and his partnership with Stirling, who scored a first-class high score of 146, provided the platform for the bowlers to make inroads into the UAE order.
To take 20 wickets against any opposition is no mean feat but on a wicket which offered little in the way of assistance, this was an encouraging performance from an Irish attack which has come under scrutiny of late.
If Joyce was the star with the bat, Craig Young certainly stood out with the ball in hand.
The Bready fast-bowler endured a difficult winter as he didn't see any game time at the World Cup but he's returned stronger as he bowled with genuine pace throughout and was rewarded with seven wickets.
There are, of course, areas in which Ireland can improve on going forward and no doubt Bracewell will have learnt a great deal from the squad he's inherited over the course of these four days.
For now, however, this was a job well done and while there will be sterner tests ahead, Ireland are on track as their bid to play Test cricket got off on the right foot.