IT'S PROBABLY TOO simplistic to look back on that evening in Stradbrook and mark it as the dawn of Jordan Larmour's rise into one of Ireland's scarily-talented wonderkids, but certainly it is another example of why his prodigious emergence has surprised very few.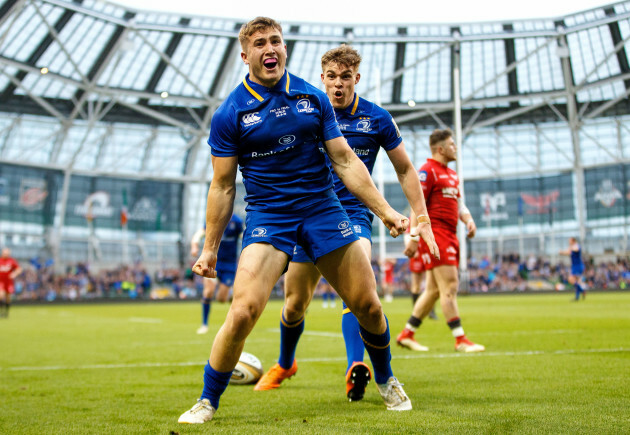 James Crombie / INPHO Jordan Larmour: Grand Slam, Champions Cup and Pro14 winner. James Crombie / INPHO / INPHO
In his final year at St Andrew's College, Larmour — the star of the school's senior team — was invited to play for a Blackrock College President's XV against a touring side from New Zealand.
David Boyd, the then director of rugby at the Booterstown school, was in charge of putting the home team together and when short of a couple of players, asked Larmour and four of his St Andrew's team-mates — including Ireland U20 winger Peter Sullivan — to tog out in Blackrock colours for the evening.
Hamilton Boys High School, the prestigious New Zealand rugby institution which boasts Jared Payne amongst its alumni, won 26-22 but Larmour, wearing the number 13 jersey, stood out.
Among the interested spectators that evening was a certain Joe Schmidt, who had come down to catch up with a couple of familiar faces from back home among the touring party.
A couple of months later, Schmidt invited Larmour into camp to train with the Ireland squad ahead of their 2016 November series which, of course, included that famous victory over the All Blacks in Chicago.
It was clear Schmidt rated him highly and while it might be stretching it to say that is where it all started for Larmour, it is still remarkable to think that only two years have passed since then, with the 20-year-old now a Grand Slam, Champions Cup and Pro14 winner in his debut season at senior level.
Meteoric rise doesn't really do it justice, yet at the same time those who followed his exciting progress through the ranks at St Andrew's and then with Wanderers RFC and St Mary's aren't really surprised by the way in which he has burst onto the scene over the last 12 months.
Just like that night in Stradbrook when he asked his future coach for a picture as a giddy young fan, everything he has done and achieved in his formative years has contributed to where he is now, because Jordan Larmour was always destined to become a star.
***
As Jordan Larmour presented himself for media duty for the first time, there had been quiet whispers about a uniquely talented back from St Andrew's College ahead of the 2017 U20 Six Nations campaign, and certainly his all-action performances at school's level indicated that there was something special about this kid.
On that particular evening at the team hotel in CityWest, Larmour found it hard to hide his nerves as he faced the glare of publicity for the first time. It was all new territory for him, and as he sat down to be interviewed, he was quick to announce 'it was his first one.'
Matteo Ciambelli / INPHO Larmour excelled during last year's U20 Six Nations. Matteo Ciambelli / INPHO / INPHO
But, just like he had done on the pitch, Larmour took it all in his stride with minimal fuss and for a young man who had never done it before, spoke with notable conviction and confidence.
His performances soon did all the talking as he emerged as Ireland's outstanding performer during the championship, producing breathtaking glimpses of a thrilling skillset; speed, energy, direct running and an ability to find a gap. It was clear he had it all, and more.
Larmour was set to star at the Junior World Championship last June but an ankle injury sustained on club duty with Mary's required surgery and meant he was sidelined for a number of weeks.
It actually proved to be a blessing in disguise as he was able to spend the summer working closely with the Leinster squad, resulting in a senior debut on the opening day of the Pro14 season against Dragons.
"Looking back now, I'm glad I got the surgery done as I had a full pre-season under my belt and got my first start for Leinster at the start of the season," he said. "I'm happy with how it worked out."
The rest, as they say, is history.
***
Ian Larmour tells a brilliant story anytime he's asked about his son's electrifying footwork, and jokes about how one night he narrowly avoided disaster by using his spacial awareness and agility to dodge a falling cabinet in the family living room.
"I don't know how he did it," he begins. "But Jordan managed to get out of the way of a large glass cabinet we had having tried to get something down off the top shelf."
Others would put Larmour's ability down to the fact he was one of those annoyingly talented kids who excelled — and won — at pretty much everything he tried. Horse-riding, swimming, tennis, golf, cricket, hockey and rugby. You name it, he did it and, almost invariably, stood head and shoulders above the rest.
"Whatever it was, Jordan was immersed in sport from a young age, and just loved it," Ian explains to The42.
"It's funny when you look back, and maybe it's a hindsight thing, but you always sort of saw…no matter what sport he got involved in, he always did really well at it. What was identified from a young age was his hand-eye coordination and that was always his real strength.
"He was always bringing the trophies home when he was at tennis camp or whatever it was, so we knew he had a bit of talent but I'm not for a moment suggesting at 20 years of age he would have achieved what he has. It's remarkable, it's hard to believe."
The dinner table conversations always revolved around sport in the Larmour household, with Jordan's older sister, Claudia, a member of the St Andrew's senior girls hockey team and his younger brother, Adam, a promising rugby player in his own right.
Billy Stickland / INPHO A lifetime worth of memories in one dream season - the Larmour family have been able to share the experiences. Billy Stickland / INPHO / INPHO
Like many parents, both Ian and his wife Anne always placed huge emphasis on mixing academic studies with sport and were ardent followers of their children's exploits on the hockey and rugby pitches in Booterstown and beyond, providing a constant pillar of support in success and failure.
"When you go back over old school reports and diaries, it's all written down," Ian says. "'I want to play for Ireland,' Jordan constantly wrote.
"He set out his stall from a young age and it's always been about sport for him, and in particular rugby. And it's happened for him."
***
St Andrew's is a traditionally strong hockey-playing school, nurturing and developing the talent of countless future internationals and achieving widespread success to the point of dominance in both girl's and boy's competitions, across all age grades and levels.
By the time Jordan Larmour was in third year, he had done what very few students had ever done before and forced his way onto the school's senior hockey team, which in itself is an impressive feat given the calibre of player within their system.
His performances in blue and white earned him Ireland underage caps but it was his attitude, temperament and determination which had made it impossible for St Andrew's coach Ivan Ovington not to pick him, despite his tender years.
"He was just an exceptional athlete," Ovington recalls. "No matter what he did, no matter what he had a go at or turned his hand to, he was going to be very, very good at it.
"Nothing ever fazed him in any way. In 2012, I brought him up to the All-Irelands in Belfast and was bringing him to use when games were half over or we wanted fresh legs, throw him on and let him run hard for 20 minutes.
"He came on in a pool game and knocked in two goals and generally just ran amok during the second half. By the semi-finals he was starting — his attitude just forced me to pick him and he was unfazed by the fact it was the All-Irelands or it was probably only his second or third game for the senior team at that stage."
Larmour had all the attributes to become an exceptional hockey player, as his hand-speed, pace and footwork saw him develop into one of the most talented young players in the country — but rugby was always his priority.
"I remember having a chat with Ian and Jordan and we said, well what sort of commitment could he give because he always wanted to play it [hockey], it wasn't like he was doing me a favour or anything. He genuinely enjoyed the game and he wanted to play," Ovington continues.
Rowland White / Presseye Larmour was an outstanding young hockey player for St Andrew's. Rowland White / Presseye / Presseye
"We sat down and we said 'okay, well what can we do here that is fair to all the other lads?' We said one training session a week and he'd play a match whenever he was available, or whenever there wasn't a rugby match.
"And to be fair, he always did that, he was 100% committed and all the other guys knew by having him on the team, we had a better chance of winning. His attitude was incredible and he was tailor-made to be a top-class hockey player. He was that good, and everyone knew it."
***
Jordan Larmour is living the dream, but perhaps more impressive than his explosive ability is his hard-working and level-headed approach. It would be easy for someone so young who has enjoyed such a rapid ascent up the ladder to get carried away, to become too confident.
But for all his talent, the one thing that stands out about him is his attitude, modest personality and an unflinching desire to learn and improve as a player and athlete.
Like so many of this new wave who have been such an integral part of Leinster and Ireland's memorable season, complacency is not part of his DNA and certainly as a driven, hungry and consummate young professional, Larmour's potential knows no bounds.
Perhaps it was his grounded upbringing, or the fact he always played above his age, but Larmour had the capacity to not only seize his opportunity when it arrived, but catapult his nascent career to rarefied heights with moments of outstanding individual brilliance at key times in key games.
"On one level I'm not surprised that he has excelled at what he wanted to do because that's effectively always what he wanted to do," his father says.
"Did I ever think he wouldn't make it? I thought he would, I had to believe for him, but what has caught everyone by surprise is just the speed at which it has all happened, including himself.
"Like you heard him say himself, he was hoping for maybe a few Leinster 'A' performances and maybe a few senior games this season but to have three medals, it's hard to believe.
"Overall, you just get a great sense of pride and for him to be excelling at the highest level of sport, and getting all these opportunities, and the success that he's had so quickly, it has been a bit of a whirlwind year.
"It's simply just fantastic and it has been a huge lift for everybody. It's difficult to say and sum it up. For a parent, you couldn't really wish your son or daughter to have any more. It's amazing."
Just as they had done throughout his time in school, both Ian and Anne were on hand to witness, and enjoy, their son's performances in blue and green throughout the year, the only difference now being it was in front of the watching world.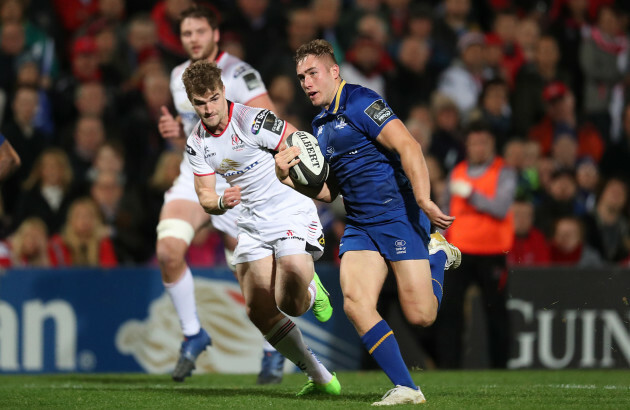 Billy Stickland / INPHO He scored eight tries for Leinster last season, including a stunning score in Belfast. Billy Stickland / INPHO / INPHO
Ian recalls their trip to Belfast for the Pro14 inter-pro against Ulster last October, when Larmour was originally named on the bench but was introduced early in the game due to an injury to Noel Reid.
Many people will talk about his stunning, virtuoso try against Munster at Thomond Park as Larmour's real breakthrough moment, but it was that night at Kingspan Stadium which will live long in the memory.
"We were heading up to Ulster with no ticket, Anne and myself," Ian explains. "We text Niall Rynne [Leinster president] to say we're heading up but don't know if we've a ticket or not and luckily he was able to come up with a couple of tickets.
"And then you're sitting in the stands and Jordan comes on and it was the first of one of his more spectacular tries and I remember thinking that day, we weren't sure if we were going to go and just feeling so glad I was there to see that.
"Everyone turns around and tells you how fantastic he is and I suppose it's…I don't know what more to say really. It's just a great buzz when it happens. You're as proud as anything."
And so the memories followed. At Thomond on St Stephen's Day, when Larmour firmly thrust himself in the limelight by dancing and dazzling his way through the Munster defence, and at the Aviva Stadium, when he came on to make his international debut against Italy.
There were more, a lifetime of treasured moments squeezed into one indelible season.
At Twickenham, when Larmour came on to see out Ireland's Grand Slam win over England or what of Bilbao, when he started on the wing to help Leinster clinch a fourth European crown. And then back to the Aviva, and that season-capping try from nothing, an ability to conjure a moment of magic in the blink of an eye. That one-handed pick-up a lá Campese was out of this world.
"They're great memories," Ian smiles.
"The one great thing about it is it has been such a buzz for the whole family, his brother and sister, his Mum, his friends and I mean everyone comes together.
"We didn't go to Bilbao for example but we went up and had a bit of a private party in a friend's restaurant and we watched the match together, and I'd nearly say that was better than going on the basis that we were with family and friends and you get to share that experience with them and share the pride."
***
Nothing, it seems, was going to stop Jordan Larmour fulfilling his potential to become a rugby player, and so he used a long-term injury lay-off to his advantage when so many other teenagers would have let it derail their ambitions.
Dan Sheridan / INPHO Larmour being presented with his first Ireland cap by IRFU president Philip Orr. Dan Sheridan / INPHO / INPHO
Already an underage hockey international and a talent earmarked for the future, Larmour's world could have come crashing down when he tore his anterior cruciate ligament (ACL) in fifth year and was told he wouldn't play any sport for a year.
It was a cruel setback at the most inopportune time but Larmour was so focused on getting back that he worked tirelessly in the gym under the guidance of David Jones to come back from the injury stronger, fitter and a better player than before.
"His attitude in the gym was spectacular," Ovington says. "David Jones spoke to the surgeon who did his ACL and the surgeon had never seen a knee in such good shape going into surgery and that was because of the amount of work Jordan did.
"He got the injury and then just knuckled down to do the work. His attitude to training is remarkable and whatever work was required, he'd do it without complaining or giving out about his bad injury luck."
To come back and still possess the same turn of pace, acceleration and agility is a true measure of Larmour's work-ethic, his appreciation of the sacrifices demanded by greatness and the support he received from both St Andrew's and his parents, as those around him ensured everything was done to facilitate his journey to the top.
Ian continues: "It's his temperament and I don't know where he's got that from. In the same way, and I think I may have said this to you before, but if I was telling him how great he was, or how great I thought he was, he would be sort of saying 'Jesus, what are you telling me that for?'
"He's very kind of low-key and understated in that way and nine times out of 10, if there's something positive being said, I'll hear it elsewhere rather than from him. He doesn't like that, and certainly wouldn't go on about it.
"It's actually probably something a son or daughter doesn't realise, but the pride a parent takes from every little thing is huge. He would be aware I would look at The42, I would look at the papers and I would read it all.
"I would rarely talk to him about it but he would never sort of say to me 'oh, did you see that?' He never refers to media and things like that and often he might have done a piece and I would see it but would have been completely unaware he had done it. He doesn't tell you these things.
"Even when they won the Six Nations, I had all the papers there and I was going through them all and he would look at me and ask me what I was doing. That's just the way he is."
***
Jordan Larmour is in line to win his fourth Ireland cap off the bench in Saturday's first Test against Australia in Brisbane, a day before his 21st birthday, in what is another sure sign that this scarcely-believable season has exceeded his wildest dreams.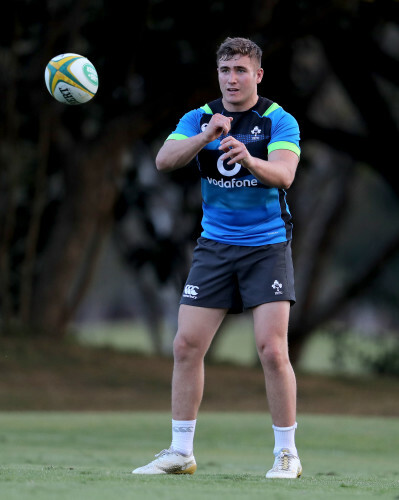 Dan Sheridan / INPHO Larmour has been named on the bench for tomorrow's first Test in Brisbane. Dan Sheridan / INPHO / INPHO
He started it harbouring hopes of getting his chance for the Leinster 'A' side but quickly had to tear up the goals he had scribbled in his notebook, instead drawing a new arc for his career trajectory, one which had hit a steep upward curve almost instantly.
Nobody could have predicted what has happened over the last 12 months, as the wunderkind from St Andrew's enters the final weeks of the season with more than a career's worth of silverware in his back pocket, and the promise of so much more.
"You just want him to do well, you want him to perform well on the day and for him to make his contribution to confirm why he's there," Ian adds. "You just want him to do well and obviously don't want him to get injured.
"In terms of talking to him about it [the whole season], I haven't really because there's very little opportunity. It's just been one thing after another and for him to go to Australia and experience that is just fantastic."
The challenge now is to keep going and build on it next season.
"Yeah, that's it. Those losses are going to come and those years that aren't as successful as others, you've got to take the good times with the bad times and just hope there is more success than there is losses.
"But for Jordan, all we can hope for is that he stays fit, he's happy in what he's doing, he stays involved and he just enjoys it. That's all any parent can ask for or want for their son or daughter and it's no different when they're playing at that level."
A special talent, a special season.
He had it written down all along.
This is the first in a series of player profiles The42 will be running during Ireland's tour of Australia, as we take a closer look at some of the squad's newest faces.
The42 is on Instagram! Tap the button below on your phone to follow us!