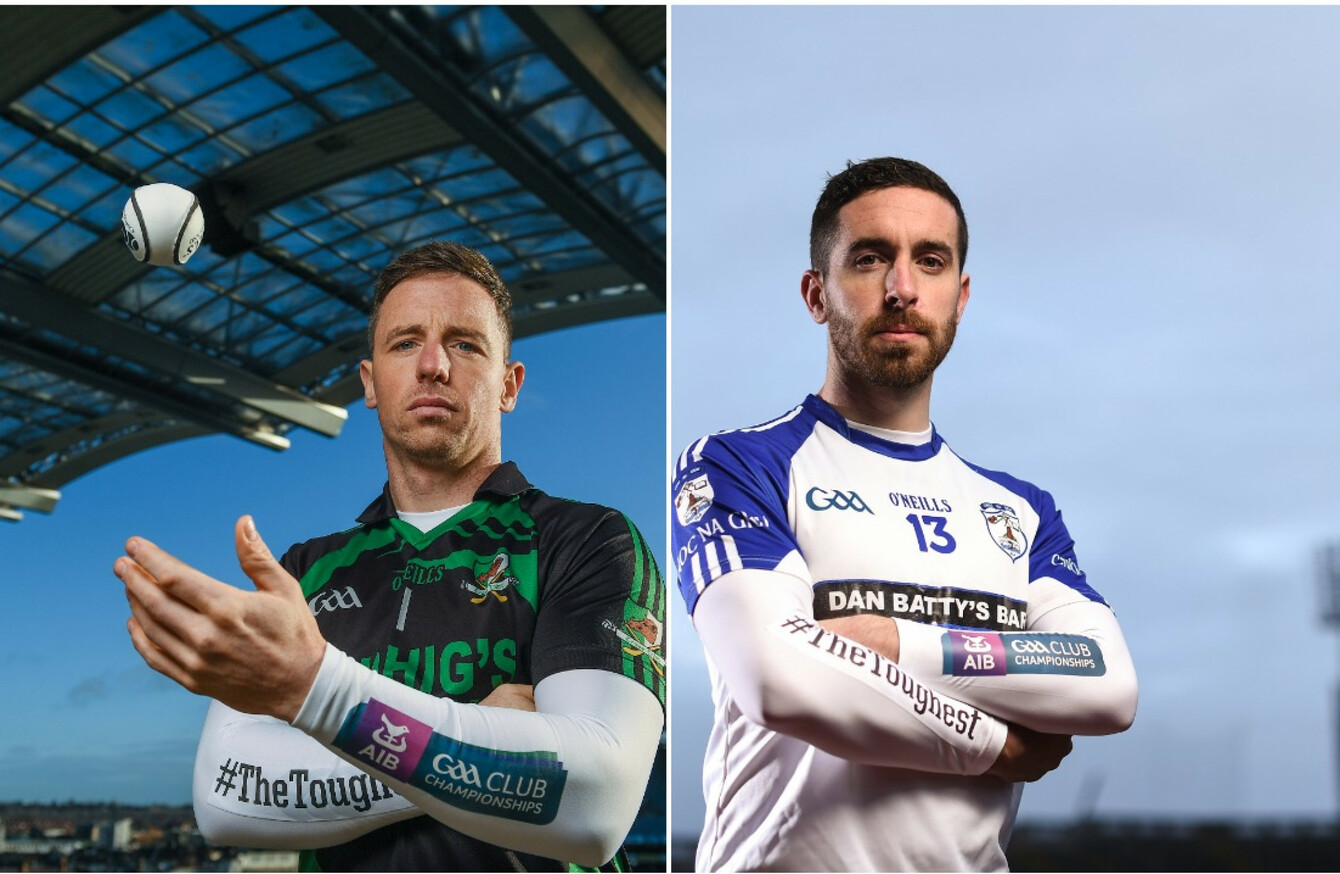 Anthony Nash and Matthew Dilworth are both bidding for All-Ireland club glory.
Image: Sportsfile
Anthony Nash and Matthew Dilworth are both bidding for All-Ireland club glory.
Image: Sportsfile
ANTHONY NASH'S FIRST All-Ireland playing experience at Croke Park was in 2001, the understudy goalkeeper as Cork won the minor title against Kilkenny.
It would take him another 11 years before he played again in the stadium between the posts for a senior semi-final against Galway.
The visits to Jones Road have been more frequent in recent times for Nash but he figured donning the Cork jersey was the only means by which he could get onto the pitch.
And yet on Sunday the 33-year-old gets the chance to line out on All-Ireland club final day, Kanturk bidding to become the intermediate hurling kingpins.
"I don't think anyone can ever say about their club that they can think of being here," says Nash, looking out at the Croke Park pitch.
"Now maybe the top senior teams in certain counties can dream of it a bit easier. But for Kanturk, when I first started hurling in 2001 we were junior, so going senior for us last year was incredible, let alone even reaching Croke Park.
"You're going to have a couple of thousand people from Kanturk here. It's not just for the players the next day."
About 14 miles west of Kanturk is another club sharing that sense of giddy excitement and trying to wrap their heads around the prospect of getting to sample All-Ireland final day.
Knocknagree are in action tomorrow in the junior football showpiece. Just like Kanturk's unexpected rise to senior hurling level in Cork, they made their own breakthrough last October in winning a county junior crown for the first time since 1991.
Journeying all the way to Croke Park was not part of a script they had penned.
"It's incredible really," says Knocknagree captain Matthew Dilworth.
"We'd a bad loss last year in a county semi-final, we were up seven points at half-time against Gabriel Rangers. To just win a county was such a relief and to get here was such an achievement for the club. The place is gone mad below."
The two clubs have supported each other and drawn inspiration from their respective achievements as county and provincial hurdles were cleared. In early October last year Kanturk had claimed hurling honours in Cork. By the end of the month Knocknagree were junior champions, achieving glory in a curtain-raiser to Kanturk winning an intermediate football final.
On 19 November Kanturk saw off Clare's Kilmaley and a fortnight later Knocknagree got the better of Kerry's Dromid Pearses after an extra-time thriller to ensure there would be two pieces of provincial silverware for Christmas in Duhallow, their home division in the north-west of Cork.
They got their All-Ireland semi-final tasks completed in recent weeks. Knocknagree in Mullingar against Donegal's Naomh Colmcille, Kanturk last Saturday against Armagh's Middletown after a sodden pitch had scuppered plans to play the game in Newbridge six days previously.
"There's always been messages going back and forth between fellas," says Dilworth.
"They called over to us after the Munster final, John McLoughlin and Padraig Kerins from Kanturk. We've played in a lot of Duhallow teams together over the years.
"It's just great for Duhallow there's two teams coming up to Croke Park this weekend. They've had an unbelievable year winning the (intermediate) football as well."
"I actually played football with Matthew (Dilworth) a few times and John (Fintan Daly) their manager has a (solicitor) practice in Kanturk so the two teams have a bit of an affiliation with each other," outlines Nash.
"He's been brilliant in fairness to him. he brought the lads over at Christmas to have a night where we met them for a drink so that kind of joined the two teams together which was nice and a great idea."
Knocknagree are a geographical curiosity. They are situated in the Kerry parish of Rathmore, one of three football clubs there that ply their trade. They are affiliated to Cork, the other two – Rathmore and Gneeveguilla – are represented in Kerry.
They have had a front-row view of Kerry football celebrations. Appearing in an All-Ireland club final less than a year after watching Dr Crokes – a 20 minute spin away in Killarney – scale the senior summit is something they are savouring.
"We all went to school in Rathmore in Kerry, every single one of us," states Dilworth.
"We were used to them bringing home Sam more often than not or even just going to the Munster finals in Killarney. We're used to seeing Kerry teams beat Cork teams.
"John Fintan had that driven into us for the Munster final. If Dromid had won and beaten us, there would have been ten Munster titles in a row at junior (to Kerry).
"So that was always in our mind getting that one over on a Kerry team. We're used to playing Kerry teams from school and in challenge games. Maybe that was a difference in helping us."
The club scene has helped Nash recuperate after the wound of Cork's championship exit to Waterford last August. He has been energised by a whirlwind journey.
"We've been very fortunate to have played where we played. We'd Páirc Uí Rinn for the county final, we'd Mallow, Tralee, Gaelic Grounds, then we went to Ruislip and Newbridge the last day. Our lads have just been spoiled really with the pitches we played on.
"But then just to get an occasion to play here. Look it's not going to be a full house by any means but for people to be able to experience supporting their local team here and for us to be able to play there, it's something I hope is never changed.
"I don't think we'll ever probably be here again to do it. It's something the lads will be able to tell their kids and grandkids about. There's a lot of fellas gone through the club that would have given everything to be here. So we realise we're fortunate."
This is the 14th year that Dilworth has started out for Knocknagree's main adult team. He had a couple of stints with Cork underage teams and after setbacks there, he deeply appreciates these club triumphs.
"I played minor one year, the same year as Colm O'Neill, we actually lost to Tipperary in the Gaelic Grounds in 2006. The Cork U21′s then I made it the year under my age in 2008 and I missed the whole year then in 2009, I broke my collarbone three times in the space of six months.
SEE SPORT
DIFFERENTLY
Get closer to the stories that matter with exclusive analysis, insight and debate in The42 Membership.
Become a Member
"So I'd to go away and sort that out anyway. I probably missed a good year with Cork winning the All-Ireland U21 and I was in CIT at the time, I missed out on the Sigerson win. I was on the Duhallow team that lost a county final in 2012.
"So the county title for me was huge. Just to win with my club and get here with my club is making up for those disappointments. Our lowest point probably was the year before John took over, we got beaten by Rockchapel by about 20 points. It's been building away and this has been the culmination of the lot.
"It's a different group from when I started. There's a few my age that would have started together, five or six of us. Other than that, the average age is there 22 I think. There's fellas coming up with us and they don't know what it's like to lose, they've been winning underage."
In 2011 Dilworth got a run out for the Cork junior side in Croke Park in an All-Ireland semi-final against Sligo. Jerry Carroll is on the Knocknagree panel 26 years after playing on a Kerry vocational schools team managed by Jack O'Connor that took on Kerry at headquarters.
Their manager Daly – who guided Cork to All-Ireland U21 glory in 1994 – was at the helm when Kerry outfit Miltown-Castlemaine won an interemdiate final in 2012. For everyone else this is unchartered territory.
The Kanturk squad can relate. They have a few shining inter-county lights in Nash, Aidan Walsh and Lorcan McLoughlin but the rest are venturing onto a new stage.
Nash teaches at Mitchelstown CBS. He's overseeing the fortunes of the school's senior hurling team and will be on the sideline tomorrow for their Munster semi-final. Then he will be on the road to play for Kanturk in Croke Park.
"I remember when I was U10 the coaches I had back then. Like Ned Barrett has a pub in Kanturk, he used to take us to matches. Donncha Kenneally's father Dinny and Maurice Brennan, I could go on and on, there's loads who have helped.
"But then everyone that's going to be playing here, their families started them off on it. So that's what it's for on Sunday, it's more for the club, the family members. We won't be thinking about that on the pitch, we'll be driving on and trying to play away.
"But the people sitting inside here in the stand, I'd say it'll be an emotional day for a lot of them. Even though it's a big town, it's a small selection of players with so many sports in the town but every club has rowed in behind us.
"It's just a great occasion, for any club at any level."
The footballers of Multyfarnham from Westmeath and the hurlers of St Patrick's Ballyragget from Kilkenny are their respective opponents, sharing the same ambition to realise prized dreams for small communities.
Kanturk and Knocknagree hope they can keep the Duhallow double success rolling on.
The42 is on Instagram! Tap the button below on your phone to follow us!