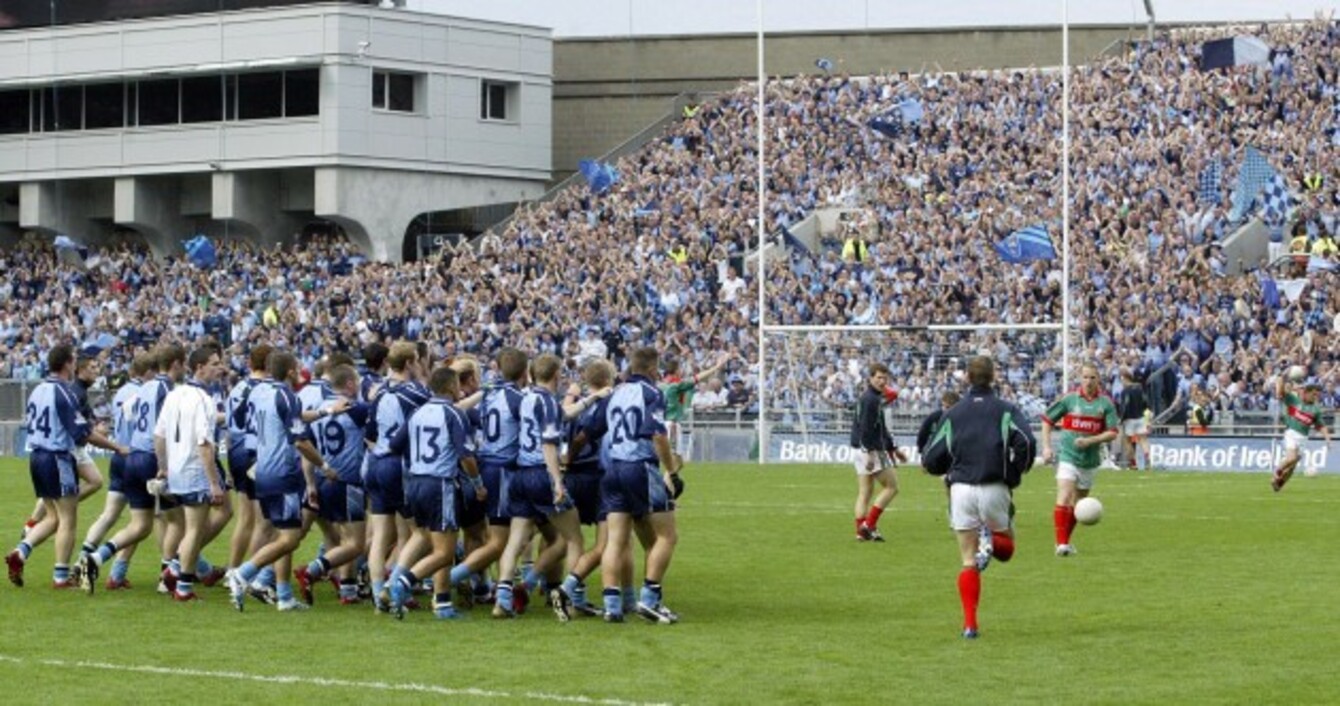 Dublin march arm-in-arm towards the Hill 16 end.
Image: INPHO/Donall Farmer
Dublin march arm-in-arm towards the Hill 16 end.
Image: INPHO/Donall Farmer
BY THE TIME the final whistle sounded, Mayo and Dublin's 2006 semi-final had already been anointed an instant classic. It took a late piece of Ciaran McDonald magic to settle matters but the drama started long before the first ball was even kicked.
"I didn't know anything about it," Conor Mortimer says as he looks back on the teams' infamous warm-up clash: The Mill at the Hill.
"We just went out to warm up where we were warming up and that was it."
Was this Mayo's attempt to gain a psychological edge over a county they had never beaten in the Championship? Whatever their intentions, it stoked an already tense atmosphere and sparked an unforgettable turf war at the Hill 16 end.
Arms linked, Dublin's players marched down to prepare as usual in front of their famous sea of blue on the Hill. Mayo didn't budge.
It led to the bizarre sight of both teams warming up in the same half of the pitch while the Canal End remained empty.
INPHO/Donall Farmer
"I think beforehand somebody came in and said Dublin were warming up at that end," Mortimer says.
I don't know if it was Mickey [Moran] or [John] Morrison that said 'we'll go down the other side.'

I think DB [David Brady] said, 'No, fuck it, we'll go down that side.' So then we went down.
"It didn't make any difference. They came down arm-in-arm, I thought that was a bit much to be honest with you."
INPHO/Cathal Noonan
Dublin forward Ray Cosgrove, who scored 0-2 that day, said the mind games had no impact but there was no option but to stand their ground.
"We got word off Davy Billings [Dublin selector] that Mayo had gone down to the Hill and at that stage there was no way we were giving an inch in that regard.
It was carnage there for about ten minutes with bodies and balls flying everywhere.
The 'carnage' included Paul Caffrey clattering into Mayo trainer John Morrisson, a move which earned the Dublin manager a one-match ban, and an incident which left Mayo dietician Mary McNicolas needing treatment on the pitch as the teams continued to warm up around her.
"The crowd got really behind it," Cosgrove says of the melee. "I'll never forget warming up with Coman Goggins doing a blocking drill and I looked around and saw the Mayo dietician sprawled out on the ground.
"I didn't see what happened and didn't know did someone hit her or had she got sculled by a ball in the head."
INPHO/Cathal Noonan
When order was restored and the match started, Dublin took control and opened up a seven-point lead midway through the second half before Mayo gradually reeled them in.
"People will say that had an impact on Dublin," Mortimer says, "but they were nine or ten points up with about 15 minutes to go so it had nothing to do with their performance.
"We started slowly in the game. We didn't start that well. At the start of the second half they got a goal and we were staring at the barn door then. We just clawed our way back."