Liveblog
Here we go, all eyes on this one.
Mayo. Galway. A coveted Super 8s spot on the line. Old rivals. Winner marches on, loser goes home. All or nothing.
You have to love it.
Limerick's Gaelic Grounds plays host to this evening's mouth-watering All-Connacht encounter, with throw-in set for 7pm [live on Sky Sports]. We'll be following the action here too in what's bound to be another absolute thriller under Saturday Night Lights.
Back shortly with team news and all the build-up. Stay tuned.
Here are the two teams that have been announced. Be prepared for the possibility of late changes though.
Mayo
1. David Clarke (Ballina Stephenites)
2. Chris Barrett (Belmullet)
3. Brendan Harrison (Aghamore)
4. Keith Higgins (Ballyhaunis)
5. Patrick Durcan (Castlebar Mitchels – captain)
6. Colm Boyle (Davitts)
7. Michael Plunkett (Ballintubber)
8. Stephen Coen (Hollymount/Carramore)
9. Aidan O'Shea (Breaffy)
10. Fionn McDonagh (Westport)
11. Jason Doherty (Burrishoole)
12. Ciaran Treacy (Ballina Stephenites)
13. Cillian O'Connor (Ballintubber)
14. Darren Coen (Hollymount/Carramore)
15. Kevin McLoughlin (Knockmore)
Galway
1. Ruairi Lavelle (Salthill-Knocknacarra)
2. Eoghan Kerin (Annaghdown)
3. Seán Andy Ó Ceallaigh (Leitir Mór)
4. Liam Silke (Corofin)
5. Gary O'Donnell (Tuam Stars)
6. Cillian McDaid (Monivea-Abbey)
7. John Daly (Mountbellew-Moylough)
8. Thomas Flynn (Athenry)
9. Michael Daly (Mountbellew-Moylough)
10. Peter Cooke (Moycullen)
11. Shane Walsh (Kilkerrin-Clonberne)
12. Johnny Heaney (Killannin)
13. Antaine Ó Laoi (An Spidéal)
14. Martin Farragher (Corofin)
15. Ian Burke (Corofin)
Ah, yes…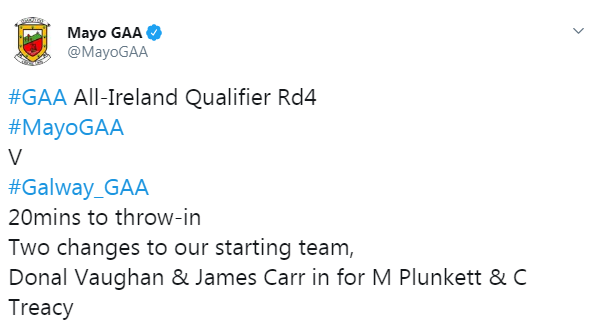 Source: Mayo GAA Twitter.
And four late changes coming from the Galway camp:
Bernard Power in for Ruairí Lavelle
Declan Kyne in for Seán Andy Ó Ceallagh
Seán Kelly in for Thomas Flynn
Eamonn Brannigan in for Antaine Ó Laoi.
There's good news for Mayo fans with Seamus O'Shea back in the squad, Lee Keegan there after last week's injury and Aidan O'Shea and Cillian O'Connor both down to start.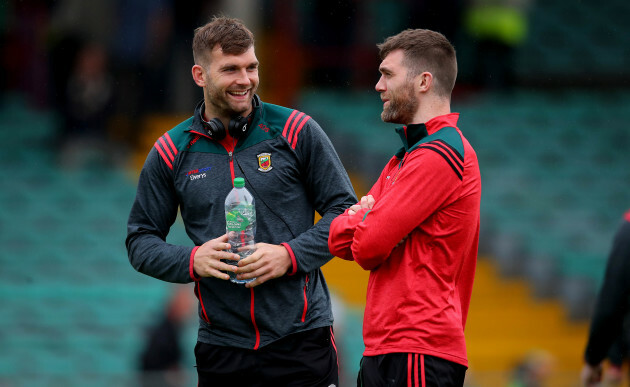 Source: Ryan Byrne/INPHO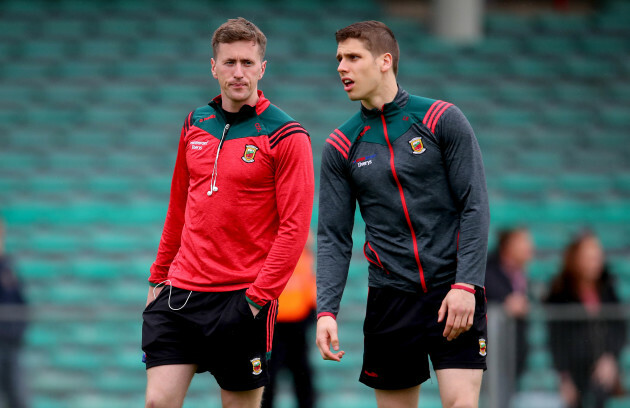 Source: Ryan Byrne/INPHO
In the first of the two Galway-Mayo clashes at the Gaelic Grounds, the Tribe came out on top as they made it three Connacht titles in-a-row. Read all here:
Picture time as the crowd filters in… almost ready to go.
Go on… who will it be?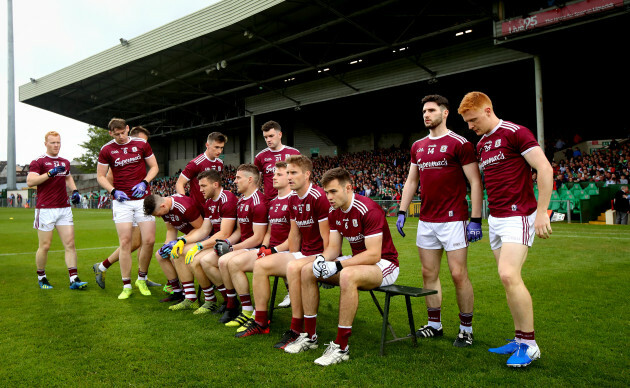 Source: Ryan Byrne/INPHO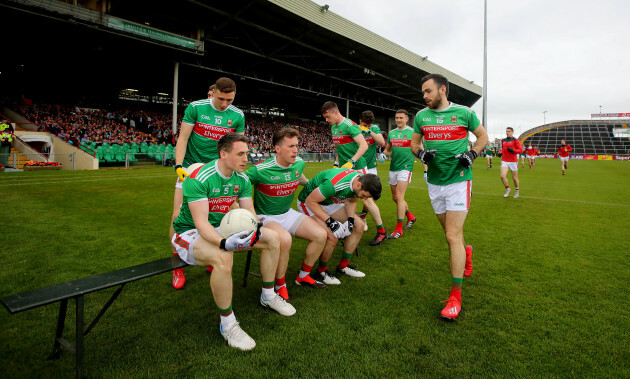 Source: Ryan Byrne/INPHO
Anthems sung, players in position, we're ready to go. Cavan's Joe McQuillan is the man in the middle.
THROW-IN: Some lovely pleasantries exchanged and scuffles participated in before the ball is thrown in but we're off. The crowd is loud, atmosphere is good, this should be a cracker.
Mayo 0-1 Galway 0-0
2 mins – Opening score goes Mayo's way, and Cillian O'Connor is back with a bang. The Ballintubber man slots over a free at first asking.
Mayo 0-2 Galway 0-0
3 mins – Two chances, two scores. Kevin McLoughlin tags on another for Mayo.
Mayo 0-2 Galway 0-0
5 mins – Mayo have started with momentum, Galway a little slower as they kick the first wide of the game. The Green and Red are patiently throwing the ball around, settling into this physical encounter.
GOAL! Mayo 1-2 Galway 0-0 (Carr, 6 mins)
What a mess that was… A Galway kick-out goes astray and McLoughlin gets on the ball, he plays in a brilliant ball which is knocked on towards the Galway goal but a mix-up between goalkeeper Bernard Power and one of his defender sees James Carr get on the end of it and tap the ball in.
GOAL! Mayo 2-2 Galway 0-2 (Carr, 9 mins)
Jesus, this is a hard one to keep up with. Galway had responded brilliantly at the other end and pulled two points back but it's that man James Carr again with a powerful effort into the roof of the net.
Mayo 2-2 Galway 0-3
12 mins – Peter Cooke grabs another back as Galway look to stay in touch. But God, what a start in Limerick.
Mayo 2-2 Galway 0-3
14 mins – we've had wides at both ends as everyone gets over what happened in those opening 10 minutes. Mayo are really pushing up and putting pressure on Galway's kickouts and it's paying dividends. The heat is rising in there, physicality coming to the fore more and more.
Mayo 2-3 Galway 0-3
17 mins – Kevin Walsh's men look to be settling in more after Mayo's — well, James Carr's — early blitz. They've just given away a straight-forward free though, one which O'Connor again taps over with ease.
Mayo 2-4 Galway 0-3
19 mins – Another kickout ends going to Colm Boyle, he plays the ball in and Mayo draw the free. O'Connor again, this one from a slightly more difficult angle.
Mayo 2-4 Galway 0-3
22 mins – Mayo are happy to just throw the ball around, while Galway chase the game. Nothing seems to be going right for them; shots dropping short, kickouts going astray, the long ball in just isn't working…
Mayo 2-5 Galway 0-3
25 mins – Some nice link-up play between Shane Walsh and Ian Burke there, the former fisting the ball across the face of the Mayo goal to the Galway players running on but David Clarke intercepts at the exact second he's needed. Super stuff.
At the other end, O'Connor sends over his fourth free of the day.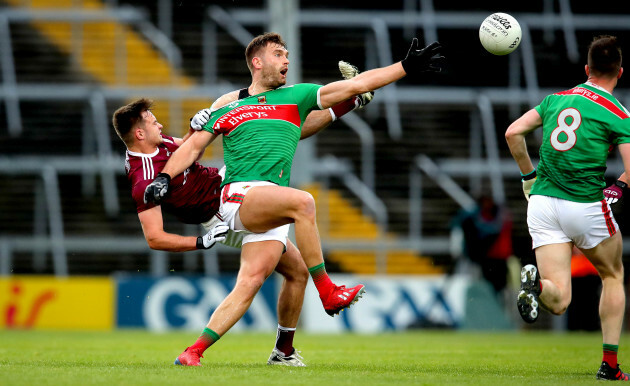 Source: Ryan Byrne/INPHO
Mayo 2-5 Galway 0-4
27 mins – Peter Cooke with a much-needed score for Galway. They're most definitely on the back foot but have had glimpses of brilliance, that being one.
Mayo 2-6 Galway 0-4
28 mins – He'd done it already but Cillian O'Connor has most definitely announced his return to the Green and Red, His first from play is a fantastic effort from the outside of the boot, the crowd love it.
Galway make a change – Seán Andy Ó Ceallaigh is in for for Eoghan Kerin.
Mayo 2-6 Galway 0-5
30 mins – A brilliant score from Cillian McDaid. His first ever championship point actually, and it's a lovely one to steady the Galway ship.
Mayo 2-6 Galway 0-6
32 mins – That man Peter Cooke with another. An outstanding score from difference. Galway will grow in confidence from their past few minutes, they've got three of the last four points.
Mayo 2-6 Galway 0-7
34 mins – The Gaelic Grounds is like a cauldron at the minute, play getting a little rough as the intensity rises. Donal Vaughan slides in on Cooke and sees yellow for that stupid challenge.
McQuillan awards Galway a pretty soft free, but Shane Walsh won't mind. He kicks his first score of the game. Five in it.
Mayo 2-7 Galway 0-7
35 mins – A brilliant cross-field ball from Paddy Durcan finds the on-running Brendan Harrison, he gives it off to Darren Coen who swings over. A super team move. Two minutes added on.
Mayo 2-7 Galway 0-7
36 mins – One off his left, this one off his right but Walsh's latest free comes off the post. James Horan's men are in possession and they'll be happy to hold the ball until the whistle sounds.
HALF-TIME: Mayo 2-7 Galway 0-7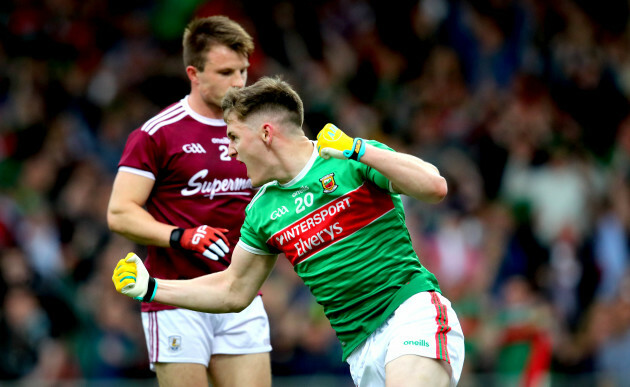 Source: Ryan Byrne/INPHO
What do we think after that? Galway were coming back into the game as half-time neared, properly making ground but those two James Carr goals remain the difference as Mayo lead by six points.
One thing's for sure: we're in for a big second half of more fiery end-to-end football.
Galway need a big second half… and here comes Damien Comer leading them out! Making his return from injury, he's one of the best forwards in the country and he's exactly what the Tribesmen need right now.
He hasn't played a single minute of league or championship inter-county football this year but he's here and ready to go. Straight into the edge of the square.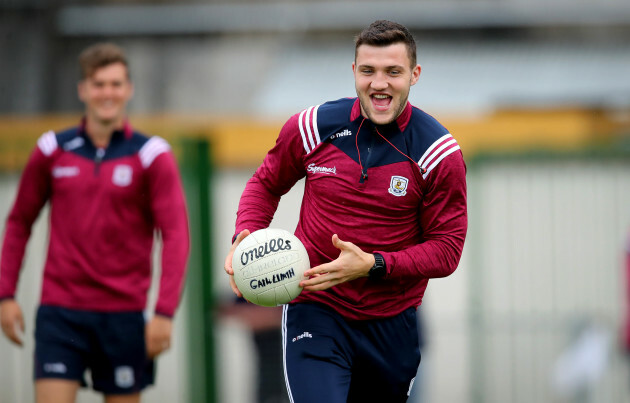 Source: Ryan Byrne/INPHO
SECOND-HALF: We're off again, and Comer is stuck in right from the get go. A long ball is played in, he wins the battle in the air and gets a fist to it but it comes off the post. What an introduction though!
Mayo 2-8 Galway 0-7
37 mins – Darren Coen gets Mayo's first of the second half. 19,183 in the Gaelic Grounds, by the way.
A few things we forgot to bring to your attention: Comer is in for Sean Kelly. And there were a few cards dished out as the half-time whistle blew — one of those for Kelly, the other for Fionn McDonagh.
Mayo 2-9 Galway 0-7
42 mins – This is getting feisty, tempers flaring as the pressure rises. Nothing of major importance to note with both teams showing poor decision making, they're playing the wrong pass and not picking out the runners.
And then, something of note: Durcan does really well and contrasts all of the above about decision making and poor passing. He pops it off to Stephen Coen off his shoulder, and Coen fires over.
Mayo 2-9 Galway 0-8
45 mins – Antaine Ó Laoi in for Martin Farragher. Mayo are fouling out the field and stopping the Galway momentum as they attack, Walsh strikes the latest resultant free from the ground and over the bar.
The Green and Red are working so hard, Carr in particular. A Galway forward is yet to score from play.
Mayo 2-10 Galway 0-9
47 mins – A wonder point there from Mayo, the crowd are absolutely loving it. O'Connor expertly wins the ball, sliding on his knees, he pops it off to Jason Doherty who in turn, swings over one of the scores of the evening.
Eamonn Brannigan pulls one back at the other end.
Mayo 2-10 Galway 0-9
50 mins – Some scraps around the middle as Aidan O'Shea — who's working tirelessly up and down today — and Antaine Ó Laoi get tangled up. Yellow cards are shown to Cillian O'Connor and Ian Burke, and there's confusion as to why. Maybe mistaken identity for another scrap out around the middle.
Another Walsh free goes wide. Ciaran Tracey comes in for Kevin McLoughlin.
Mayo 2-10 Galway 0-10
52 mins – Could that have been a Mayo penalty? There are shouts as forward appears to be dragged down but McQuillan is having none. On we go…
Michael Daly with a terrific score at the other end. Six in it.
WOAH! SAVE! David Clarke saves Liam Silke's penalty. That could have been a real turning point.
Mayo 2-10 Galway 0-12
57 mins – Right, let's catch up on what happened there… Ian Burke was the player adjudged to be fouled as he took a shot in the area, and a foot block deemed the charge.
Walsh converted the 45 after Silke's effort was kept out by Clarke — a brilliant save, to add — and Brannigan tagged over another afterwards.
Subs on and off elsewhere, we'll update you when we get them.
Tom Flynn's in for Cillian McDaid, think Mayo's hero James Carr has gone off too but unsure who has come on in his place. Lee Keegan is warming up…
Source: Ryan Byrne/INPHO
Mayo 2-10 Galway 0-12
59 mins – Mayo were on the break there, looked like the goal could have been on with Boyle racing through… he's taken down, but a free out is given. Horan looks fairly unhappy with that.
Kieran Molloy in for Galway.
Mayo 2-11 Galway 0-13
60 mins – He's only just on and he has the ball over the bar! Molloy sends the ball over the bar to put three in it. 10 minutes to go, we're in for a big finish!
Mayo really needed a score at the other end and Darren Coen steps up when he's needed. Four in the difference again.
Lee Keegan comes in to roars from the Mayo crowd! He replaces Fionn McDonagh.
Just as Keegan was coming on there, there was a scuffle in the middle of the field involving Kyne and Cillian O'Connor. The Galway player looked to have delivered the last blow and he sees yellow. People may argue that O'Connor should have gotten one too but he's lucky to escape with a yellow to his name already. God, the drama…
Mayo 2-12 Galway 0-13
66 mins – That man O'Connor!!! A monster free from well out the field, inspirational stuff.
Mayo 2-12 Galway 0-13
67 mins – Adrian Varley in for Brannigan, as Galway go in search of more and more scores. They really need a goal.
They're on the hunt for that there but Silke is intercepted and Keegan bursts out with the ball. Yellow for Peter Cooke for some hard tackling on Colm Boyle.
Mayo 2-13 Galway 0-13
69 mins – Jaysis, another goal was nearly on for Mayo there! A ball is played in to the on-rushing Vaughan but he opts to boot it over the bar. That could be the one that settles it once and for all.
Not over yet!!!! Damien Comer basically goes for an overhead bicycle kick but it's kept out. Galway will try anything.
70 mins gone – SIX minutes added.
Mayo 2-13 Galway 0-13
72 mins – RED CARD! for Ian Burke. He sees black, which on top of his earlier yellow means red. Mayo, on the other hand, are happy to hold possession and run the clock down against 14 men.
Mayo 2-13 Galway 0-13
74 mins – Eoin O'Donoghue in for Paddy Durcan, the former getting his first taste of championship action this summer. Durcan looks to be injured. Not good news, just when things were improving on the injury woe front.
Walsh and O'Donoghue exchange pleasantries straight away and are shown yellow cards.
GOAL! Mayo 2-13 Galway 1-13 (Walsh, 75)
As per the rest of the game, the drama continues and it's almost impossible to keep up! Shane Walsh drills a free low and hard and into the back of the net. Black cards see both Daly brothers sent to the bench. One kick of the ball in it. 77 minutes on the clock.
FULL-TIME: Mayo 2-13 Galway 1-13
MAYO ARE INTO THE SUPER 8S!!!!!
Source: Ryan Byrne/INPHO
They've done it! Mayo have booked their place in the Super 8s but Jesus, what a way to do it. Just three points in it at the end, what a game of ball between two old Connacht rivals.
What a game of twists and turns, what ifs and fiery football. What if Galway scored that penalty? But overall, it must be said, a deserved win for Mayo. John Horan's men dug deep, dictated proceedings for the most part and now, march on.
Kerry in Killarney next weekend it is and a week later, they face either Meath of Clare in Croke Park. Then August Bank Holiday weekend, they'll welcome Donegal to Castlebar. Taaaaaaasty.
That's all from me anyway, but you can read Kevin O'Brien's match report from Limerick on The42 now and as per, we'll have plenty of reaction and analysis over the next few hours and days.
Thanks so much for reading, enjoy your evening and get ready for the Super 8s!
The42 is on Instagram! Tap the button below on your phone to follow us!
Contribute to this story: