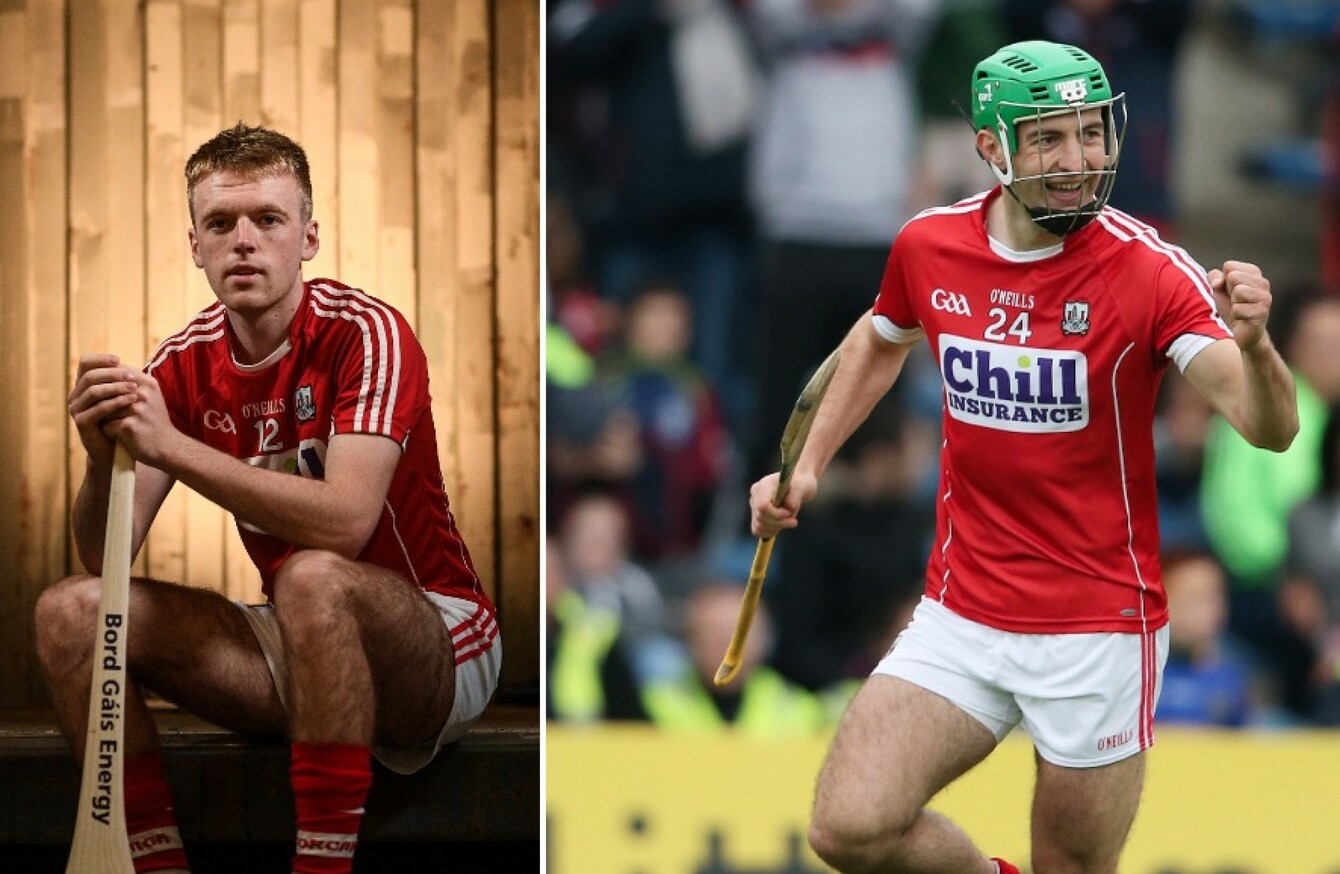 Luke Meade and Michael Cahalane tasted victory on their senior debuts.
Image: INPHO
Luke Meade and Michael Cahalane tasted victory on their senior debuts.
Image: INPHO
THERE WAS 66 minutes on the clock in Thurles on Sunday when Luke Meade was called ashore.
It had been a lung-bursting afternoon for the 20-year-old as he roamed the pitch and picked off 0-3 in his first day on the senior hurling championship stage with Cork.
A few minutes later, he watched the man who replaced him drill a shot to the net and Michael Cahalane's goal proved to be the score that sealed Cork's seismic success over Tipperary.
"I was like a fan, I was nearly trying to run on to the pitch to celebrate," recalls Meade.
"I'm absolutely delighted for him to be back playing really. He's an absolute gent, we're all just delighted for him."
It's easy to appreciate his pleasure. No one is more keenly aware than Meade of how significant Cahalane's comeback is, three years after being told he had to stop playing due to a heart problem.
Meade was a year behind Cahalane in school, they hurled together for Hamilton HS Bandon in the Munster colleges arena in the Dr Harty Cup.
In January 2014 Meade was midfield on a team that lost a semi-final to Ardscoil Rís, centre-forward Cahalane scored his side's entire tally of 1-4 in that game.
Meade and Cahalane play for neighbouring West Cork clubs, Newcestown and Bandon respectively. In 2015 Meade helped his club claim senior hurling status in Cork, last October he watched Cahalane do the same after returning to action.
"He was in sixth year at the time, we were in fifth and when we heard that (he couldn't play), we were absolutely devastated.
"He's an absolute legend and he's a really nice fella. He was probably the best player I played with growing up.
"In the Harty Cup there with Hammies, he was carrying us through most games. We were absolutely gutted when we heard the news but when we heard about him coming back, we were ecstatic really."
The duo were part of a young Cork hurling wave that helped submerge Tipperary in Semple Stadium. For Meade it was a new occasion to embrace.
He was determined to settle quickly. Clipping over a point as early as the 4th minute helped in that regard.
"I was nervous going into it. You're trying to get an early touch or an early score, so thankfully I got a couple points there at the start to settle the nerves.
"It was definitely a lot faster than the league and the league was a big step up to what I was usually playing at.
"The pace was pretty fast. I really enjoyed the atmosphere. It was unreal. Going around in the parade was a really special moment."
Meade hit the ground running in 2017, nailing down a starting place on the Cork team. His playing style leaves him well-equipped for the modern game, he is constantly on the move and has been an important link to the Cork attack.
"I think probably the way hurling has gone, you have to be fit. Personally I'd probably do it anyway.
"At the start of the league when we were getting stats back, I suppose I didn't really know how many kilometres I'd done.
"When it's your first time playing with Cork and the stats come back, you don't really know what to expect I suppose. I think that's just the way I played."
The spotlight fell on Cork's newcomers after but Meade is keen to apportion praise to their more established figures.
"The older lads were really good to us, really welcoming. There was a lot of young fellas coming in (this year), so we weren't alone at that stage.
"It wasn't as if we were the only young fellas coming in upsetting the whole thing. They really wanted to make a good spirit in the camp and I think the group has really gelled since the Munster senior league started as well."
Sunday's success will inject a massive shot of confidence. Meade has developed through a Cork underage process that hasn't been accompanied by success.
In 2014 he was part of a minor team that fell short by two points to Limerick in a Munster semi-final. His U21 career has been characterised by two quarter-final reversals, in 2015 emphatically by Waterford when Meade grabbed a goal and last June to Limerick in a convincing fashion.
Meade has another U21 opportunity on 13 July with a semi-final against Waterford. Before that there will be a senior semi-final battle with the Deise to contend with.
"Obviously we didn't have good memories of that (in 2015) but we'll hope to bridge that gap.
"The main message (on Sunday) was we're happy with the performance, we're happy to beat Tipperary.
"It gives a lot of confidence to the young fellas and the team in general. The focus is on the next day now against Waterford."
The42 is on Instagram! Tap the button below on your phone to follow us!