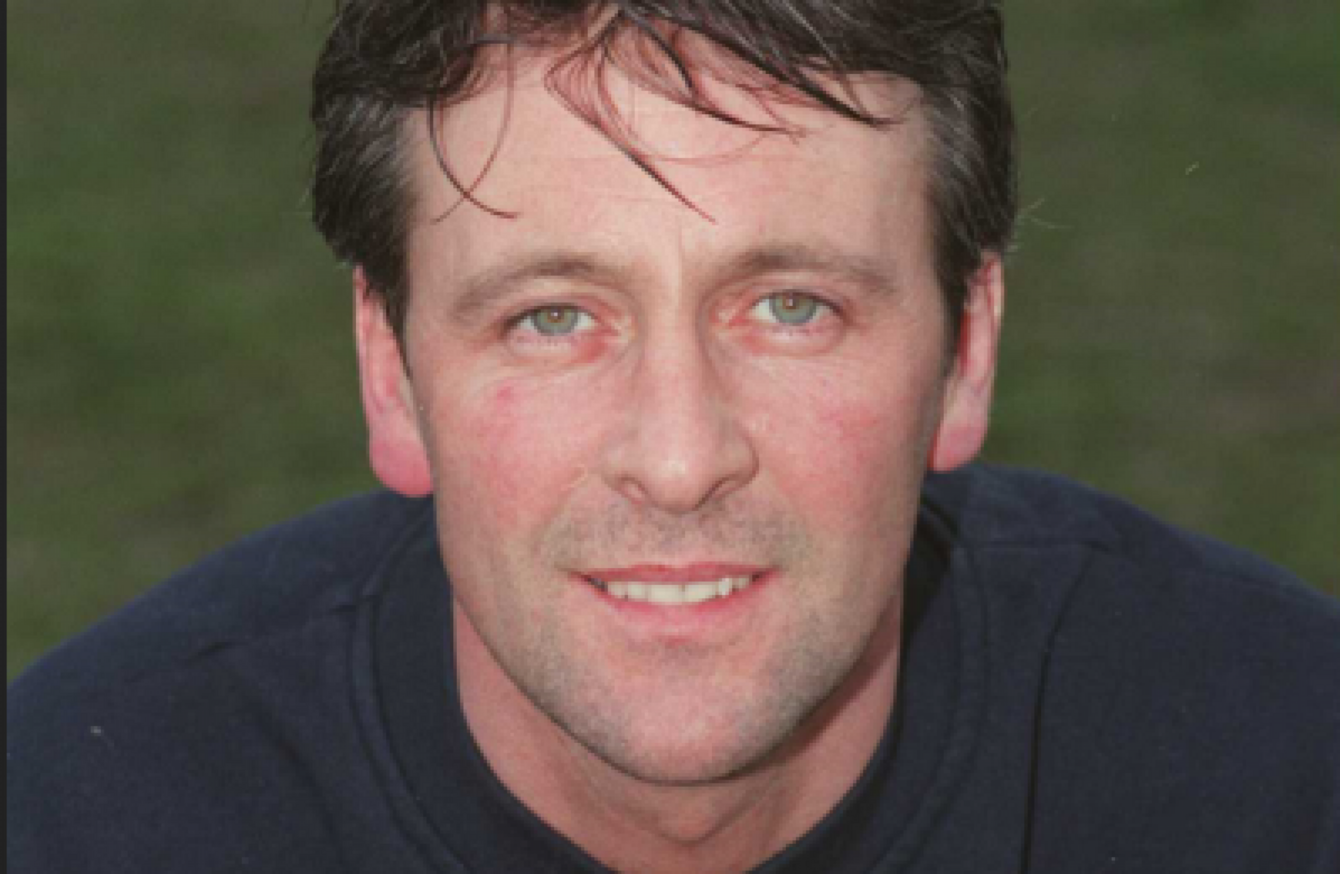 Mick Byrne is one of the League of Ireland's all-time top goalscorers.
Mick Byrne is one of the League of Ireland's all-time top goalscorers.
MICK BYRNE IS currently joint 28th on the list of League of Ireland all-time top scorers, having registered 117 goals over the course of his time in football.
Playing for just under 20 years, he represented 11 different clubs. His career even encompassed stints in England and the Netherlands. Yet the conversation always comes back to Shamrock Rovers — the club where he enjoyed his greatest days and the team that ultimately broke his heart.
*****
1. Starting out
Before Rovers, however, Byrne began his career at another big Dublin club — Bohemians. And prior to getting his break in the League of Ireland, Byrne had lined out at schoolboy level with John Bosco and Lourdes Celtic, in addition to spending his early teenage years at Stella Maris — one of Ireland's most highly regarded schoolboy clubs.
"There were some really good players at Stella at the time," he tells The42. "A lot of players went over to England. John Anderson went to West Brom and Pierce O'Leary ended up at Celtic. There are a couple of other lads that went to West Brom as well, but I never really had much of a chance.
"I probably never got a position that suited me. I was quite quick and I was a right-sided player most of my schoolboy life. When I went to Stella Maris, I was actually playing as a central midfielder or winger. I probably never really done enough in there to warrant a move away or even get an international cap or anything.
Something changed coming to the end of that, where the manager said: 'Look, I need you to play up front for Stella Maris and [after that switch] I was knocking in goals left, right and centre."
It was while at Stella that Byrne caught the attention of Billy Young — the League of Ireland's equivalent back then to an Alex Ferguson or Arsene Wenger-type figure, given that he ultimately spent an incredible 16 years at the helm of Bohs, from 1973 to 1989 (he also spent much of his playing career at the club).
"It would have been something where I'd say: 'Jesus, I'm signing for one of the biggest clubs in Ireland at 17 years of age.'
"Billy seen me and said 'look, I want you to come to Bohs'. They played me as a centre forward and I really enjoyed it. I wasn't the biggest centre forward you've ever seen in your life, but I was getting around and I had good movement and it stood to me. I used to get in great positions, so that kind of thing helped me along. I always felt like when I was in front of goal, I'd be able to score. I never had a problem when I was one-on-one with 'keepers or anything like that. I was never frightened of missing, that was the big thing."
During the 1978-79 campaign, Byrne made his debut amid a 2-1 Leinster Senior Cup final win over Shamrock Rovers. In addition to other notable players in the team, including Terry Eviston and Paddy Joyce, he played up front alongside a legendary figure, Turlough O'Connor, an Ireland international who himself scored over 100 goals at Bohs, but in contrast with Byrne, was coming towards the end of his career.
"I was a very similar build to him. I used to watch him a lot — especially when I got to Bohs, I used to think he was the bee's knees. He was an absolutely unbelievable player. He might not have been the quickest in the world, but he knew exactly where the goal was. I used to watch him quite a bit and I really enjoyed playing up front with him. I came on that night and he basically just told me exactly where to go and where to be and what to do. I looked on him as a real hero at the time."
But despite the promising start, Byrne's time at Bohs ultimately ended sourly. Himself and Young fell out, with the youngster feeling he wasn't getting enough first-team opportunities.
2. Making his name
In 1981, he joined Shelbourne, playing up front alongside former Bohs team-mate Joyce. After the rocky end to his time at Dalymount Park, it was at Shels that Byrne truly established himself as one of Irish football's top strikers.
I went to them and from there, I played with Paddy up front. We were flying at the time and if he wasn't scoring goals, I was scoring goals. We had a great partnership. There was one stage we got to the semi-final [in 1984] — Rovers beat us. We played in Dalymount Park and we definitely should have beaten them."
Shels were managed by Johnny Byrne, father of Alan, who has been the FAI's team doctor in recent years.
The young striker helped the side come ninth in his first season at the club, before the team achieved back-to-back fifth-place finishes in subsequent campaigns.
Having been ignored by English football in his Stella Maris days, Byrne's eye-catching performances for Shels saw him linked with a move across the water to Manchester City.
"We came to the end of the season and Shelbourne weren't really coming across to say 'yes, the deal is on,' or going to be on. I kind of just said I need to go, because it was the right time for me to go. [The City move] never really happened and just then, Rovers came in for me.
"I was a bit disappointed, because most of the fellas I'd played with in League of Ireland had the chances in England or at schoolboy level. It was something I felt I didn't get."
Yet missing out on playing across the water would perhaps prove a blessing in disguise, as Byrne would subsequently link up with one of the best and most famous teams in League of Ireland history.
3. A big break
Shamrock Rovers had just won their first league title in 20 years. Yet the Hoops were in need of a top striker. Their star man, Liam Buckley, had left to join Belgian outfit KSV Waregem, while their other top-class forward, Alan Campbell, would also soon depart to Spanish side Racing de Santander. Following in the footsteps of Campbell and Buckley was an unenviable task to say the least.
"I was kind of saying 'Jesus, I'm the only centre forward they have,'" Byrne remembers.
Yet the youngster ultimately thrived under this pressure, playing a pivotal role in the capture of three successive league and cup doubles. He finished as Rovers' top scorer in all of these campaigns, culminating in the 1986-87 season, where he was both the club and PFAI Player of the Year, as well as the SWAI Personality of the Year. Not bad, particularly considering that he now admits to feeling somewhat uneasy in his new surroundings initially.
"They had signed a couple of different guys to play up front with me. Paul McGee from Sligo arrived. He ended up going to Preston [shortly thereafter]. Then, they took Noel Larkin out of retirement from Athlone. I felt at one stage, this is definitely the place to be and we were absolutely flying.
"It took a while for me to get the whole gig at Shamrock Rovers, because it's totally different from any club I played with. There was just something there. You just couldn't arrive at Shamrock Rovers and think you've made it and if you did, you were out the door. That happened to a lot of players. And it kind of started with me.
I thought 'this is it, I've cracked it here'. One of my better mates, Pat Byrne, he actually put me in my place one day. We were playing, I won't say what he said, but he definitely put me in my place and told me if I didn't buck up, and this was at half-time, get my bag and get the hell out of there. I kind of took it onboard and from that day, it never really changed.
"I went from strength to strength. I was really enjoying it, it was probably my best time ever in football. I had two great seasons with Rovers."
4. Player of the year
Following this impressive early spell at Milltown, Byrne's progress slowed, and he ultimately nearly left the club, holding talks with Galway about a potential move there.
"[Then-Rovers boss] Jim McLoughlin had said that he was signing one or two lads. He already had Michael O'Connor signed from Athlone. I thought then my days were numbered. Although I had a really great relationship with Larko, I thought 'maybe it's time for me to move on'.
"I ended up meeting Galway in a hotel halfway up. I couldn't believe the deal they were giving me. But I came home and decided 'look, I'm just going to stick it out, get stuck in'. I went back up training and on the Thursday, McLoughlin called me into the office and said: 'What's the story?' I said: 'I'm not going.' I just told him 'I'm going to fight for my place'. He said: 'I'm delighted you're staying.' From that day, I never looked back."
He continues: "You couldn't go into training and indulge yourself, you just couldn't. You would just be put in the right place. You had big characters like Dermot Keely, Noel King, Pat Byrne. They didn't want to let each other down. It was very hard to get into the team. I'm sure the lads that were the subs were going 'I'll never get a kick of the ball here'.
"Every time we went into training, it was 100%. They just had it and I think you had to have it. We just had this bond where we fought for each other. It was incredible. It's very hard to explain what it was like in the dressing room. It wasn't only one manager — I don't think I ever heard Jim McLaughlin fighting with anybody.
"He didn't start throwing around cups. He explained what he wanted. He knew exactly what players could do for him and he definitely got the best out of them. He was one of the best managers I ever came across. I think he instilled in all of us, a will to win, and gave us loads of confidence.
"Pat [Byrne] played at Leicester, Hearts, played away and was just a top-quality footballer. He was an Irish international. He still wanted to do it every week with us and he didn't come back from international duty and think 'I'm the bee's knees'.
He just came back and worked as hard as everybody else. There were no airs or graces about him. And I think everybody took a bit of that off Pat and the rest of them — the likes of the Keelys and the Kingers and the rest of them fellas. They were different class, they were just so good at their job. You just wanted to be one of them. And when I look back, I probably was one of them, but you never thought that.
"I don't know if they even thought about me. Was I good enough or not? But I wanted to be good enough, I worked really hard and that probably stood to me."
Rovers had some memorable European clashes as well during that era, including games with Linfield and Malmo. The standout, however, was surely the tie with Celtic. Rovers lost 1-0 at home in the first leg, before suffering a 2-0 defeat at Parkhead. But the scoreline suggests the victory was more comfortable than it actually was. With the game in the balance, a Liam O'Brien attempt came off the crossbar. Byrne himself admits to missing "one or two" good chances.
"That was a massive night in Milltown. The actual ground looked superb . The grass was lush, it was beautiful. The Celtic players commented on how good the pitch was.
"[For one chance] I should have took a ball down and struck it, but I tried an overhead kick. But I don't think any of the players would have held it against me to try something like that, because I was doing it every matchday, so there were no complaints."
5. The beginning of the end
All good things must come to a conclusion, of course, but the manner of Rovers' fall from grace was particularly shattering. Against the fans' wishes and amid angry protests, the club's owners oversaw a decision that would result in Glenmalure Park being demolished and redeveloped into housing. A number of supporters boycotted the team as a result of this decision, and the subsequent financial problems meant the likes of Paul Doolin, Kevin Brady, Mick Neville and Noel Larkin left.
Source: showgies/YouTube
After four league titles on the bounce, Rovers finished the 1987-88 campaign in a disappointing fourth spot. It would take them a number of years to fully recover from this turbulent spell. Their next league triumph would not come until 1994 and since then, they have only tasted glory twice, in 2010 and 2011, during the fleeting-but-unforgettable Michael O'Neill era.
The selling of Milltown was a big thing for most of the players. The passion was gone, the fight was gone, though the supporters fought all the way until they got to Tallaght.
"Dermot Keely had taken over the last year I was there and he gave me a load of confidence. He just said to me 'look, you're going to be the first one on my team-sheet at centre forward'.
"[The Milltown debacle] was just a blow for all the players. We played a season down in Tolka. It was absolutely dreadful. We didn't win the league. That team could have gone on and some of them did. They went to Derry and won leagues there.
"I think if we had stuck together in Milltown, we would have won two or three leagues at least, because we were all at the right age."
Source: retroloi/YouTube
6. An Irishman abroad
Byrne himself would eventually depart the embattled club in 1988, with his performances having caught the eye of a number of European sides.
"Jimmy Magee was a good friend of mine, I'd have a bit of a laugh with Jimmy chatting about different things. He knew everybody and there was a lad from St Etienne who knew Jim. He came over to a game, Jimmy then got in touch and asked if I would be interested in going there. I said 'yeah, of course'.
"I spoke to the chairman after the '87 cup final [in which Rovers beat Dundalk 3-0], I had to take a needle beforehand for the pain for an ankle injury. I took the painkiller, did really well in the game, scored the third goal, spoke to your man the next day. There were two players in Europe he was looking at — I was one and Gary Shaw at Aston Villa was the other.
"I don't know what happened, but they never came back to us and they never came back to Jim. There was definitely contact and I met them at a hotel, but it never happened.
"There was another guy, who ended up becoming my agent, he brought me over to Feyenoord. When I went over, I had a groin injury. It wasn't severe, but I went over there. Dermot Keely was the [Rovers] manager at the time and he came over with me. They were thinking about changing their manager over there, so the director of football wanted to sign me and the manager was kind of hemming and hawing. They were a little bit all over the place.
"Myself and Dermot went back to the hotel after they told us 'he needs to get his groin injury sorted out before we even think about signing him'. They had a friendly that night. I left after training that morning.
We were going home the next morning, so Dermot says: 'We'll have a beer.' The two of us sat in the bar in the afternoon and had a bottle of beer and then we had another bottle of beer. Next thing, the agent came in and says: 'Mick, what are do you doing? You have to play a match tonight.' I said: 'I'm not playing a match tonight.' He said: 'You better get up and get ready. I'll get you a coffee.' I was after having three bottles of beer and going: 'Jaysus, I can't play a match.'
"I went and got my gear. He picked me up for the match, got there, they were playing a friendly match away from home and I played in it. It was just like a junior team at the time that we were playing — some charity game. But there were 2,000 or 3,000 people at the match.
"I started and scored a hat-trick, so myself and Dermot Keely always laugh about it. 'You scored a hat-trick for Feyenoord with drink on you.'
"You never even think about having a drink the night before a match, but it was [different] on the day. It was a funny thing — on 60 odd minutes, I was after scoring the third one, they weren't that good, but I still had to put the ball in the net. I just went over to the sideline and said to the manager: 'That's it, I'm finished.' I've done my stint and they got me off then. My groin was really sore. Getting back on the bus, lads were coming over and congratulating me for scoring a hat-trick. I said 'you didn't know what I was doing beforehand'.
"But in saying that, the agent was quite pleased with what I had done and the way things were going. He then kept me going and wanted me to go to Sparta Rotterdam. I didn't really want to go there and I ended up with Den Haag. I spent the last part of the season with them.
"I enjoyed the different way of life and the professionalism of it over there. At the time, it was [training and playing] every day, whereas Ireland was Tuesday-Thursday or Saturday-Sunday."
On Byrne's brief Dutch spell, he adds: "I felt definitely it was a bit tougher and it was so far away as well. If it was England, you'd just jump on the flight every second or third weekend once you finished your match and went back. But I came back and had signed for Den Haag — Rovers got a few bob for me."
7. A belated trip across the water
In the summer of 1988, around the same time Jack Charlton's Irish side were enjoying unprecedented levels of success at the European Championships, Byrne made his return to Shamrock Rovers following the brief stint in Holland. Yet he did not stick around for long. After just a few games for the Hoops, the club accepted an offer of £20,000 from Huddersfield, who were managed at the time by former Ireland boss Eoin Hand.
Byrne would spend the next two seasons with the English club, scoring 11 goals in 56 appearances. The Terriers finished 14th and 8th in the old Third Division during the Irish star's respective campaigns there.
It was quite late as well — I was 27 at the time. But I really enjoyed it and got on well with the people. I've been over a couple of times and I've still had loads of friends over there. I'd go over and see them maybe once a year and they might come over here. I've been over a couple of times recently watching games, because they've been in the Premier League.
"The fitness levels of the guys [in England] were higher, because they were doing it every day. When I was with Rovers, you were going to work in the morning, coming home, going to training.
"That would have been a little bit different alright, but I definitely really enjoyed it. I think it took me a couple of weeks to get into it and get the fitness levels up. I was willing to do that, and when I did, I was flying again. And whatever I had in my game, the people seemed to like what I was doing."
Ultimately though, the prospect of a third spell at Shamrock Rovers proved difficult to pass up. This move saw him complete a remarkable sequence — Byrne played in the club's first game at Tolka Park, Dalymount Park and the RDS, all within the space of a few years and despite having been away at Den Haag and Huddersfield in between.
8. New era
Yet in 1990, it was not the same team Byrne had once represented. Rovers had gone from being the dominant club in Ireland to effectively a mid-table side. And with a number of strikers to choose from, the Dubliner was no longer the main man as he had been during the glory years of the mid 1980s.
"Things weren't the same. I don't think Rovers were the same. It was like a different club then, but it was Shamrock Rovers, so you wanted to give it the best you could. Noel King was the manager there. I played in that game against Pat's in the RDS — there were 26,000 people at it.
"I think [Rovers] were finding it difficult, paying the money that they were paying. They were probably short of two or three players at the time, just to give them that edge."
This third spell didn't last long, and by January 1991, Byrne left the club for Sligo, in the process linking up with his old Hoops boss and former team-mate, Dermot Keely.
I didn't get into the [Rovers] team a couple of weeks on the trot and [Dermot] always kept in touch. He asked me would I be interested in going down. I thought: 'I'm not going to get in the team here, sure I might as well keep playing.' Rovers had lost almost all of their players [from the glory days]. I think John Coady was still there, but none of the other lads were. It was just a totally different culture at the time."
9. A difficult spell
At Sligo, the striker could not quite rekindle the glory of his Shamrock Rovers days either, scoring six goals in 34 appearances.
"I was at that stage where I thought I was coming to the end," he recalls, though despite this feeling, Byrne would continue on playing in some form for the next five years after departing the Bit O'Red.
"I ended up leaving [Sligo] and kind of packed it in for a couple of weeks. They just said 'lookit, we just can't afford the wages'. I kind of got a little bit disillusioned with the game, but I was over the 30 mark then and I was thinking: 'Maybe it's time to finish up.'
"But I then got a call from Pat Byrne asking me would I go to Shels. I said: 'Yeah, but I don't want to play in your first team, I'll play in the second team.'
"I really enjoyed it with the second team. Pat asked me to play a couple of games in the first team. I played then and really enjoyed it. They played me in the friendly match against Aston Villa. He said: 'Would you be interested in playing with the first team?' I said: 'I will, but only if you want me.' So I played a bit for them. But there were players there I felt were better than me and I felt I wouldn't be getting in that team every week."
10. Monaghan renaissance
Despite a relatively unremarkable stint at Shelbourne, Byrne was not finished just yet.
His career experienced somewhat of an Indian summer in the unlikely location of Monaghan. With Billy Bagster as manager, the club were known as the 'Blue Rinse Brigade,' and featured a healthy mix of promising youngsters and wily veterans. They enjoyed considerable success as a result, gaining promotion to the Premier Division for the first time in their history in 1993. And despite having feared he was well past his best prior to joining the club, Byrne registered an impressive haul of 25 goals in 83 appearances during a three-year spell, including 15 in his first season, where he finished as the league's top scorer.
"It was the second division, I was 32 years of age, I thought 'I'll give it a go'.
"It was a joy down there. We had great fun. They were hard-working guys."
Byrne and co experienced a decent first year back in the top flight, finishing seventh, well clear of the relegation zone, in a 12-team league.
The next season, however, could not have gone much worse for Monaghan, with the club relegated after finishing bottom, yet Byrne had left before the situation fully unravelled.
I think Billy wanted to sign a few players, because he needed to stay in the Premier Division. I didn't think it was going to stay that way. He needed to get a few bodies in and then money ran short. He wanted to get younger fellas at the time. I just said 'I'm not really interested [in continuing]'.
"But Dermot Keely had gone from Sligo to Dundalk and I got a call off him, and he asked me would I go to Dundalk. Billy said: 'There isn't any money here Mick, we won't be able to survive.' He said: 'I don't think I'll survive myself.'"
11. One last shot at glory
Byrne's subsequent spell at the Lilywhites may have been brief, but it was certainly eventful too. Once again linking up with Keely, the club managed to defy expectations by claiming the Premier Division title in the 1994-95 campaign for the ninth time in its history.
It was a highly dramatic triumph. On the final day, Derry City were top, with both the Lilywhites and Shelbourne trailing them by a point. Against the odds, the Candystripes could only draw 1-1 away against an Athlone side that already knew they faced the prospect of an upcoming promotion-relegation play-off. Shels, meanwhile, were similarly inefficient and drew 1-1 with St Pat's at Tolka Park.
Consequently, second-half goals from Tom McNulty and Mick Doohan earned a 2-0 win and the league title for Dundalk against Galway amid scenes of ecstasy at Oriel Park.
Source: guisasaigon/YouTube
Source: guisasaigon/YouTube
It was a remarkable achievement, particularly with the club having suffered serious financial problems and nearly going out of business earlier in the season.
"I played and won the league at Dundalk with Dermot," Byrne recalls. "It was another great time we had there. I don't think anyone expected us to win it but we did."
It was also a remarkable personal feat for Byrne, given the many turbulent years he had experienced since securing his last Premier Division winners' medal in '87.
I never thought after I'd packed the game in for eight weeks that I'd pick up another medal for anything, never mind win the league," he says. "So that was a great boost. I played [at Dundalk] for another year and then I was at the age where I started doing a bit of coaching."
12. The twilight years
Byrne's career really was winding down at this stage. He had brief spells with Shelbourne, Athlone and as player-manager for St James's Gate, but none of these worked out ultimately. St James's Gate was a particular disappointment, with the club having to withdraw from the League of Ireland owing to financial problems.
"I actually went back to Shelbourne after [Dundalk]. Pat [Byrne] had gone, Damien Richardson was manager there. He had Stephen Geoghegan, who was flying at the time. He said: 'Just in case I need somebody, would you play?'
"They went on and actually won the FAI Cup [in 1996]. I didn't get a medal for that, because I'd already played in one of the earlier rounds with Dundalk and I couldn't feature, but I ended up at James's Gate after that. I was only there for a short stint. There was talk about them getting money in, doing this and that, but it didn't materialise.
"Pat Byrne had got the job at Rovers. He asked would I go up and give him a dig out [as assistant]. So I went up and I was working with Pat, doing the coaching and I actually played a couple of games as well, League Cup games, when we were down a few bodies, and played a couple of league games too."
13. A new challenge
Pat Byrne lasted just a year at Shamrock Rovers as manager, before his namesake agreed to take charge. He enjoyed a relatively successful start to life, helping the club finish fourth in the 1997-98 campaign, before a disappointing eighth-place finish the following season saw Byrne replaced as manager by Damien Richardson.
"I found [management] alright. I'm sure some managers find it hard to leave fellas out, but I didn't have a problem with it, because as far as I was concerned, you had to produce every week.
"I wasn't a manager who said: 'I'm getting rid of this fella, because he's not at the races.' I gave people chances to play and never pushed anybody out of a club or anything like that.
"Once you had a contract, I was willing to honour that contract and if lads weren't producing, it was time to go.
"I took over and we were doing really well. We won the FAI Super Cup, we beat Cork and Pat's as well.
I felt they were probably the nearest thing I'd seen to the [Rovers] team I played with. They had some smashing players — the likes of Derek Tracey, Marc Kenny, Jason Colwell, Paul Whelan, Tommy Dunne. I added a little bit to that — Tony Cousins came then, I even had [former Dublin GAA player] Jason Sherlock there at one stage.
"We didn't get a good start to the [second] season. Cork and Pat's were flying — it was nearly over by Christmas. We were still in third position. As a manager, you feel the vibes down the road, not from the players, but behind the scenes. I always felt the supporters were still with us. It came to the end of the season and we ended up eighth in the league. We fell asunder. Tony Cousins was flying — he got injured with about eight weeks to go. And we didn't really have that kind of a replacement and lost our way a little bit [as a result].
"The year before, we had done well, we came fourth, we got into the Intertoto Cup. That was a big benchmark for us to move on with. Then if you don't finish third or over [the next season], your days are numbered. But I felt I had done a decent job for what we had. We were back in Tolka Park at the time. We were obviously fighting to get Tallaght. I think at one stage they had got the go ahead for Tallaght, but it stopped for about 11 years after that."
He continues: "We ended up getting a lot of injuries come the end of the season. Not having a big squad killed us off altogether. Although if we had the squad right through to the end, we probably could have come second in the league. Cork had gone on an amazing run and nobody could catch them. We'd just fallen back a bit at the start, then we went on a good run.
"But the club was in a bad way, we were training all over the place. We had no base. We were training in Dollymount Park and places like this where you're just going: 'Jaysus, a fella has given me a loan of pitches to train on.' We just hadn't the resources to train anywhere else. You're training in the park and you're trying to get all the gear up there and water and coaches, and get the physios up to it, and all this. You're working on a player that's injured, he's getting a rub and he's lying on the grass, it was so bad at the time.
"In fairness to the players, they had no complaints whatsoever. I think that's one of the reasons why they were one of the better teams that I have seen."
14. Leaving on bad terms
The whole experience, Byrne suggests, made him reluctant to go back into coaching and left a sour taste, particularly given all he had contributed to the club in four separate stints spanning two decades.
It was a bad break, to be honest, between myself and Shamrock Rovers. I got sacked by them and that hurt me more than anything else. When that happened, I just didn't want it again.
"You're probably at the biggest and most well-known Irish club, and you're just after getting sacked, so your head then is just all over the place. I wasn't in a good place. And people that sack you are on the board — they don't understand it. It wasn't easy and I had a bit of a falling out with them.
"There was no [compensation] or anything like that and it was just messy, it ended up in court and I walked away from it then. I couldn't stick it, we didn't carry on, we just left it.
"Rovers, financially, were going through a bad time as well. But the way I look at it is if they'd have kept me, they might not have gone through as much of a bad time as they did. They ended up getting another manager in and they went from manager to manger after that."
Byrne acknowledges that he is far from the only old pro to have had a tough time and been harshly treated by a former club.
"I think that does happen, especially with people that don't know enough about the game, what it entails and I was still trying to do a job outside football. I wasn't full-time there.
But the Shamrock Rovers job was 24/7. And the people then put you in a place that's not a good place to be in. Lots of managers get sacked, I'm not having a go at Shamrock Rovers for it [in itself], but they didn't actually think about what they were doing. A lot of clubs [do the same]. There were loads of managers in those four-five years that got sacked who never did anything after — never went to another club, and I was one of them. I didn't want another club.
"It took me ages to get back into football and I ended up down in CYM in Terenure. That's when I went back to junior football. I did that for a bit and didn't really like it, to be honest. I thought that some of the players just hadn't got that commitment. It was different to players in League of Ireland — they had commitment. I couldn't fault any of the lads that were at Rovers at the time I was sacked. I couldn't point the finger and say 'he didn't do it'.
"When I went to CYM then, you could see the difference in players. Again, there were some absolutely fantastic lads there and some really good footballers. But they just didn't put it in. That amateur thing was in them. If it meant going to bed early one night because your game was early the next morning, you never knew whether they were or not. When you were with Shamrock Rovers or whoever, players would always make sure that they'd be right for the game the next day.
"We were winning the league one year around Christmas time. We went on a Christmas break, had two weeks off. The first match back was a friendly, we had something like 16 players, and eight players didn't turn up. You're going: 'Do they really want it?' I just said: 'That's it.' I had enough then."
15. Work and play
Looking at the situation from a modern viewpoint, it is remarkable to think that Byrne achieved all he did while holding down a job away from football. For much of his playing career, he simultaneously worked with Brooks Thomas Building Suppliers in North Wall.
"When I was at Huddersfield, I'd be back home by half one, then you had the rest of the day to yourself. If it's pre-season, you might have two sessions. You were better off having the two sessions, that's what I thought, because you had too much time on your hands.
"Working at Brooks Thomas was 9-5, you were getting home and then going training. So it was tough. But at that time, every player was doing that — there were no full-time players in Ireland. To me, it was all an even keel. You just had to work harder, you had to play harder and you had to be dedicated. If the gaffer wanted us in an extra night, there was no problem. You just did it.
"When we were at Shamrock Rovers, on the Saturday mornings, we just used to go into the club, into Milltown. They had a car park. We just went out onto the pitch, did our crossing, shooting, stuff like that, the groundsman wouldn't allow us onto the pitch.
"We just did that and had a five-a-side in the car park, that's the way it was done. You were on tarmac, so you used to just bring your runners.
"You wouldn't do it nowadays — play on tarmac the day before the match. Some of the players, the likes of Dermot Keely, once he had done the free kicks and corner kicks, he was in the shower. He wouldn't do it because he didn't need to do it and he didn't want to do it either. He said five-a-sides weren't his style and they weren't either. He knew exactly what kind of a job he wanted to do. He'd go in, put the kettle on, have a cup of tea and a good old chat with Jim. They'd be sitting in the office talking and we'd be out having a five-a-side. It was different then to every other club, that was the big thing. I loved every minute of it."
16. Parting thoughts
As our conversation draws to a close, Byrne, who knows better than most how to carve out a successful career in the League of Ireland, provides some sage advice for youngsters.
Any kids out there that are looking to be a top goalscorer, they need to ask questions. They need to ask their coach what they should be doing. Most coaches would say, 'you need to do this or that better'. Sometimes, you turn to kids nowadays and they think you're having a go at them, even in the League of Ireland.
"I've watched a lot of League of Ireland in the last couple of years and I go to every home Rovers game. I'm looking at some players and going 'they really need to ask questions'. 'What do I need to do better?'
"I was in a situation where I didn't have to ask questions. I was told by other players, including one of the greats — Turlough O'Connor. I didn't have to ask him, I just learnt off him. You have to learn off other people and if you think you have it made, you need to look in the mirror.
"I'm sure the 27 before me or the players behind me that have scored 100 or more goals [in the League of Ireland] will tell you the same thing.
"I had a great man in my life, my father, who every time I played, he asked me questions after the game. I asked him questions and he gave me answers. And I was out the next week to prove I was better than the fella who was coming behind me. I just worked so hard and you have to give 110% in any sport. Sometimes it doesn't work out for you, sometimes you have a nightmare, I had plenty of them, but I had more good than bad games."
The42 is on Instagram! Tap the button below on your phone to follow us!