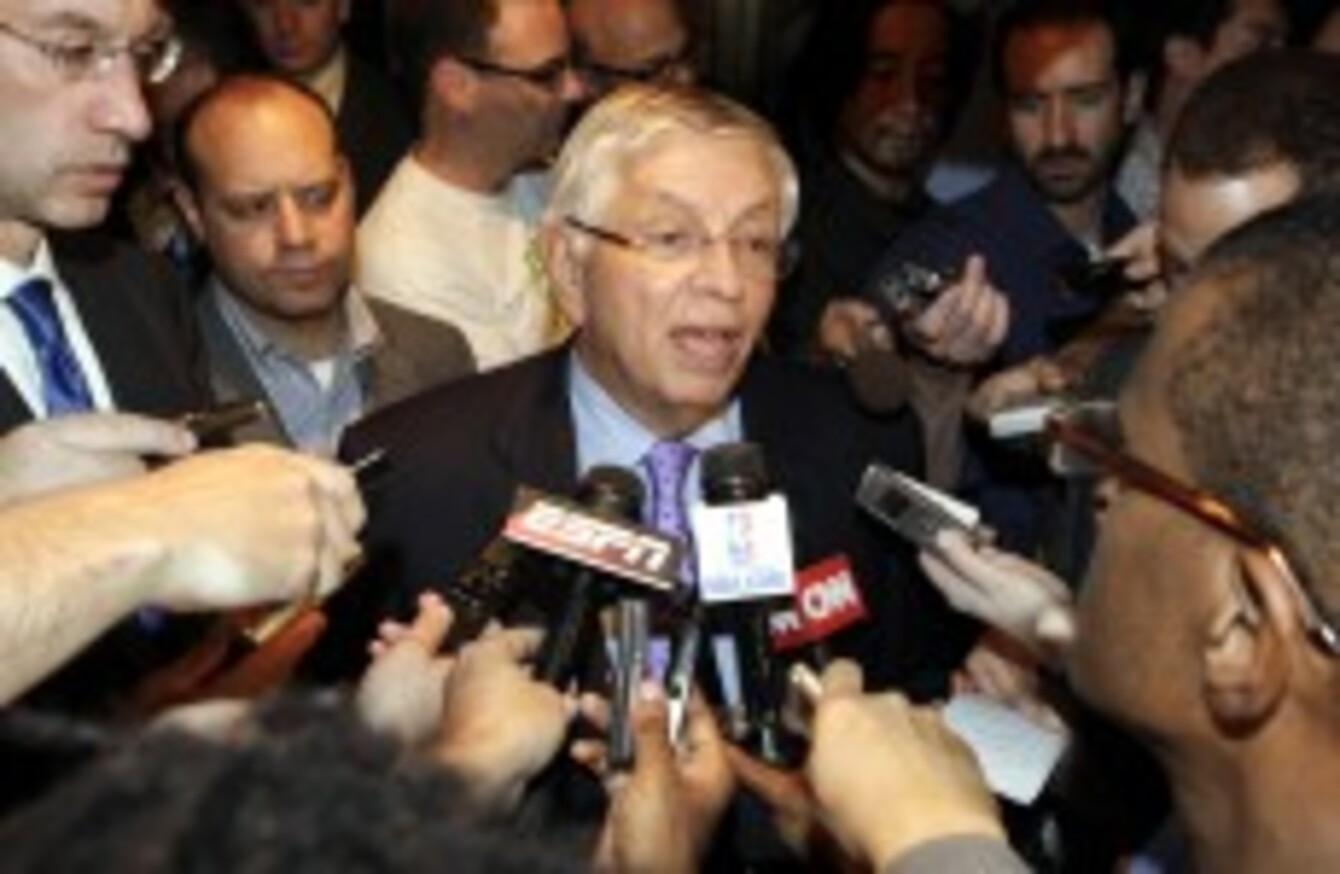 NBA commissioner David Stern addresses the media.
Image: AP Photo/David Karp
NBA commissioner David Stern addresses the media.
Image: AP Photo/David Karp
TWO WEEKS OF NBA games are lost. Many more could be in jeopardy.
Sticking to his deadline, Commissioner David Stern wiped out the first two weeks of the season — exactly 100 games — after more than seven hours of negotiations yesterday failed to produce a new labour deal and preserve the season openers on 1 November.
The cancellations mark the NBA's first work stoppage since the 1998-99 season was reduced to 50 games.
Clashing more over the salary cap system than economics — but still far apart on both — Stern said the sides are "very far apart on virtually all issues. … We just have a gulf that separates us.
With every day that goes by, I think we need to look at further reductions in what's left of the season.
Stern said last week that he would cancel the first two weeks of the season on Monday without a new collective bargaining agreement to end the lockout. The two sides expect to remain in contact, but no additional formal talks have been scheduled.
"This is not where we choose to be"
Stern said he was "sorry" and "sad" to report the cancellations.
"We certainly hoped it would never come to this," he said. "I think that both sides worked hard to get to a better solution.
We think that we made very fair proposals. I'm sure the players think the same thing. But the gap is so significant that we just can't bridge it at this time.
Union president Derek Fisher agreed, emphasising that missing any games puts the season in jeopardy. He also stressed this was a lockout, not a strike, and that it was the owners' decision not to be playing basketball.
"This is not where we choose to be," he said. "We're not at a place where a fair deal can be reached with the NBA."
The cancellation includes all games scheduled to be played through 14 November, and affected arenas have been authorised to release those dates.
Unemployed
Based on last year's average announced attendance leaguewide (just over 17,300 per game) and the average ticket cost last season, those now-cancelled 100 games represent nearly $83 million in lost ticket sales — before the first concession or souvenir is sold and before the first car pays to park.
With another work stoppage, the NBA risks alienating a fan base that sent the league's revenues and TV ratings soaring during the 2010-11 season. And the cost of cancellations would be staggering. Deputy Commissioner Adam Silver said the league would lose hundreds of millions of dollars; Hunter estimated players' losses at $350 million for each month they were locked out.
Now ushers, security personnel, parking lot attendants, concession workers, restaurant employees and others all stand to have their hours cut or join America's 14 million unemployed. A few teams also have either trimmed their staffs or instituted sharp pay cuts — some did that as the lockout began — and more layoffs could be forthcoming.
Players reacted quickly — and in some cases, strongly — on Twitter within minutes of the cancelations being announced.
Miami guard Dwyane Wade said the situation "just got real" after he learned the first two weeks are now gone, then lashed out at Stern's comments in a second post by saying they hurt employees at arenas around the league, other businesses that thrive off NBA business and the league's fans in general.
Minnesota rookie-to-be Derrick Williams, the No. 2 pick in this year's draft, tweeted that going overseas may now be an option for him.
Divide
As the lockout drags on, Stern's legacy as one of sports' best commissioners is weakened. He turned 69 last month, and although he hasn't said when he will retire, he did say this will be his last CBA negotiation after nearly 28 years running the league.
He has insisted all along he wouldn't worry about the damage to his reputation and that his only concern would be getting the deal his owners need.
It's uncertain when that will be.
The sides didn't agree until 6 January in 1999, just before the deadline for canceling that entire season. The league ended up with a 50-game schedule, often plagued by poor play as teams were forced to fit too many games into too small of a window.
They could keep meeting now and agree to a deal much sooner this time. Or perhaps the divide is still too great and they will decide there's no reason to rush back to the table.
– Brian Mahoney