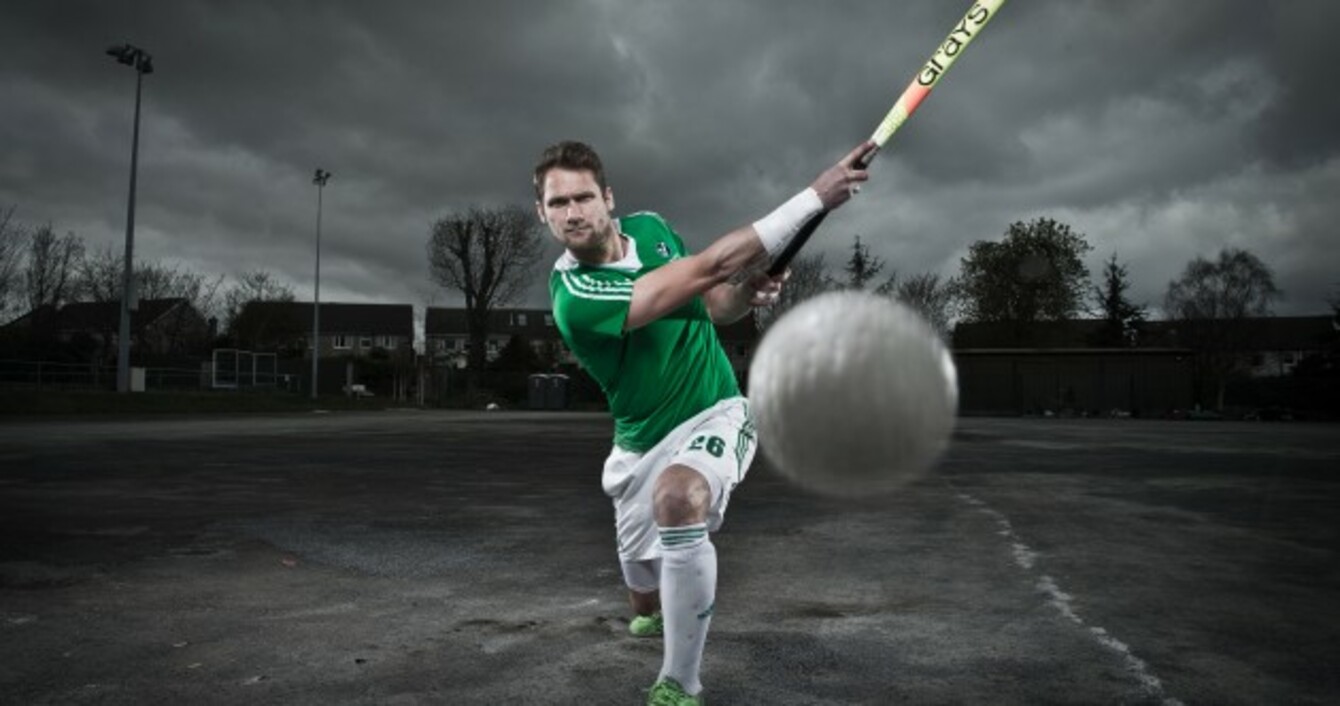 Gleghorne represented Ireland at the 2016 Rio Olympics.
Image: Morgan Treacy/INPHO
Gleghorne represented Ireland at the 2016 Rio Olympics.
Image: Morgan Treacy/INPHO
IN THE CONTEXT of this story, it's important, first and foremost, to fully acknowledge Paul Gleghorne's standing as a hockey player. A central figure for Ireland since his international debut in 2009, he has won 173 caps and was part of the history-making team in Rio last summer.
Gleghorne has been an ever-present in the heart of the Irish defence over the last number of years, becoming one of the cornerstones of the success achieved under coach Craig Fulton, and at the same time positioning himself as the ninth highest appearance maker for his country.
Hockey is a massive part of his life, and always has been. It is a sport with deeply embedded roots in communities and families across the island, the passion for the game filtering down through generations. Both his mother and father played and Gleghorne has aunties on both sides of the family who were internationals. His older brother, Mark, also represented Ireland before chasing his own Olympic dream with Great Britain in 2009.
Being a hockey player is all Gleghorne has ever known, and it's what he's known for. A popular and recognisable figure around Irish hockey circles; an international, an Olympian and a European Championship bronze medallist.
But for as long as he can remember, Gleghorne has worried about what others thought. Through school, through university and throughout his career he feared the perception of him would change and he would be viewed in a different light if his 'secret' got out. He wanted to be known as a hockey player, rather than being recognised for who he was away from the sport.
It meant hiding behind a public facade, one which masked an inner torment and the deterioration of his mental health from the scarily young age of eight to a point, in late 2013, when he had abandoned all hope.
At the same time, Gleghorne was able to maintain his standards on the pitch and, somehow, tour the world with Ireland, room with team-mates and continue to perform at international level without letting his guard down. From a young age, he had convinced himself that nobody could know how he felt because he would be seen as weak and, in a sporting sense, a liability to his team.
On 19 October 2015, Gleghorne, at the age of 28, published a blog post titled 'Mental Health Awareness' and let the world in on his 'secret'. The reaction was overwhelming and it gave him the confidence to speak out. He is now driven by the knowledge that it's okay not to feel okay and there is a light at the end of the tunnel aiding his recovery.
In his own words, this is Paul Gleghorne's story.
***
It's a Thursday evening and Gleghorne has just come from KPMG's Dublin headquarters on Harcourt Street. A corporate finance manager, he is based in the auditor's Belfast office but is down south for the day as part of a project he's currently working on.
We sit face-to-face in a small meeting room for an hour and a half and Gleghorne does most of the talking. He's nervous, it's understandable, but opening up like this requires remarkable courage. The only other time he has spoken about his mental health in public is in that 2,000 word blog post.
"It's very weird looking back because if you look at an eight-year-old child, you see innocence," he tells The42. "It's very difficult for me to explain why I had those feelings other than from a young age I was having these dark thoughts and I wasn't sure what was causing them or if they were normal.
"Because I was so young, I didn't understand and just thought everyone felt like this and it wasn't something special to me."
Whether it was school or sport, Gleghorne obsessed over achievements or, more significantly, a lack of achievement. He criticised and beat himself up over mistakes, no matter how small, and failure and defeat would affect him until he could get back on the pitch to rectify it.
"I would have been very critical and I was very much a perfectionist," he continues. "Looking back I can see those traits quite clearly now. I put a lot of pressure on myself to perform and at that stage I wasn't just playing hockey but cricket and rugby and everything else.
"If I had a match and made a mistake I'd obsess over that one mistake for a long time. There was always something going on in my mind. There was always something I would obsess over. If nothing much happened in a day but I got a question wrong in class then I'd lie awake in bed that night thinking 'why did I get that wrong, I'm stupid, I should have got that right' and that was the same in everything I did.
"I might feel perfectly fine and then all of a sudden it would pop into your head. I might have been playing with my brother and having a great time and all of a sudden this would just enter your head out of nowhere. 'Remember that mistake you made' and I couldn't get rid of it, particularly when you're alone in bed at night."
As Gleghorne recalls those nights alone in his own bedroom, it's hard to comprehend how young he was. He was just a kid and these feelings had inexplicably intruded on his childhood, consuming his thoughts and preventing him from enjoying the freedom and innocence of youth.
"I started looking at people and thinking they look so happy," he remembers. "We'd have lost a game and others would have smiled, laughed and gone home but for me it felt like it was the end of the world. Sometimes I wondered why I cared so much and why did it affect me so much.
"But it was the assumption that everyone else was happy and when you're unhappy you can become very envious and you don't actually realise it."
As Gleghorne got older and progressed through to secondary school at The Royal Belfast Academical Institution (RBAI), he was becoming increasingly aware that feeling the way he did on a daily basis was not normal.
Furthermore, he continued to be consumed by his own dark thoughts, as moving to a new school added further anxiety and heightened the belief that he had to hide his feelings in the fear people would judge him.
"I remember realising at the age of 11 or 12 that this wasn't normal. It got to a point where I knew I had to really try and hide this and obviously that was very dangerous. I had a lot of anxiety joining a new school but I still wasn't sure what was causing my thoughts. It's scary as well because you honestly have no idea.
"I couldn't process the feelings to talk about them because I didn't know if it was just life but certainly when I was old enough to understand what it meant, I had this massive fear of the consequences. I didn't know what mental illness was and I wasn't really aware of other people with a condition but if the topic came up in class or on TV, I'd always be sure to make a point of not knowing anything about it or not understanding it. I really pushed it away and that helped create this impression that I was fine and happy."
The reality, however, was that Gleghorne was in an incredibly dark place and the light at the end of the tunnel was disappearing further into the distance. His thoughts of self-harm were beginning to intensify and the peaks and troughs in his mental health he had experienced up until his early teenage years had been replaced by a prolonged period of depression.
He carried on without talking to anyone, accepting the fact that this was just the way he was. By the age of 14, insomnia, self-harm and suicidal thoughts were part of Gleghorne's everyday life and he was now an expert in masking his real emotions. But, deep down, he had hit rock bottom.
"The remarkable thing was I was functioning to a reasonable level. I was still getting my grades in school and doing okay in sport. People wouldn't have thought anything was wrong, there was literally no indication I was suffering.
"When I was 14 I started having those thoughts of self-harm and ending my life. They turned into 'I really should do this, how do I do this?'. I was starting to plan things out in my head and that was after a prolonged period and I didn't see any end in sight. I had no happiness.
"I remember the general period quite vividly. I was just selected for the Irish U16 team for the first time and it was something I really wanted to achieve. That was something that had been a real goal of mine but when I did achieve it I felt no better and that was quite demoralising and that was when I started to abandon hope. Rather than feeling good about it, my first thought was what next? There was a fleeting moment of joy but that was it.
"Also at the time I was lucky to go on a school cricket trip to South Africa. I was a 14-year-old just selected for Ireland at hockey and was in South Africa playing cricket with good friends but it wasn't helping me in any way. The more I started achieving little things and not feeling better the worse I started to feel because my assumption was if I achieved my goals I would feel better.
"I never got out of that rut and that state of mind and it became life. My mother passed away when I was 16 and that didn't help. It's quite scary looking back, it was my life. My life was not wanting to be alive but being here anyway. It was waking up in the morning and not wanting to be here and going to bed at night thinking if I closed my eyes how much better would it be if I didn't open them again. That was my life everyday."
Growing up in Antrim, Gleghorne describes his family as a close-knit one and certainly like many Irish households, much of the conversation around the dinner table revolved around sport. His father played rugby and cricket and his mother was heavily involved in hockey, playing and then coaching. It was a sports-mad house and the fact he had relatives who had represented Ireland, and in the case of his auntie, won an Olympic bronze medal, Gleghorne was always driven to excel in anything he did. The Olympic dream was a very tangible one.
He was an outstanding performer at school and club level during his teenage years and after moving to England to study at Loughborough, Gleghorne received his first senior cap in a 3-1 win over France in June 2009. He was 22.
As Gleghorne began to achieve all these goals he had set for himself, the hope was that the sense of fulfillment would ease the mental torment and he would find peace and solace in everyday life — but when the boxes were ticked and there was no change in how he felt, it had the opposite effect.
"There would have been times when I thought hockey was making me feel the way I did," he admitted. "I feel like I'm worthless, I feel like I'm a failure, I feel I don't deserve to live in this world and I thought hockey was making me feel that way. I thought I'll never be the player I wanted to be or achieve what I wanted to achieve. I'll always be letting my team-mates down and that's how I felt and felt quite strongly about.
"It's only been in the last two years maximum that I've been able to look back and say I feel this way because it's how am I and not anything to do with hockey or sport. If I took that away, I'm pretty sure I would have found something else. I always obsessed about trying to do things as best as possible and always felt very low and down if I didn't.
Be part
of the team
Access exclusive podcasts, interviews and analysis with a monthly or annual membership.
Become a Member
"I'm trying to think back here and it's hard because it was all the same. From the age of 14 until I wrote that blog 14 years later, it was all the same. Intense depression, no ebbs and flows really. In general I never really felt really good or that I really enjoyed anything…"
Gleghorne's voice trails off. He stops, composes himself and adds: "There's times I think 'yeah those were good times and I've fond memories' but when I really think deep they weren't really. It was all superficial because I wasn't right or happy and I got to a point where I didn't want to tell anyone as I didn't want to hurt my family or have them think I lied to them."
With his international hockey career progressing and heading on an upward curve, Gleghorne's world was collapsing off the pitch. He had accepted the fact he was going to live the rest of his life hiding this 'secret' and his mental health continued to deteriorate to such an extent that he couldn't remember the last time he woke up in the morning and wanted to be alive.
While sport can offer an outlet and provide hope, hockey was only accentuating the pain for Gleghorne as he pinned everything on realising his dream of representing Ireland at the 2012 Olympic Games in London.
Gleghorne had plunged to the depths of despair but was firm in the belief that if he became an Olympian all of his problems would disappear and his life would change for the better. It was completely irrational, but the dream was keeping him alive.
As it turned out, Ireland's hopes of qualifying for a first Olympics were shattered in the cruellest of circumstances as they conceded a late goal to Korea in Belfield. It proved to be a defining moment for the team and Hockey Ireland as an organisation but for Gleghorne, the agonising outcome came as a blessing of disguise. He didn't know it at the time, but it probably saved his life.
"It was a particular low point," he explains. "But looking back I'm lucky we didn't qualify as if we did, I might not still be here. I put all my hopes of getting better on going to London. It was going to transform my life as I would then be an Olympian and everything would be different. I thought I'd feel worthy, I wouldn't feel worthless anymore.
"We didn't qualify and I then felt worthless, which was exactly the way I had felt. I was doing my chartered accountancy exams that summer and then watching the Olympics I was thinking 'if I was there I'd be happy and my problems would be solved' but I know now my problems wouldn't have been solved. I've been to an Olympics in 2016 and my problems haven't been solved.
"It scares me to think how I would have coped if we qualified for the Olympics in 2012, gone to London and then come out the other side still feeling the same. I worry how I would have coped with those same feelings. It was such a big goal and life event and it was quite scary how much I invested in it. I just worry how I would have reacted and what I would have done. It's scary."
The events of that summer and the following one, in 2013, when Gleghorne sat his final accountancy exams then led him to breaking point. Once again, he had assured himself that achieving his goal, this time academically, would be the turning point he so desperately craved. When the results arrived in November 2013, it was good news but the dark feelings failed to dissipate and with it went every last semblance of hope. The pain was only getting worse.
"I don't want to go into detail," he continues. "But I thought about a number of ways I could end my life and which way was the easiest. I had a plan in place and the scary thing is that I justified it in my mind.
"We all know how painful loss can be so the big motivation for me was that I didn't want to inflict that on anyone but the really scary thing for me is that I justified that. I thought my family would actually be happy about this, they'd be happy I don't need to suffer anymore and they'd be sad for a few days and then they'd get on with their life and be happy. It's a completely warped and irrational way of thinking but thankfully something, I don't know what it was, stopped me."
Gleghorne was firm in his mind that this was it. He couldn't go on living like this any longer, overcome by a mental illness which had crippled him. He's not sure what possessed him to go for a walk that day.
Living with his father in the family home at the time, he ended up in the cemetery where his mother was buried. As he stood over her grave, with tears in his eyes and ready to say goodbye to the world which caused him so much suffering, something stopped him. To this day, he doesn't know what but he decided this wasn't it. He wasn't going to give up.
"I'm ashamed to say I don't visit my mother's grave enough. I remember looking at it and thinking about the time of her death. I remember vividly getting called out of a school on a Friday because she didn't have long left. We were told to say her goodbyes but she died the following Wednesday morning and I remember thinking that was a seriously good fight.
"My mother was very brave for doing that and that thought came into my head; she was someone who fought for every last minute and second of her life and there was no reason why I shouldn't fight on. It was a random thought at the time but it provided me with determination to get help.
"I wrote an email from my personal account to my work account so the next morning I got into work the first thing I had to do was make an appointment with my GP. When I saw him, he talked about previous patients and case studies about people getting better and that gave me hope.
"Just like I had been given hope as a kid that I could play for Ireland and go to the Olympics because my aunt had done it, I now heard about people who had gone through similar experiences and they were doing better. It was something to cling onto."
A month later, Gleghorne was referred to a counsellor and was diagnosed with a number of anxiety and depression disorders. In his own words, it was the most defining moment of his life so far. The light at the end of the tunnel had reappeared.
If starting treatment was a difficult step to make, sitting his family and friends down to reveal his 'secret' after all these years was the hardest thing Gleghorne has ever had to do. Their reaction has also made it the best thing he's ever done.
"I was nervous, of course I was," he smiles. "But the way they responded was better than anything I could have imagined and that gave me confidence. It showed me it was okay and that there was nothing to be embarrassed or frightened about.
"I then started to tell a few team-mates and I would have liked to meet with all of them before I published the blog but I was quite strategic in the way I put it out. We had just played Argentina in a series so I decided to put it out on the Monday morning as the following weekend was the game which decided our qualification for Rio. I didn't want to potentially detract from that.
"The response was overwhelming and guys were ringing me apologising for not noticing but I had done everything in my power to hide it. They were all very understanding."
The remarkable thing is Gleghorne's hockey career was unaffected during everything he had gone through and while he had lost his way in life, one constant was his ability to produce performances even at his lowest ebb.
When everything else was negative, hockey remained the one positive and while London 2012 was crushing and very nearly tipped him over the edge, he fought on, persevered and eventually overcame his demons to get the help he needed and then, a couple of years later, fulfil his dream.
He adds: "Looking back some of the best games I played was when I was at my lowest. I would have been playing on very little sleep or in a very low mood but was still able to perform which I don't know how I did.
"The build-up to Rio after we had qualified was an emotional rollercoaster and there's no point in me sitting here pretending there was a quick fix and going to counselling and going to Rio has erased all my problems.
"But the longer I get away from the Olympics the fonder memories I have of it. The feeling before our first game was just amazing. People often ask why I play hockey and why I still play hockey after all of this and the easiest way to describe it is when your life is consumed with anxiety, self doubt and a feeling of worthlessness, that pre-game feeling of complete confidence makes it all worth it.
"It was just an unbelievable feeling. Everything was worth it for that moment alone. The lows were worth it a thousand times over for the highs we experienced as a team."
High, lows and a rollercoaster of emotions, both in life and on the Olympic journey. Dreams chased, dreams fulfilled, dreams shattered and now time to dream again.
"I have so many positive things in my life that I now appreciate," Gleghorne concludes. "I'm getting married at the end of this year and there are a lot of positive things outside of hockey which will be there no matter what happens on the pitch.
"I'll always have a mental illness and an anxiety disorder which can make me depressed but I am much better. I recognise now that a dark moment is only temporary and family and friends are quick to remind me of that.
"I didn't have that support before because I was scared. I was scared of what people would think and say but talking about it and talking to someone makes a huge difference."
Paul Gleghorne's 'secret' is out and it has changed his life.
If you need to talk, contact:
Pieta House 1800 247 247 or email mary@pieta.ie (suicide, self-harm)
Samaritans 116 123 or email jo@samaritans.org
Aware 1800 80 48 48 (depression, anxiety)
Teen-Line Ireland 1800 833 634 (for ages 13 to 19)
Childline 1800 66 66 66 (for under 18s)
The42 is on Instagram! Tap the button below on your phone to follow us!