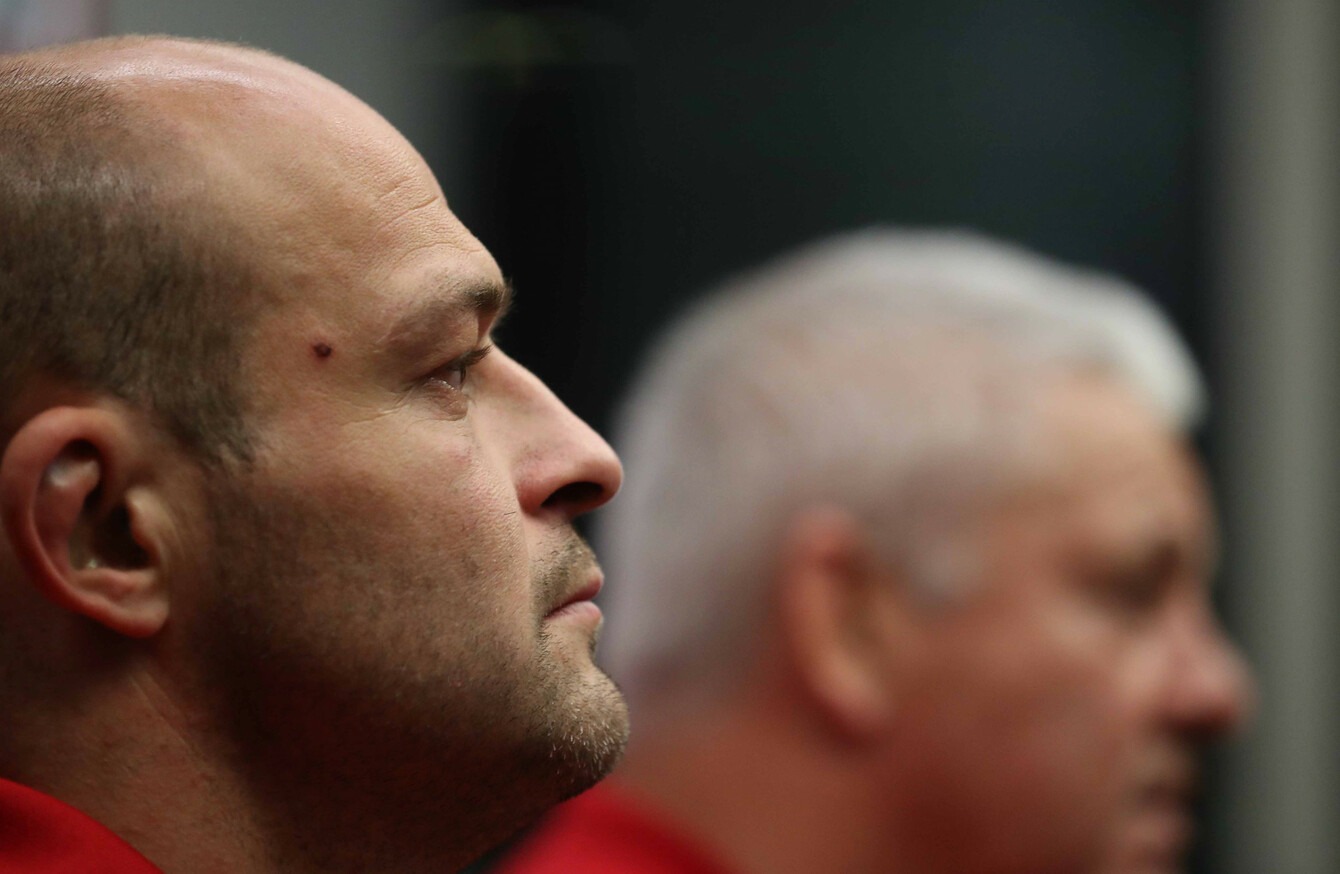 Image: Billy Stickland/INPHO
Image: Billy Stickland/INPHO
Updated at 09.09
THE TREMORS OF Sean O'Brien's post-Lions tour debrief were still being felt as yesterday's Champions Cup launch in Dublin brought a few more Lions out on the media prowl before the new season really ramps up to full intensity.
The Leinster and Ireland openside was scathing in his appraisal of the drawn series last month, saying Warren Gatland's squad ought to have whitewashed world champions New Zealand and pointing out a succession of preparation issues as well as putting question marks over the capabilities of backs coach Rob Howley.
The Tullow Tank's skipper for the opening Test in June – and more than likely an opponent this weekend – Peter O'Mahony could hardly be blamed for giving the issue a stonewall no comment.
O'Brien's international captain, Rory Best, was happy to speak about the Lions fallout, but delicately talked his way through the issue. That alone is enough to tell you that Best would have treated matters differently, let alone the look on his face.
No player has been rushing to come out and refute any of O'Brien's assertions and for the most part Best backs the Carlow man's freedom to speak honestly. However, the one issue the Ulster hooker makes clear that O'Brien should have treated differently was the singling out of Howley.
"It's his feelings, but I don't think he should have singled out one coach in particular," said Best. Although the hooker wasn't moved to launch a strong defence of Gatland's assistant, he would later point out that it's far from unusual for Jonathan Sexton to lead a team's attacking structures. Nobody criticises Joe Schmidt for letting him do so anyway.
"He didn't single out anyone else one way or the other. From a forward's point of view, coming away from that I have a massive amount of respect for Steve Borthwick. What he did, the way he coaches, the way he prepares… you could single him out the other way.
It's really easy to always look at the negatives. But look, Seanie expressed an opinion. He probably shouldn't have singled out one person in particular.
"But the thing with Seanie is; I have no doubt that if they were his feelings that wasn't the first time they've been aired. I've no doubt he spoke to the coaches as well."
Perhaps then this is a situation that has arisen because O'Brien didn't feel there were adequate channels of communication open to him, or at least one where he felt he would be heard and heeded.
Like O'Brien, Best is a veteran of the 2013 tour and by his recollection the feedback following the 2 – 1 series win over Australia was collected in a swifter fashion.
"Normally we would be (asked for feedback by now). Maybe they've got all the feedback they want at this stage," the Ulster skipper joked.
"Four years ago, I think there was. You have to remember that boys are only coming back in.
Exclusive NZ - IRE
Rugby Analysis
Get Murray Kinsella's match analysis and Garry Doyle's updates from New Zealand exclusive to members
Become a Member
"Maybe the easiest way to do it when everyone is in their camps, prior to autumn (internationals). That's the easiest thing: come in, hand out forms, whatever way it is.
"I do think it's important to hear the feedback. There are better ways of doing it. Seanie doesn't necessarily always do things the way most people perceive to be the best way and that's what's so good about him."
Best effectively became captain of the Lions 'midweek' team in June, so he qualifies his opinions by pointing out he didn't play in the Test matches. But as a part of the squad, he didn't feel that communication from Gatland or his coaching staff during the tour was an issue, though he can see how the hectic schedule could have prevented players from seeking out the one-on-one conversations they may have wanted.
"You could have went up to them, yeah. It's so hectic, but we had one-on-ones after every game with Steve. That for me is where he was so good. You could air your opinion on how you played, but also get things off your chest on how you were feeling.
"That's why I had so much respect for him. When you're on an intense tour, it can all be rugby, rugby, rugby… Steve knows a happy player is better than an unhappy player. Regardless of coaching. Those avenues were there if you wanted them."
He added: "it's so intense, you don't have seven days to debrief.
"If Gats speaks to me (after being left out of Test team), but doesn't speak to Jonathan Joseph or Iain Henderson, does that make me important than those people? Then you open another can of worms. It wasn't like the last time in New Zealand when the tours (split), we were on the pitch with the coaches, the team were being coached by everyone and they were always around the team room. If you had something to get off your chest, the opportunity was there. "
Look, Seanie is a very passionate character. If he thinks something, he'll get it out there.
"After the first Test, he felt like he was in the position he said he was; tired and over-trained. It's hard for me to comment on that. I didn't play in that game. I know how I like to feel going into Test matches.
"I wasn't playing so I don't know where I was. It was a really good bunch of boys and real quality there. I really enjoyed it. I really enjoyed captaining that midweek team. We got a good bond going and that can be difficult. Part of what we had to achieve was keeping everyone together. Ultimately, if you get a reasonably happy midweek team, they prepare the Test team. All that kind of worked well."