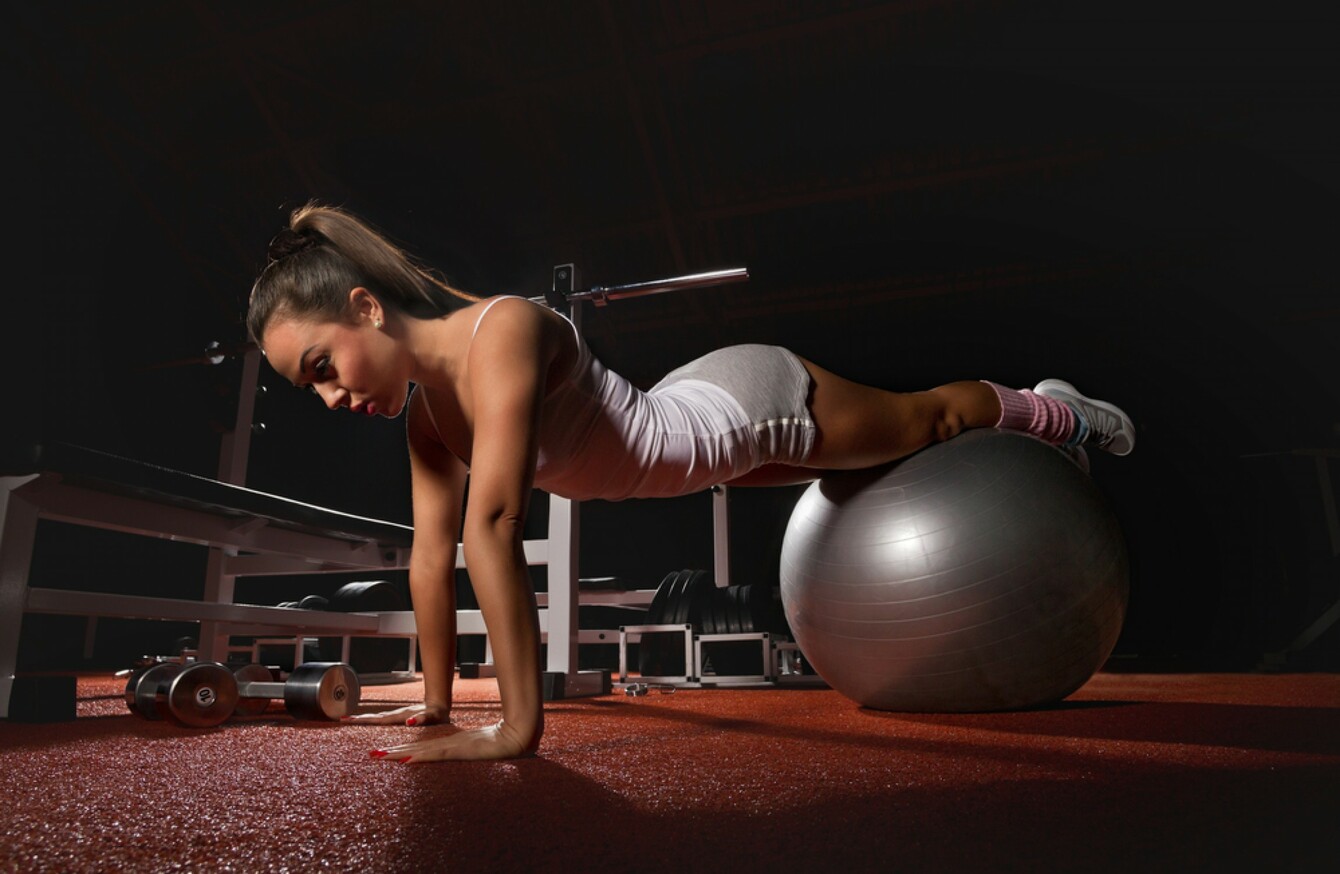 Image: Shutterstock/Wallenrock
Image: Shutterstock/Wallenrock
'Training your core isn't just about being stiff and stable, core training is also about being elastic and malleable. We have to be able to get into positions and then lock down into them to prevent injury.' Eric Cressey.
A WELL-CONDITIONED core plays a vital role in both performance and injury prevention with its primary role being to provide stability of the spine and to resist unwanted movement.
If you read last week's article you will hopefully have done away with the old traditional ab exercises (sit ups, loaded crunches, back extensions etc.) that do little but create compressive forces on the spine.
Last week's article identified the four main categories that should serve as a blueprint to your core training; anti-extension, anti-rotation, anti-lateral flexion and hip flexion with a neutral spine.
As always, the focus should be on good form, proper breathing and engagement with the deeper musculature. Once the foundations are laid, look to progress to more challenging variations and exercises.
1. Anti-extension exercise – dead bug
The goal of this exercise is to activate our deep core muscles while simultaneously moving our extremities.
Don't be fooled by its relative simplicity – if performed correctly, the deep lumbo-pelvic stabilisation combined with enhanced motor control make it anything but.
Set up
Lie flat on your back with your arms extended above you towards the ceiling.
Bend your knees to 90 degrees and raise your thighs, one at a time, until perpendicular to the floor.
Deeply inhale and brace your core (imagine somebody about to punch you in the gut!) to bring your ribcage down and gently press your lower back against the ground.
Maintain this locked in position throughout the exercise.
Execution
To initiate the exercise, take a deep stomach-to-chest inhale and as you forcefully exhale, slowly lower the right arm and left leg towards the floor simultaneously.
Hold for a one second pause while fully extended, then as you inhale, slowly return to start position and repeat on opposite side. Aim for 2-3 sets of 5-8 reps per side.
Source: Kristy Lee Wilson/YouTube
Progressions/regressions
The dead bug is an exercise that can be easily modified to suit your ability. Start by only performing the arm movements, then the leg movements, then when comfortable, combine the two. Alternatively, you can control how close to the ground you lower your arms and legs.
The key is to maintain the initial set up position with abdominal hollowing and lumbar and pelvic position. If, while performing the exercise, you find yourself slipping into lumbar extension (i.e. your lower back gapping from the ground) then it's a sign to regress the exercise.
2. Anti-rotation exercise – Pallof press
This is a versatile, user-friendly exercise that really trains your core's primary function of stabilisation. It can be performed with a cable and single handle attachment or a resistance band.
Set up
Adjust the cable/band so that it will be level with your chest.
Grasp the handle/band with both hands, pull out and stand with the side of your body towards the weight stack or band attachment point.
Adopt an "athletic stance"; feet hip distance apart, hips back, knees slightly bent, chest out and shoulders back.
Deeply inhale, brace your core and squeeze your glutes.
Execution
Exhale deeply and forcefully as you press your arms away from the chest, until fully extended. Hold the cable/band steady in front of you for a one second pause.
Slowly return to the chest as you inhale. Stay in control of the movement and avoid letting your body sway backwards and forwards.
Source: Yuri Elkaim/YouTube
Aim for 2-3 sets of 8-10 reps per side.
Progressions/regressions
Instead of rushing to add more resistance, try tweaking your stance; the narrower the stance, the harder the exercise becomes. Try it in tall kneeling or half kneeling to increase the demand on the trunk musculature, or try it with an isometric hold of up to ten seconds with each rep.
3. Anti-lateral flexion – Farmer's walk
Weighted carries are a versatile movement pattern that can have numerous applications in training. They are a great way of activating the deep muscles of the trunk and hip (with the added bonus of improving grip strength and shoulder stabilisation in overhead varieties) and the single arm variation is excellent for developing the strength required to resist lateral flexion.
Set up
Gripping the weight (try a kettlebell or dumbbell) in one hand, deadlift it up off the ground.
Reinforce good posture by setting the shoulders back and down, keep your chest tall and head back to avoid a forward flexed position.
Squeeze the weight as if you're trying to break it for better stabilisation and activation in the shoulders and rotator cuff.
Execution
Walk for the given distance/time while maintaining a neutral spine position and resisting side bending. Don't rush; focus on a slow paced, heel to toe walk.
Start by performing 2-3 sets for 20-30 seconds carries.
Source: Buff Dudes/YouTube
Progressions/regressions
Increasing the weight or distance will increase the difficulty of the exercise but don't compromise your form. Once fatigue sets in, it's easy to slip into a forward flexed head position so lighten up the weight and don't be afraid to drop it and reset.
4. Hip flexion with neutral spine exercise – Swiss ball jack knife
These core exercises often get overlooked but can be a good addition if you want to be able to go through a full range of motion in exercises without losing your lumbar spine alignment.
Set up
Position yourself in a push up position with your shins resting on a Swiss ball.
Your hands should be directly under your shoulders, spine aligned, glutes squeezed and core braced.
Execution
Maintaining your neutral position, pull your knees towards your chest. Pause when your knees align directly under your hips then reverse the motion to roll the ball back to starting position.
Avoid allowing your hips to sag at any point throughout the movement. Aim for 2-3 sets of 8-10 reps.
Source: Lou Schuler/YouTube
Progressions/regressions
The key with this exercise is to maintain stability and stay neutral throughout. If you feel ready to increase the difficulty, progress to a Swiss ball pike, keeping the legs straight and pushing the hips to the ceiling. This increases the emphasis on shoulder stability while simultaneously challenging your balance and coordination.
How to integrate it into your regime
When it comes to tapping into your deeper core, my preference is for my clients to include core activation work as part of their warm up.
It makes sense; activation exercises are designed to get the big muscles in your body to wake up, work properly and be prepped for the workout ahead.
Not only does it reduce the risk of injury, but it helps to foster a mind/body connection that stops smaller muscles taking on loads they simply can't handle.
Consider the difference between working harder and working smarter; working hard won't necessarily get you results if you aren't conscious of and able to recruit the correct muscles in the correct order.
Each day, pick a different movement pattern to focus on and combine with myofascial release work and active stretches for a full warm up.
Perform the exercises 1-2 times per week on non-consecutive days.
Out of ten, the intensity should be five to eight and never working to failure. If in doubt, remember; neutral, brace, breathe and you won't go too far wrong!
Sarah Cremen is a personal trainer and physiotherapist based in David Lloyd Riverview in Dublin. For more health and fitness advice and tips, you can follow her on Facebook, Instagram or Twitter. Alternatively you can visit her website.
The42 is on Instagram! Tap the button below on your phone to follow us!