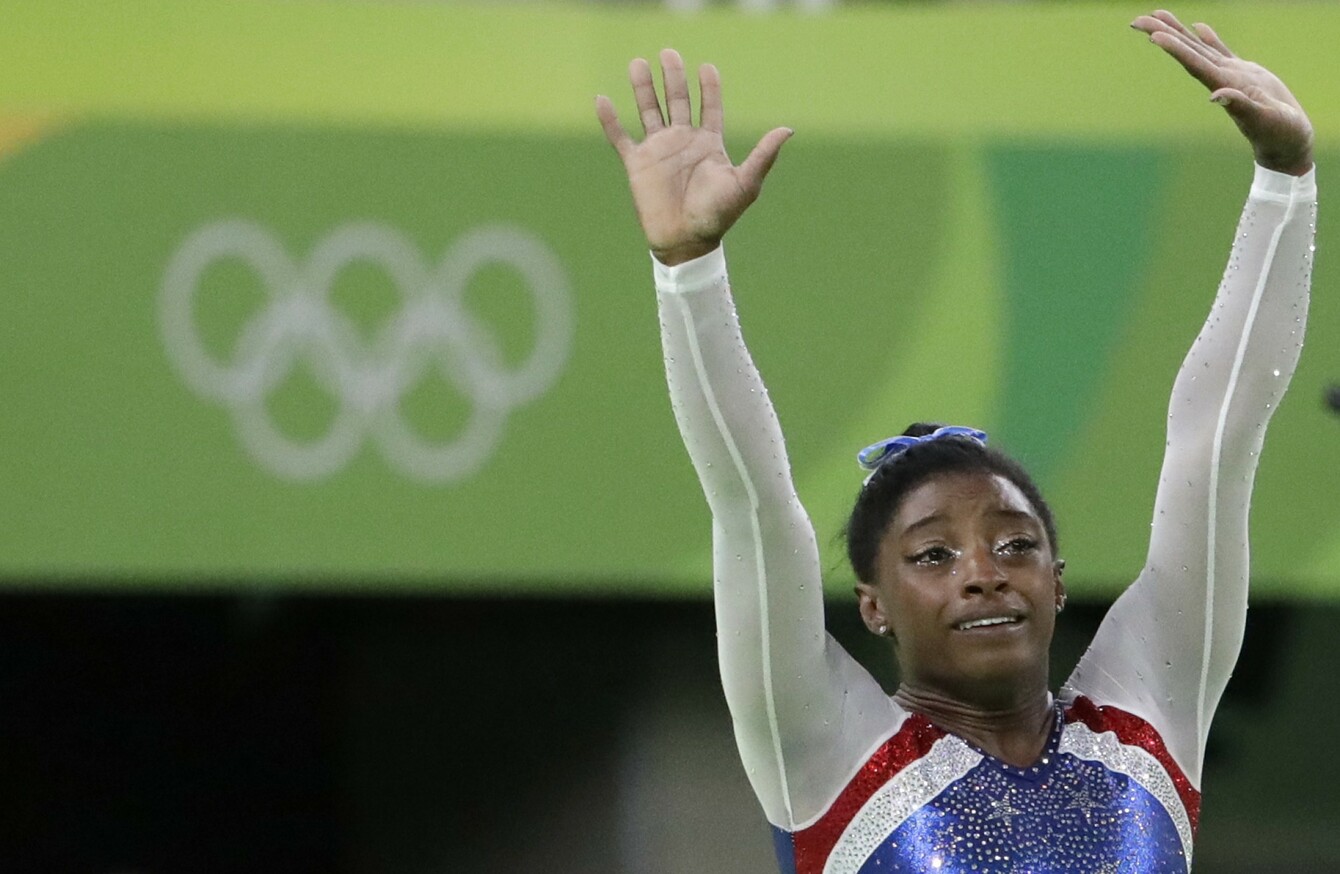 United States' Simone Biles celebrates after winning gold.
Image: David Goldman
United States' Simone Biles celebrates after winning gold.
Image: David Goldman
US SENSATION SIMONE Biles confirmed her status as the best gymnast in the world as she added the Olympic women's all-around to her team title for a second gold title in Rio on Thursday.
The 19-year-old crushed her rivals with a powerful display of acrobatics and tumbling in the Rio Olympic Arena which kept the all-around title in US hands for a fourth straight Olympics.
Biles led a US 1-2 ahead of Aly Raisman with Russia's Aliya Mustafina taking her second straight Games all-around bronze.
Biles finished 2.1 points ahead of 22-year-old Raisman, who had missed the podium in London 2012 after a tie-break for third spot with Mustafina.
It keeps three-time world all-around champion Biles' bid for a record five women's gymnastics gold on track with vault, beam and floor finals to come in Rio.
The United States also become the first country to win the all-around title four consecutive times — Carly Patterson in Athens 2004, followed by Nastia Liukin in 2008 and Gabby Douglas, 2012.
The all-around is the summit of women's gymnastics, a battle across four disciplines — vault, uneven bars, beam and floor — between the top athletes in the sport.
And 1.45m (4ft 9ins) Biles, competing in her first Olympics, delivered a nerveless performance despite being the overwhelming favourite after helping the US women to a second straight team gold.
She launched her challenge by nailing a difficult Amanar vault scoring 15.866 despite a wobbly landing to lead Raisman by 0.233.
Mustafina, a five-time gold medallist in London, pulled out 15.666 on uneven bars on she is reigning Olympic champion, to lead at the half-way point by 0.034 as Biles hit 14.966 on her weakest apparatus.
Biles surged in front again with 15.433 on the beam with Mustafina dropping back after errors.
The American led Mustafina by 1.533 going into the final floor rotation on which she is the reigning three-time world champion.
But the Russian scored low to allow Raisman, the Olympic floor champion, to pull ahead with a flawless floor routine to snatch silver which was only bettered by Biles's Samba performance.
The tearful teammates clutched each other as they waited for the scores — Biles scoring highest on the apparatus along with the vault and the beam.
China's Shang Chunsong finished fourth with Brazil's Jade Barbosa withdrawing after picking up a injury on floor.
Douglas, 20, failed to make the cut to defend her title despite finishing third in qualifiers behind Biles and Raisman. Only two competitors can compete per nation in the final.
Source: Hotline Rings: Rio 2016/SoundCloud
The42 is on Snapchat! Tap the button below on your phone to add!