Liveblog
Welcome to a bitterly cold Croke Park for the opening game of the Allianz Hurling League where Tipperary and Dublin clash in Division 1A at Croke Park.
Here's how the teams will line out.
The players are taking their positions and we're almost set to go!
An early wide for Domhnaill Fox as heavy rain descends on the field.
Both sides are lining up 15-on-15 and we look set for an open game of hurling.
Tipperary 0-0 Dublin 0-0
3 mins – Early chance for Seamie Callanan but his shot is blocked by the defender first and then Gary Maguire.
Tipperary 0-0 Dublin 0-1
3 mins – Niall McMorrow gives Dublin the lead with a strike from distance. Noel McGrath hits a wide at the far end.
Tipperary 0-1 Dublin 0-1
4 mins – Great score by Jason Forde as he picks off a point from inside the 45.
Tipperary 0-1 Dublin 0-3
6 mins – Oisin O'Rourke collects a long diagonal ball, turns and fires over. From the next play Fiontan McGibb takes his point from distance. Very positive start from Dublin here.
Tipperary 0-1 Dublin 0-3
8 mins – A strong wind is favouring Dublin in the first half.
Tipperary 0-1 Dublin 0-4
10 mins – Donal Burke converts a free for Dublin. They lead by three.
CHANCE! Cian O'Sullivan had a hint of a goal but he fumbled the handpass with Oisin O'Rourke free inside. This has been a very positive start for Dublin though.
Tipperary 0-2 Dublin 0-4
17 mins – Tipperary have the first Hawk Eye moment of 2017, but it's a wide. Aidan McCormack opens up his account. Very good score.
Tipperary 0-3 Dublin 0-4
18 mins – Callanan wins a free and converts it.
That was Callanan's first score of 2017. The first of many.
Tipperary 0-4 Dublin 0-4
21 mins – Aidan McCormack is certainly enjoying himself out there. He steps inside and slots it over. Tipp have fought their way back into the game. Both Paudie and Ronan Maher are looking sharp out there.
Tipperary 0-5 Dublin 0-4
25 mins – Callanan's free sends Tipperary in front.
Donal Burke hits Dublin's third wide. Ten minutes until half-time.
Ronan Maher goes off as a blood sub. Seamus Kennedy is in for him.
Tipperary 0-6 Dublin 0-5
28 mins – Another free from Callanan but McMorrow responds for Dublin immediately.
Tipperary 0-8 Dublin 0-5
29 mins – Massive score by Paudie Maher from distance. From the next play Forde adds to his tally. Tipp are really coming into this game now.
Tipperary 0-9 Dublin 0-5
32 mins – Callanan slots over another free to leave four between them.
Tipp's forwards are working really hard out there when they don't have possession.
Tipperary 0-9 Dublin 0-6
34 mins – Huge score by Crummey from midfield. Dublin needed that.
Tipperary 0-10 Dublin 0-6
35 mins – Callanan's frees are all very accurate into that breeze. Tipp lead by four in stoppage-time.
Tipperary 0-11 Dublin 0-6
35+2 mins – Outstanding point from McCormack.
Flag
Half-time: Tipperary 0-11 Dublin 0-6
Some action from the first-half: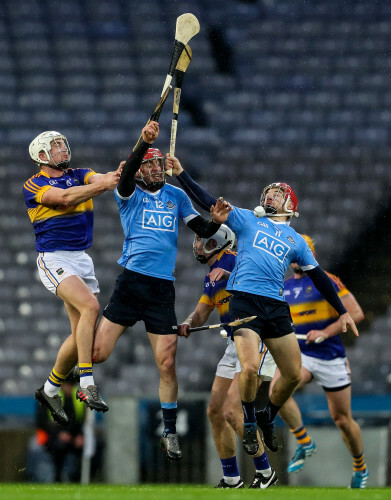 Source: Tommy Dickson/INPHO
Source: Tommy Dickson/INPHO
The second-half is underway…
Tipperary 0-12 Dublin 0-6
36 mins – Callanan hits his fifth point.
Tipperary 0-13 Dublin 0-7
37 mins – Burke gets Dublin up and running with a free. Tomas Hamill sends over a wonderful score in response.
Tipperary 0-14 Dublin 0-7
41 mins – Tipp are seven in front. Nice effort from Noel McGrath.
Eamonn Dillon replaces Cian O'Sullivan.
Tipperary 0-15 Dublin 0-7
45 mins – From the halfway line Callanan converts his latest free. This game is starting to get away from the home side.
CHANCE! Some good tackling by the Tipp forwards almost yields a goal chance, but Crummey gets away with a slight foul and Ben Quinn clears.
Tipperary 0-17 Dublin 0-7
49 mins – Kieran Bergin and Forde score for Tipp. They're in total control now.
Tipperary 0-18 Dublin 0-7
53 mins – McCormack sends over another point! He's had an excellent game..
Tipperary 0-19 Dublin 0-7
53 mins – Paudie Maher from distance! His second point was even better than the first.
Tipperary 0-20 Dublin 0-7
54 mins – Callanan converts a free.
Flag
GOAL! Jason Forde races forward and drills it past the helpless Maguire.
Tipperary 1-21 Dublin 0-7
55 mins – Cracking finish by Forde to bring his tally to 1-2.
Tipperary 1-22 Dublin 0-7
57 mins – Niall O'Meara stretches the lead. It's going to be a long finish for Dublin.
Source: Tommy Dickson/INPHO
Not the kind of night Ger Cunningham would have been hoping for.
Flag
GOAL! Eamonn Dillon flicks into the net after a great ball across the goals from Donal Burke. Dillon launched himself at that!
Tipperary 1-22 Dublin 1-7
61 mins – Good spell of pressure this from Dublin. Still, they trail by 15.
Tipperary 1-22 Dublin 1-8
68 mins – Ryan O'Dwyer wins the free and Burke converts it.
Second yellow for Shane Barrett for a wild swing of the hurley.
Tipperary 1-23 Dublin 1-8
70 mins – McCormack converts the free. We're into four minutes of stoppage-time.
Tipperary 1-24 Dublin 1-8
73 mins – Excellent score from McCormack from under the Hogan Stand.
Flag
Full-time: Tipperary 1-24 Dublin 1-8
Contribute to this story: