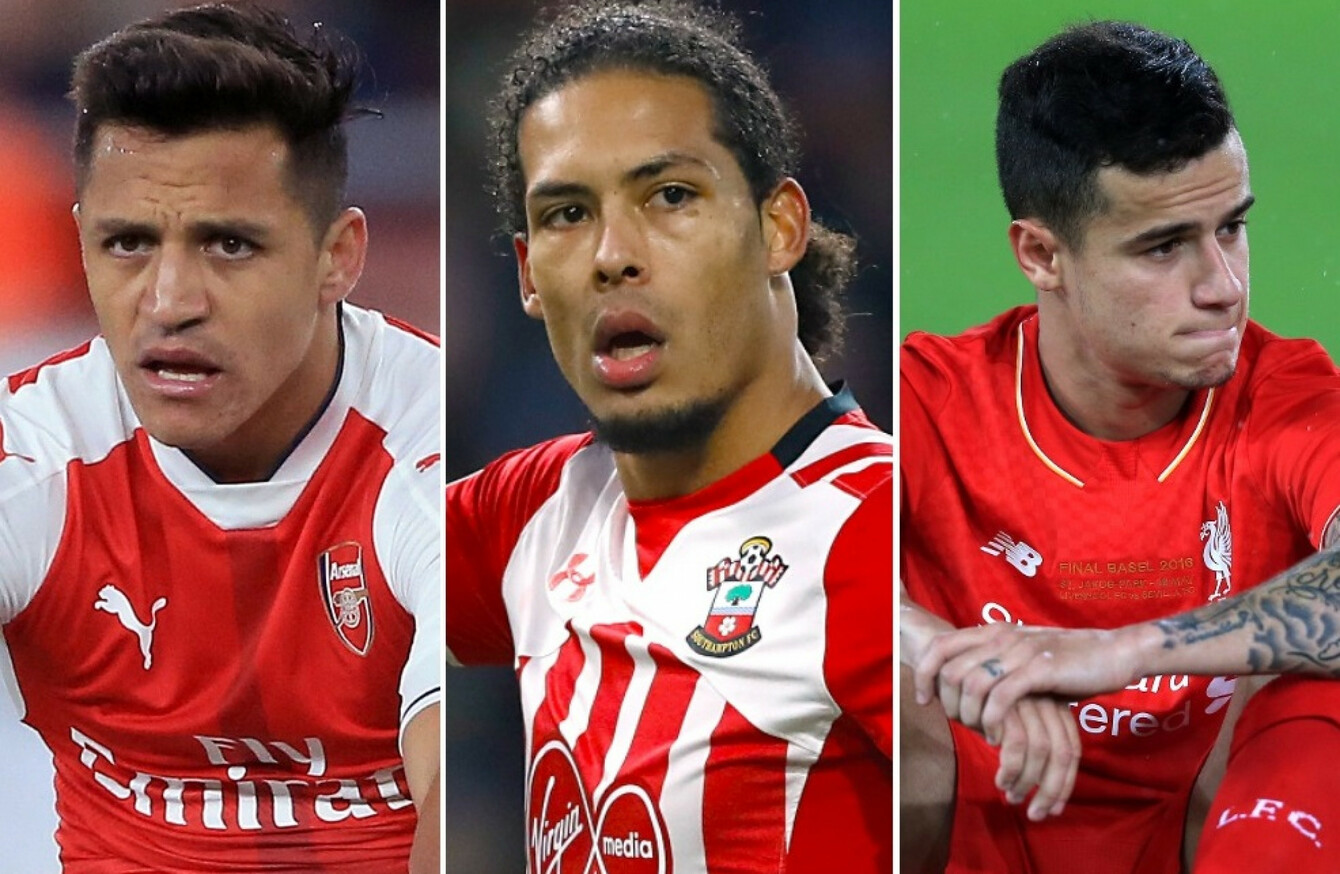 Sanchez, van Dijk, Coutinho: how will they react to the simmering domestic tension?
Image: PA Images
Sanchez, van Dijk, Coutinho: how will they react to the simmering domestic tension?
Image: PA Images
IF THE LAST days of football's transfer window resembled an orgy, then this weekend is the morning after the night before.
After the fitful slumber of the international break, for players and clubs it's a time to truly reckon with the consequences of the madness, to awaken and see who you ended up with.
Not everyone has regrets. Manchester United sensibly tucked themselves into bed nice and early with a cup of cocoa. Others were more promiscuous, though photographs of training ground frolics between PSG's new power couple Neymar and Kylian Mbappé suggest love's young dream.
But mostly it's the bitter sense of what might have been, as the harsh light of day reveals the snoring face of Danny Drinkwater.
Reality bites hardest for those stuck in failing, loveless marriages. This week the likes of Philippe Coutinho, Virgil van Dijk and Alexis Sanchez trudged back into training grounds they'd wished to escape for bigger and better things, swept off their feet by glamorous suitors.
While Liverpool are hoping that Jurgen Klopp's charm can rekindle Coutinho's affections, for Sanchez and Arsenal there is already the telltale sound of raised voices and smashing crockery.
Sanchez took to Instagram this week following two defeats on World Cup qualifying duty with Chile seeming thoroughly sick of his lot.
"You get tired of being criticised with reason and without reason," wrote Sanchez, alongside pictures of himself glum-faced with both club and country.
"You get tired of wanting to be defeated, you get tired of saying to yourself 'once more I'll get up' after crying after a defeat, and you get tired of telling the world and people who are with you, that everything is going well."
One can almost hear the plates crashing off the wall.
All relationships are about power – shifting balances of needs, status and money – and this summer's transfer fandango was no different. All those ultimatums, fictional back injuries, mega-money offers, not-for-sale signs, statements, strops and sulks were an age-old game being played out.
Once upon a time the clubs held all the power, in the old retain-and-transfer system which prevailed in English football until the 1960s. Under retain-and-transfer, clubs held the player's registration even after his contract had expired, meaning only they could decide if and when a player could move.
Such indentured servitude seems horribly unjust to our eyes, but the rules were brought in by the Victorian overlords of the early professional game to stop the widespread practice of smaller clubs having their players pilfered by richer rivals. Sound familiar?
That's pretty much the way things returned to in football once the Bosman ruling in 1995 smashed the last vestiges of retain-and-transfer, swinging the balance of power almost completely in the players' favour. Free movement meant they could essentially swan in and out when they pleased, either at the end of their contract or by forcing a transfer lest the club lose them for nothing.
But now the proceeds of rampant unfettered capitalism have loaded big clubs' coffers to the extent that, actually, they don't particularly mind losing the players for nothing, if it comes to it. So the power swings again, and the likes of Sanchez, van Dijk, Coutinho and others must sit it out unless the club are happy with the deal, or (in Arsenal's case when a late bid for Monaco's Thomas Lemar failed) have secured a replacement.
The infusion of cash from the Gulf and pay TV has made both sides of the transfer power struggle richer, and as a result, harder to deal with. Players want higher wages on offer elsewhere, but clubs are demanding big fees or no deal – sulk all you want.
There is a PhD to be written on this summer's transfer window, and as someone with a master's degree in economics Arsene Wenger could be the man to do it. The Arsenal manager often seems more critically engaged when analysing the football's financial excesses than by the subject of his team's defensive failings.
"We have today 107 players in England who go into the final year of their contract," Wenger said, theorising as to why his prize assets Sanchez and Mesut Ozil are doing just that. "It's a complete rotation and change in the way people see their careers, for two reasons.
"One, all the players expect higher wages because they anticipate inflation; [and two] because the transfer market has gone up so much but clubs do not want to pay such high prices on transfers for players, who are good players but will not change [the club's] life. The amount of money is completely disconnected to reality and the truth."
While the latter point didn't stop him bidding €100 million on deadline day for Lemar, Wenger is suggesting that unhappy couplings between players and clubs who have no future together will increase. The fascination is how players like Sanchez, Coutinho and van Dijk react to the simmering domestic tension, at least until the next transfer window. It's the equivalent of staying together until the kids leave home.
But sometimes a good row can clear the air, and on his return to England Sanchez seemed to have gathered himself. "Back home. Focus," he wrote, again on Instagram, this time with a photo of himself in Arsenal colours, pointing to the sky. Whether this means he has resolved to knuckle down at the club until his desired move materialises, or decided to bury Wenger under the patio, Brookside-style, remains to be seen.
Subscribe to The42 podcasts here: