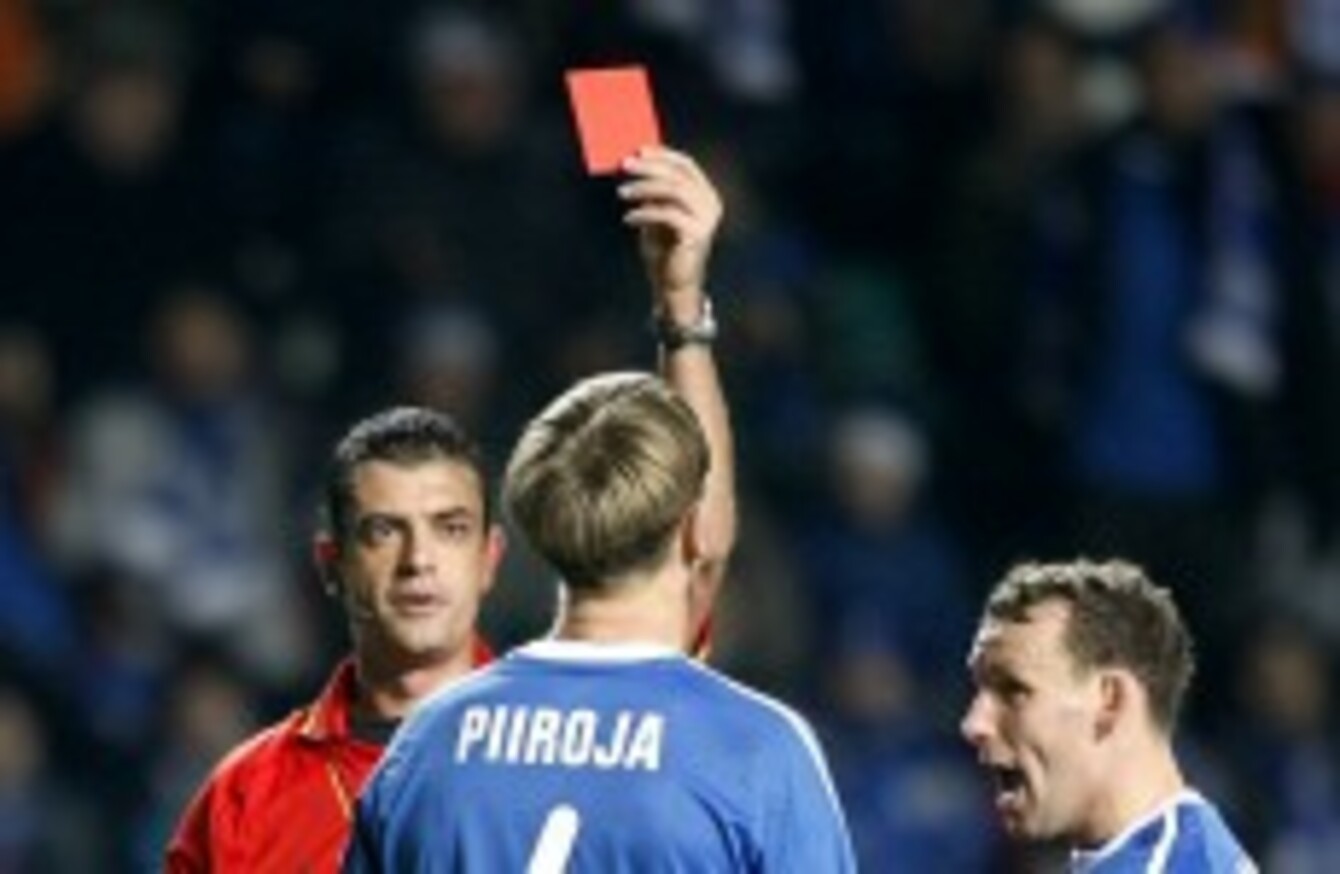 Some Estonians have criticised the performance of referee Kassai.
Some Estonians have criticised the performance of referee Kassai.
THE PREVAILING FEELING among Estonian fans appears to be one of injustice, following the side's disappointing 4-0 loss to Ireland on Friday.
This feeling is demonstrated by the fact that Viktor Kassai, the Hungarian referee who took charge of Friday's game and sent off two Estonian players during its course, has been widely condemned by the Estonian public.
Such is the level of unrest regarding his performance that there is currently an anti-Kassai Facebook page with 30,598 members, as reported by Ohtuleht.
The paper itself, however, seems to acknowledge that Ireland deserved their victory, with one of their comment writers, Ott Jarvela, criticising Estonian television for suggesting that the referee played a significant role in their loss.
They add that the Irish team showed a greater level of "mastery" and described the defeat as the "worst case scenario" for the team.
Nonetheless, in another article, they do question Kassai's decision to award Ireland a late penalty, describing it as "dubious".
In contrast, Postimees openly questions whether referees are favouring Ireland to compensate for the infamous Thierry Henry handball incident two years ago.
The paper describes how many Estonians felt the referee was inept, and also pointed to Ireland's game with Armenia as potential evidence of this conspiracy, where they were adjudged to have benefited from one or two fortuitous decisions.
Meanwhile, Estonian site Delfi Sport interviews a fan who is in Dublin for tomorrow's second leg, despite the near-impossible task which his team is facing. He acknowledges that "the fairytale had to end at some point" and still expresses hope that the team can achieve "a small victory".
Curiously, the fan also speaks of the "beautiful girls" he has come across during his time so far in Ireland, but was left disappointed when a publican refused his request for "free beer".
In summary, he deems Dublin to be an "interesting city".
Keeping with the theme of injustice however, the site also assesses the referee's performance, analysing each of his supposedly contentious decisions individually.
What do you think? Are the Estonians right to feel aggrieved?