A LOT HAS ALWAYS been expected of the Maguire twins — the prodigiously talented golfing sisters from Cavan — and so their own personal journeys to this juncture have played out in the public eye, their dazzling achievements demanding attention at every turn.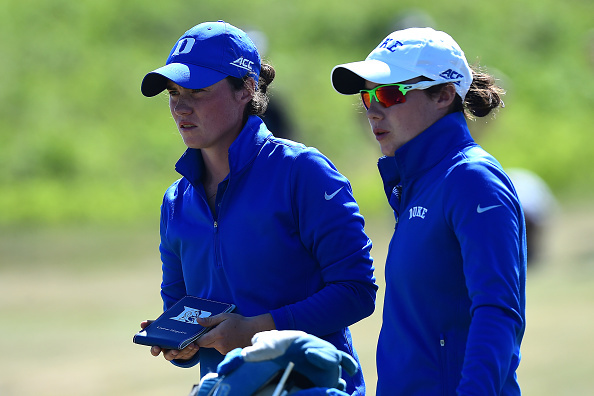 Richard Martin-Roberts / R&A Leona and Lisa have taken every step up the ladder together. Richard Martin-Roberts / R&A / R&A
From fresh-faced, giddy teenagers harbouring bold ambitions of one day winning Majors, Leona and Lisa have been hurried along the career ladder with great anticipation but, crucially, both have taken each step on their own terms.
And so, at the age of 23, the Maguires will fittingly embark on their move into the professional ranks at the ShopRite LPGA Classic on Friday side-by-side, as they have done from those nascent days on the fairways and greens of the Slieve Russell Hotel and Country Club.
In between, a four-year stay at Duke University saw their respective careers scale rarefied heights, as Leona dominated the world amateur rankings — holding the record for the most number of weeks (135) in the number one position — while also winning 10 collegiate tournaments, along with three individual ACC Championships, during a glittering spell in North Carolina.
Lisa's progression has been more gradual, her trajectory slightly less pronounced, but to say she has existed in the shadows of her sister's excellence would do her talent a great disservice, particularly when her CV is furnished with three All-Ireland schools titles, a European ladies amateur championship, Spanish ladies amateur championship and appearances in the Junior Solheim Cup and Curtis Cup.
As the years have rolled by, so too have the trophies and plaudits.
Therefore, it would have been easy — for Leona, in particular — to accelerate and force the process and conform to the hype in a negative way, but instead both have retained a measured and pragmatic approach which had been evident from an early age, qualities instilled in them at home by parents, Declan and Brenda.
Education has always played an important part and Leona made the assured decision to postpone her move into the pro ranks 18 months ago to instead focus on completing her Psychology, Business and Accounting degree in Duke, and in the same breath ensure she was fully ready to make the significant career step.
So for both Leona and Lisa, this week has been years in the making, the culmination of a remarkable journey from unassuming surroundings in the small village of Ballyconnell to the $1.75 million LPGA Classic in New Jersey, via North Carolina, the 2016 Olympic Games in Rio and the hearts and minds of golf fans right around the world.
"It is a step up so there are nerves," Lisa tells The42. "But there's a lot of excitement, we've been waiting for this for a long time now. We've got experience of playing in professional events as amateurs so that will hopefully stand to us."
Leona admits it might take some time to settle into the occasion.
"It's so surreal, so exciting," she says. "But we know it will take a bit of an adjustment and that might take some time and it will be a challenge. I'm not quite sure what to expect but essentially it's still me against the golf course and that's the way I'll look to treat it."
Scott Halleran Lisa and Leona at the 2016 Rio Olympics. Scott Halleran
Playing on a sponsor's exemption at Stockton Seaview Resort this week, Lisa will be first out at 7.48am local time [11.48am Irish time] on Friday morning, in a three-ball alongside Americans Natalie Gulbis and Taylor Totland, who will be making her LPGA Tour debut.
"To have got the chance to play week in, week out in college was a good stepping stone for me and I'm really happy where my game is at," Lisa says.
"I feel like definitely now is the right time to move onto the next level. Obviously, college was great but it's not the pro game and being on the LPGA Tour is where you want to be. It's the dream, this is it."
Leona will have to wait a little longer to get her professional career underway, as she tees off at 12.48pm local time [4.48pm Irish time] with fellow rookies Lauren Coughlin and Maddie McCrary.
After a stellar amateur career, establishing herself as arguably the best female player to play college golf, Leona carries a considerable weight of expectation on her shoulders into this next chapter but nothing has ever seemed to faze her, ignoring all the external noise to instead focus on the path she set for herself.
"I'm leaving the amateur game on my own terms, I achieved pretty much everything I set out to achieve and have my degree from a world-class university like Duke," she continues.
"Maybe if I would have listened to a lot of people, I would have turned pro a long time ago, and maybe wouldn't have some of those experiences and memories. Now's a good time for me.
"I've ticked every box and now I can turn my attention to the pro game and achieve my goals in that regard. "
That level-headed approach, coupled with a tireless work ethic, an unflinching appetite to improve and a relentless pursuit of perfection, meant the dream of becoming a professional golfer became a very attainable one for both Leona and Lisa.
Both players have always been confident in their ability but have also carried an important grasp of the game, acknowledging and appreciating the work that must go in and the sacrifices demanded to negotiate the ladder.
To that end, they have worked in tandem during their time in the States, supporting each other both on and off the course and it is wholly apt that they share the experience together this week, even if their careers are to go in different directions thereafter.
"We've grown up together, we've done everything together up until this point," Lisa smiles.
"You only get to make your pro debut once so to be able to do it together is special and something we're very grateful for."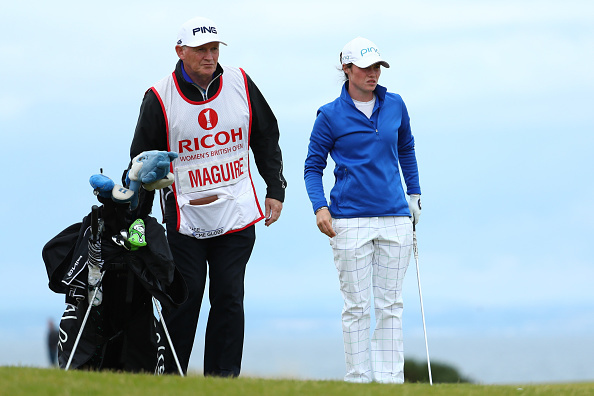 Matthew Lewis Leona has made a big impression at a number of professional events already. Matthew Lewis
Leona adds: "Yeah, it's nice as we started our amateur careers together and now we're starting our professional careers together. But most of all we've been best friends for life, we've practised and played together from the very start so that's special. It's a bit surreal.
"We'll be rooting for each other this week and supporting each other in whatever way we can throughout our professional careers too. Hopefully, it's just one week of very long and successful careers."
And certainly the twins are in a great position to be successful, not just on the back of what they've done to this point, but judging by the excitement surrounding their respective debuts this week, with the pair generating headlines around the world.
Not only did they front their own press conference on the eve of the tournament, but their appearance on the LPGA Tour has been a talking point all week in America, with the Golf Channel among the major outlets giving two Irish girls from Cavan airtime in the build-up.
Having emerged at such a young age and been exposed to both amateur and professional tournaments all over the world, they have become genuine stars of the game on both sides of the Atlantic — and their status will only be enhanced further, as evidenced by the companies clamouring to be associated with the Maguire brand.
Both Leona and Lisa have secured lucrative sponsorship deals and will wear the KPMG, Allianz, Puma and Ping logos on their apparel this week, while they have been snapped up by the Modest! Golf management agency, which was founded by Niall Horan.
"They are two girls, especially Leona, who have dominated college golf and will go down as two of the best college golfers of all time," Horan said of adding the pair to his growing stable of professionals.
"It's exciting to get them at the same time."
The support means a lot to both of them.
"Niall is a lovely guy and we've been lucky to meet him on a couple of occasions," Lisa says.
"It's nice to have that Irish connection and that was a large part of why we chose Modest over other companies.
"To have him involved is special and he's a big golf fan so it's great to have him on board and he has been very supportive. It gives you huge confidence and is really appreciated."
All of this is, of course, new ground for Leona and Lisa as they make the transition into the pro game and become familiar with everything that comes with it, such as increased media work, commercial appearances and responsibilities and working out a schedule which will give them the best possible chance of success.
Each are eligible for up to six LPGA sponsor exemptions this year but most of their golf this season will be played on the Symetra Tour, the second level of competition which offers a qualifying route to full playing rights for 2019 and, importantly, the chance to gain exposure and experience in the cut-throat professional environment.
"I think I just have to take it week by week and make that adjustment, it will probably take a bit of time but it will be the same process of starting at the bottom and working my way up like I did in the amateur ranks," Leona explains.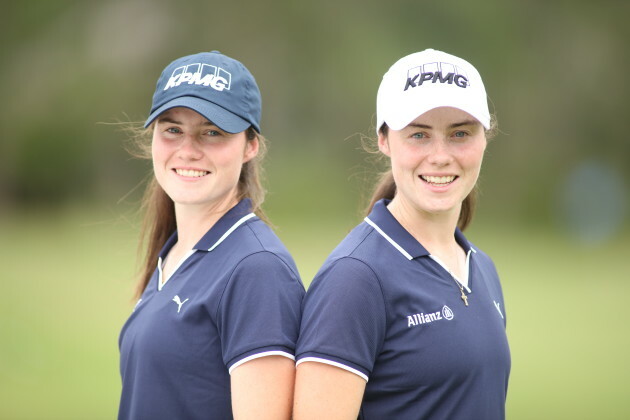 The pair have signed for KPMG as ambassadors.
"I'm still working on my game, working on my short game, and the first goal is to get that LPGA Tour card so I can play with the best players in the world week in, week out.
"I'm just going to take it as it comes, both this week and for the next few months. Obviously, try and play as well as I can but know it is a step up. Just focus on playing my own game and stick to my game plan and see where I end up as the weeks progress."
As for Lisa, she's happy to continue to fly under the radar and let her sister have all the attention.
"The spotlight is on her," she laughs. "But, yeah, it's good to be under the radar a little bit and I just want to enjoy the experience this week, soak it all up and see where everything goes.
"All I can do is just give it your best. This week is more of an enjoy it and take it all in and then regroup and see where I'm at and look at what I need to improve. The goal is to play as good as possible. It's a little bit of let's see what happens, but I'll be looking to build every week.
"This is it, I want to go out and enjoy the experience."
Leona shares that sentiment.
"I've dreamed about this since I started golf at the age of 11. I can't wait for an incredible and memorable week."
Twin talents signposted for over decade, the Maguires have largely gone through their golfing lives as one, and now — on the biggest day of all — they will take the next step together.
It was never going to happen any other way.
The42 is on Instagram! Tap the button below on your phone to follow us!