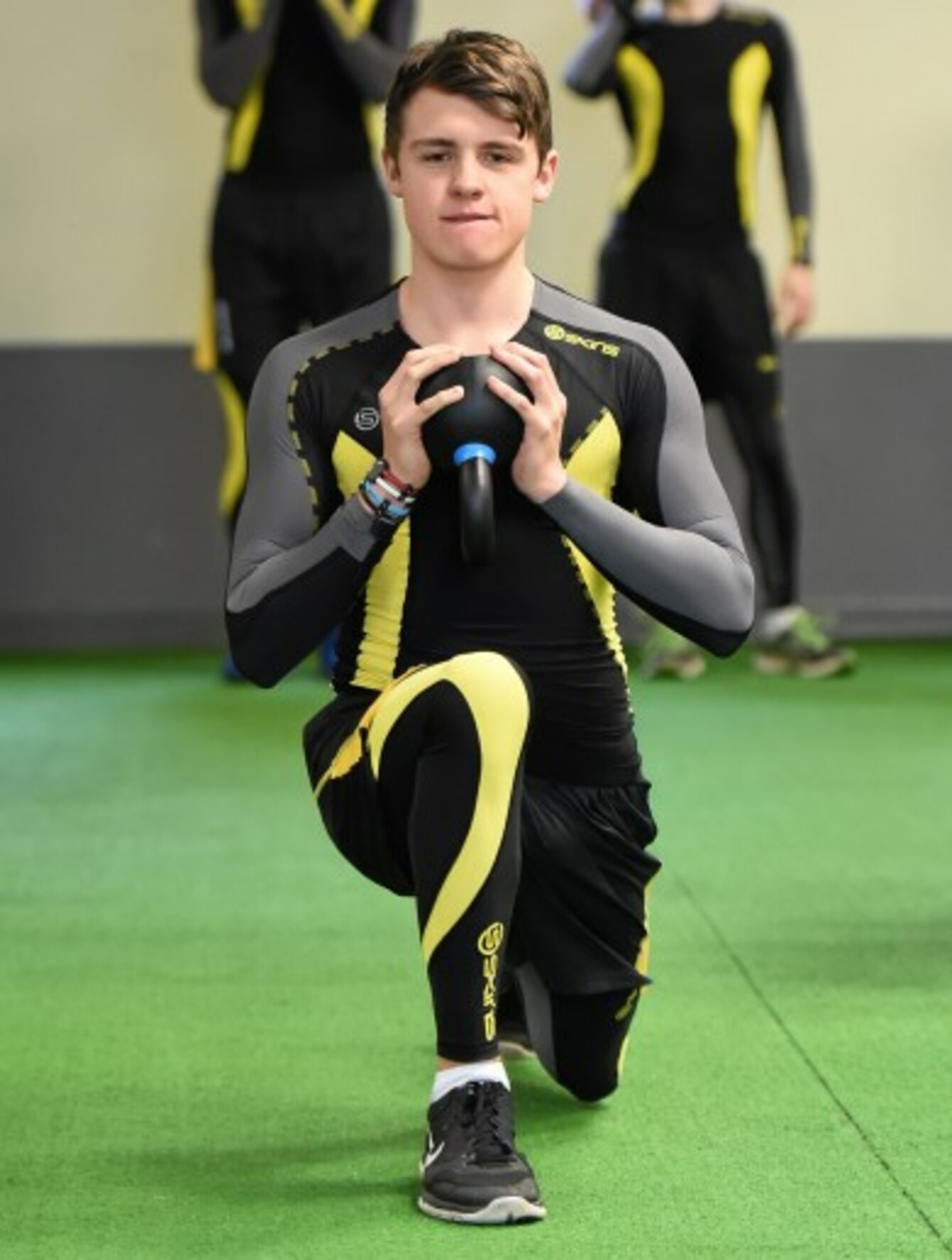 Cian O'Sullivan admiring my technique.
Image: SPORTSFILE
Cian O'Sullivan admiring my technique.
Image: SPORTSFILE
IT'S ALWAYS ADVISED to mix-up your training routine and I'm in the fortunate position to be splitting my sessions between two different gyms – but this week provided another opportunity.
On Tuesday, Dublin footballer Cian O'Sullivan was launching the new SKINS range at the Dublin Sports Clinic just off Merrion Square.
As a sports journalist these events are the bread and butter. An ambassador spends time being photographed with whatever product they're promoting and will then sit down and talk to the media.
Across the sports, there are countless staged every week – but SKINS, in association with a PR company, decided they wanted to do something different to promote their brand in an unconventional way.
While O'Sullivan did oblige to the standard media huddle afterwards, he took part in a group workout session with a couple of journalists in the clinic's hugely impressive training facility.
The short, sharp and intense session was led by owner Peter Mathews and included walking lunges, box jumps, medicine ball slams and TRX pull-ups.
There was nothing strenuous about it and unfortunately didn't constitute as my workout for the day but provided a reminder of how exercise should be fun.
When the PR company sent out the invite to each of the country's prominent media organisations, there was a positive response and eight journalists, both male and female, got kitted out to take part.
The uptake and interest levels might not have been so high previously and it's an indication of the changed mindset towards exercise.
Here was a group of people with vastly differing fitness levels all coming together to exercise in a positive environment for 45 minutes.
Granted it was a prearranged event designed to promote a brand but the very nature of it accentuates the point. It was all a bit of fun, but there was a competitive edge too as we were put through our paces with one of the country's leading footballers.
It was also hugely enlightening. As a clinic for clients recovering and looking to prevent injury, there was an emphasis on improving mobility and stretching.
You can oftentimes overlook the importance of stretching when your goal is on bulking up. Cardio isn't in my programme or line of thinking so injury prevention can be neglected.
It's something I'll look to incorporate more into my sessions and certainly as the weights become heavier and the workload and intensity increases, it will become useful.
So back to the everyday grind. This week's workout was the same as the previous weeks as the attention turns to progressive overloading.
I'm gradualing increasing the volume and weight as the weeks progress and it's beginning to hurt. One of my shortcomings in the gym previously was the unwillingness to really push myself and raise the bar. There's no danger of that happening now.
Under the watchful eye of George in The Shelbourne this week, the session was tough. The programme has been created to add as much size and power as possible in the 12 weeks and hopefully it's beginning to pay dividend.
Although we're nearly halfway through this three month programme, this is very much a learning experience and about acquiring the tools to then continue to progress beyond my time with The Shelbourne.
I'm already looking forward to next week.
Week 5
My workout was the same as week four. I did this once with personal trainer George and twice on my own. Recovery time between each set varied from one minute to two. Each exercise is performed from set one to three before moving on to the next exercise.
Warm-up: Rowing machine (1,000 metres)
Dumbbell bench press (22kg, 5 reps x 5 sets)
Dumbbell single arm row (24kg, 5 reps each arm x 5 sets)
Dumbbell shoulder press (20kg, 5 reps x 1 set, 18kg, 5 reps x 3 sets)
Man makers (8kg, 60 seconds)
Dumbbell goblet squat (28kg, 12 reps x 3 sets)
Swissball leg curl (15 reps x 3 sets)
Dumbbell walking lunges (1okg, 24 reps)
Press ups (until failure (36), two sets)
More details on The Health Club at The Shelbourne can be found here. Facilities include an 18-metre swimming pool, sauna, steam room, dance studio and gym furnished with modern equipment.
Thanks to Avonmore for providing Protein Milk.