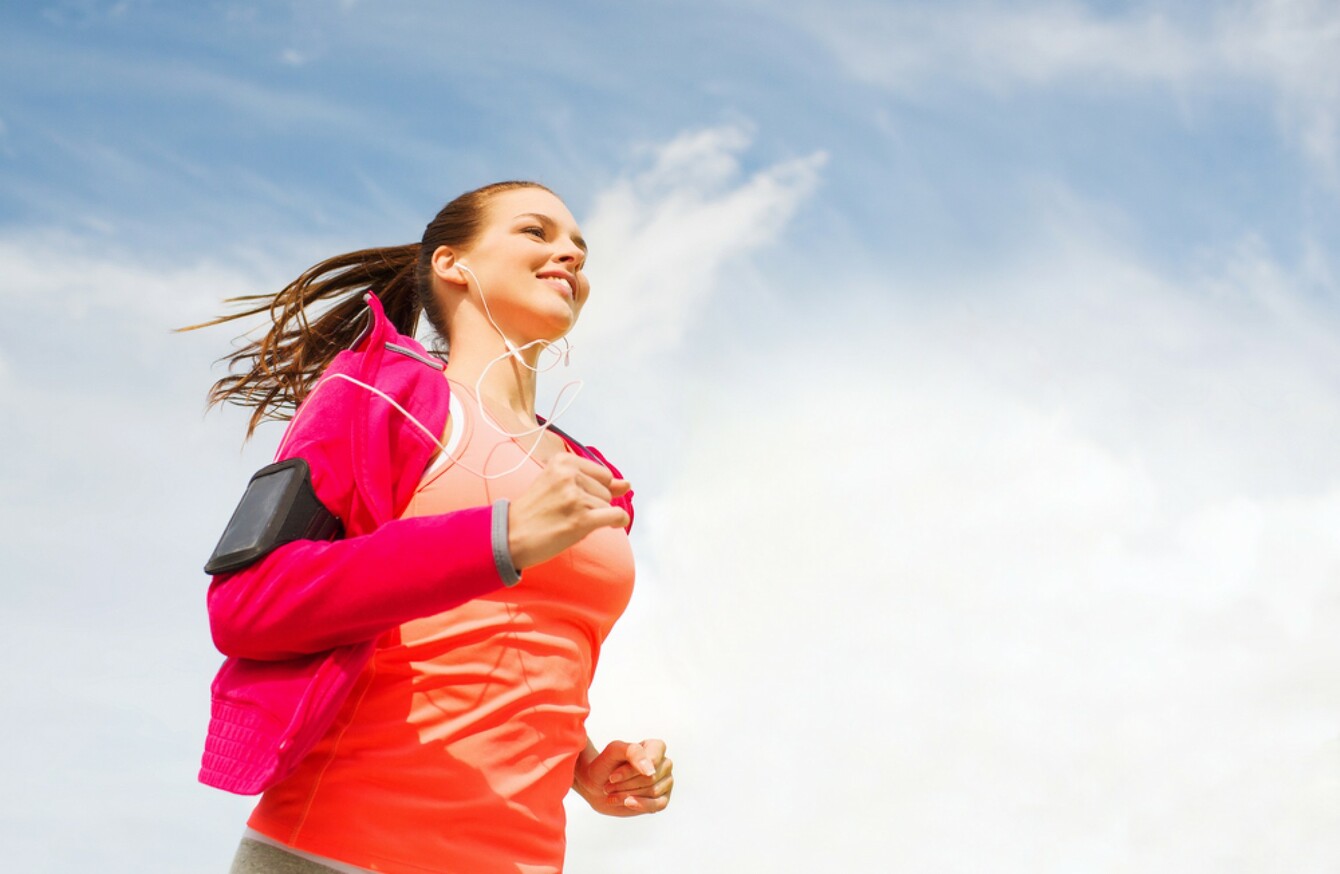 Image: Shutterstock/Syda Productions
Image: Shutterstock/Syda Productions
WHY IS IT that even with such good intentions, getting fit, healthy and enjoying life to the fullest is so hard?
New Year at the gym is the health and fitness equivalent of Black Friday but whether your goal is to lose 10lbs, run a marathon, or simply walk more often I know you can get there.
Check out these foolproof strategies to have your fittest, healthiest and happiest year yet — but remember, it's not the gym or diet that will change you – it's your mind.
1. Understand the benefits of exercise — all of them!
When we start exercising (specifically when we become out of breath) our brain releases endorphins, the hormones responsible for us feeling happy and a protein called BDNF (Brain-Derived Neurotropic Factor).
BDNR is the reason why we often feel so clear and calm after exercising. But it doesn't stop there. Exercise makes you less likely to get sick, helps you sleep better at night and will boost your confidence and self-esteem. Exercise is one of the most powerful tools to increase your happiness, energy levels and wellbeing.
Sadly, exercise is probably one of the most under-utilised tools for reducing depression, stress and anxiety. But how is it that exercise has such influence over our physical, emotional and spiritual health? Because exercise changes how you see and feel about yourself. It is not all about macros, abs and calories.
2. Make it fun
For many of us, the anticipation and dread of starting an exercise plan leads to over thinking, procrastination, misery and a list of at least 50 other things you would rather do.
The problem is that for so many of us we focus on the discomfort of starting so we don't.
Make exercise fun by creating a playlist of your favourite songs or going to a new exercise class. When you are exercising, focus on how you will feel after the class, or in four weeks' time when you are close to achieving your goals.
3. Write it down
Goal setting is a proven method for motivation. Goals focus our attention and effort, increases confidence by building new competencies, strengthens our resilience and problem solving skills.
Writing down your goal is not only a great way to accomplish it but it will help you take ownership over it and feel motivated. Research shows internal factors are much more likely to lead to long-term success — taking ownership of your goals by writing them down will help you remain committed to them, the goal becomes "ours", thereby becoming a part of our identity.
4. Focus on the process
"I want to lose weight" or "I want to get healthy and fit" are two of the most common New Year's resolution there are, but they're vague and unclear and your success is conditional on reaching one outcome.
When deciding on a fitness goal for the New Year, typically this type of goal will be an outcome goal (lose two stone) or a process goal (go the gym three times a week). Whilst all goals are difficult to achieve, a process goal has significantly more benefits if you struggle with motivation and consistency.
5. Work the 12-week plan
Your 12-week Plan (see illustration below) should be made up of four elements; a start and end date, sub goals or milestones, daily tasks and a celebratory system.
The number one reason people do not achieve their fitness resolutions is because they set goals that are too big and vague.
Start by thinking small and break the goal down approximately 12 sub goals (one per week). This will help you remain focused, driven, upbeat and confident.
When you achieve a sub goal it is important to celebrate your success. For many of us, the challenge will be to develop daily habits to support our success so write down up to three things that you can do daily (drink 2 litres of water, go to bed 60 minutes earlier, get off the bus one stop early and walk).
These daily habits, when performed consistently, will be the foundation for your future success. But it also helps to reduce any feeling of becoming overwhelmed we might face when confronted with our "big" goal.
Be part
of the team
Access exclusive podcasts, interviews and analysis with a monthly or annual membership.
Become a Member
(If image fails to load, click here)
6. Celebrate your success
Many of us are quick to beat ourselves up at the first sign of something going wrong. But when have you ever celebrated your success?
It could be anything; treating yourself to a sports massage or buying a new training top.
Remember, there is no such thing as pushing the goal posts back, there is only forgetting to celebrate our success before creating new goals. Celebrating your accomplishments can help you reach those milestones faster than you previously thought possible.
Getting fit and healthy is a life long commitment to yourself – it should never be seen as a chore, form of punishment or stress.
So just remember; create habits not restrictions, exercise because you love what your body can do and focus on enjoying and celebrating your health and wellbeing.
And remember, we are all different so find a form of exercise that makes you happy – you got this!
Sarah Doyle is a life coach, motivational speaker, positive body powerlifter and host of Better Life Project TV. For more information, follow her on Facebook, Instagram or check out Sarah's website here. 
The42 is on Instagram! Tap the button below on your phone to follow us!